Introduction
Kurukshetra University is a state University in Haryana established in 1956. Kurukshetra University is also known as one of the oldest Universities in the country. The University is certified with A+ grade by NAAC. Kurukshetra University only have motive that is reaching the unreached for the building a knowledge society by offering quality education at the learner's door step.
About Kurukshetra University
Here is a number of things you need to know if you want to take admission in kuk. This articke will surely help and update you about Kurukshetra University.
KUK is a residential university with a well-developed multi-faculty campus. It provides higher education to over half a million students on campus and in its affiliated colleges.
KUK was inaugurated by the first President of India, Dr. Rajendra Prasad. It is accredited with an A+ rating from the National Assessment and Accreditation Council (NAAC).
Courses and Fees Structure
KUK provides a lot of courses for ambitious students. Here is a complete list of all courses provided by the University.
| Sr. No | Course | Fees | Eligibility |
| --- | --- | --- | --- |
| 1 | B.Tech | ₹76,000 (1st Year Fees) | 10+2 + JEE Main |
| 2 | B.Ed | ₹7,040 (1st Year Fees) | Graduation |
| 3 | L.L.B | ₹8,450 (1st Year Fees) | Graduation |
| 4 | M.Sc | ₹8,290 (1st Year Fees) | Graduation with 50% |
| 5 | M.A | ₹13,420 (1st Year Fees) | Graduation |
| 6 | B.SC | ₹40,600 (1st Year Fees) | 10+2 |
| 7 | MBA | ₹46,390 (1st Year Fees) | Graduation |
| 8 | L.L.B | 25,350 ( 3 years) | Graduation |
| 9 | B.P.Ed | 22,000( 2 year) | Graduation |
| 10 | BAMC | 33,000 ( 1 year ) | 10+2 |
| 11 | M.S.W | 7,500 ( 1 year ) | Graduation |
| 12 | More Courses | Click here | |
Admission Process
The University has different types of admission processes for every course. Here we will talk about the admission process of UG and PG in Kuk University.
Admission Process for UG
Students must meet the eligibility Criteria of the University
Students must fill out the admission form.
After filing the form students have to give the entrance test of the University.
Admission is always based on the Merit list.
At last, students have to verify their documents along with fee submission.
Admission Process for PG
Students must have to meet eligibility Criteria.
Only eligible candidates should fill out the admission form.
Students must have an entrance exam.
Aspirants must register themselves before the counseling session.
Counselling session rounds depend on the availability of seats.
After selection students have to verify their documents and last step of the admission process is payment of Fees.
Facilities in Kurukshetra University
Kuk provides a lot of facilities as per the students needs or requirements. The University always tries to provide a comfortable environment to students so they can study more comfortably.
KUK Hostels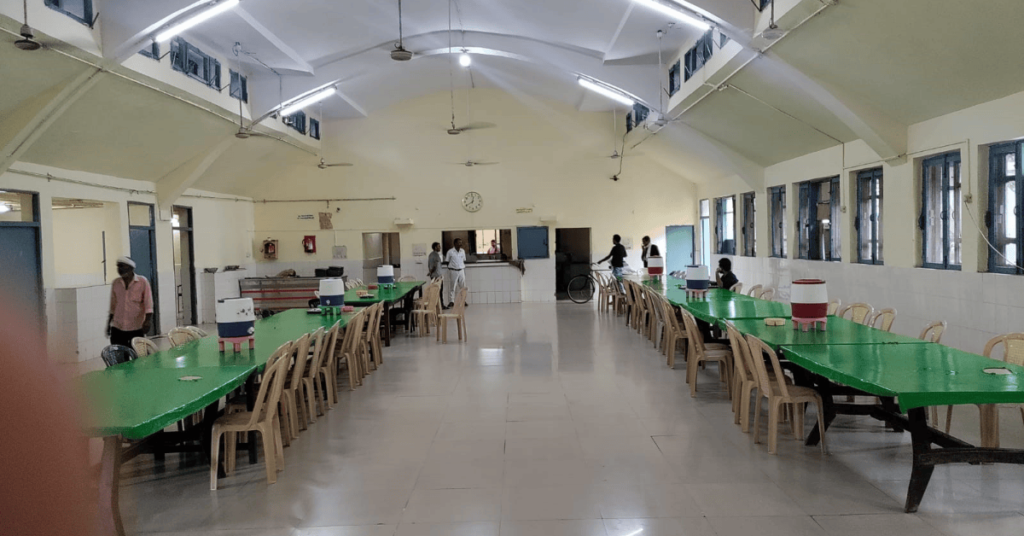 Kuk University provides hostels for both boys and girls and one for foreign male students. At present University has 25 hostels and every student should have to follow the rules and regulations of the hostel. There are 111 boys hostels with the capacity of 2700 students. For Girls they have 13 hostels that can accommodate more then 3000 girls students. Hostels are packed with well-maintained equipment like a Gym, an ATM and a common reading home, etc.
Cafeteria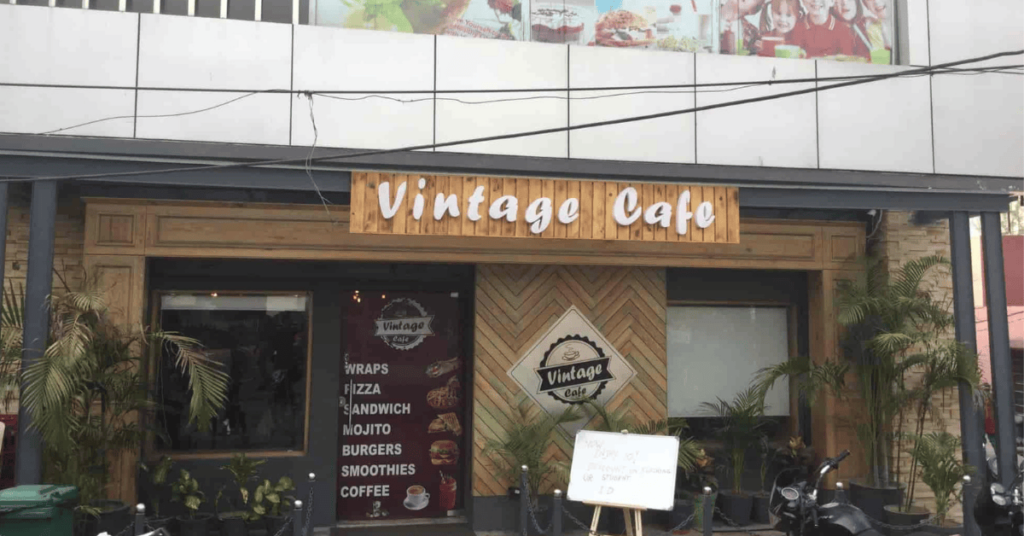 Kuk provides a cafeteria for students so they can take a break from their classes. Cafetaria always maintain hygienic and serve good quality food at a decent price. A cafeteria is a place where students can take a rest or a little break from their hectic schedule along with their friends.
Transport Facility
Kurukshetra University has transportation facilities for its students. The university has: 8 buses, 1 van, 11 cars. The university even provides free internet bus service for girls and physically challenged students. This Transport facility helps them a lot to reach their classes on time.
Guest/Waiting Room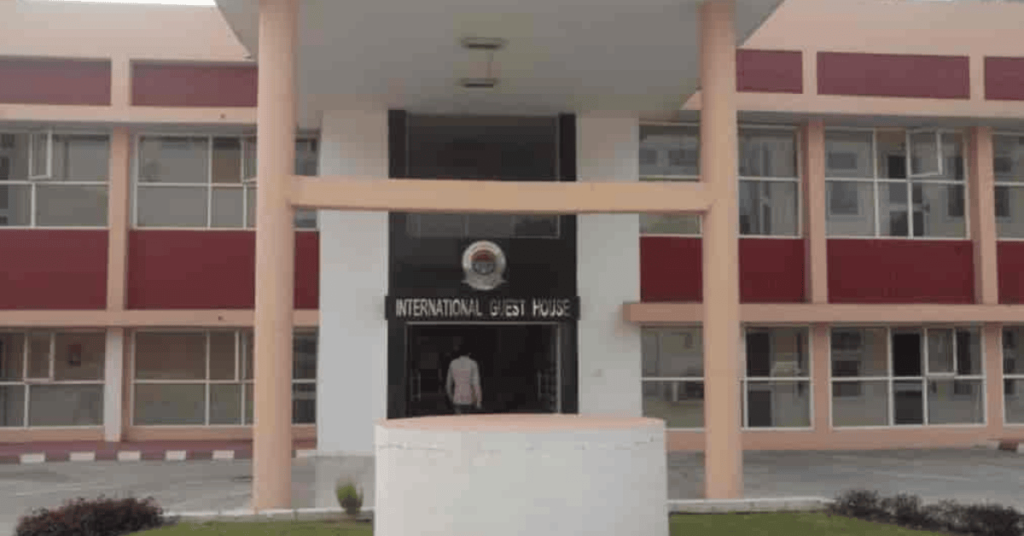 For the family members of student's The University provides a waiting room along with a Guest house. Guest house also provides dinning facility for members who came for a visit.
Health Centre in KUK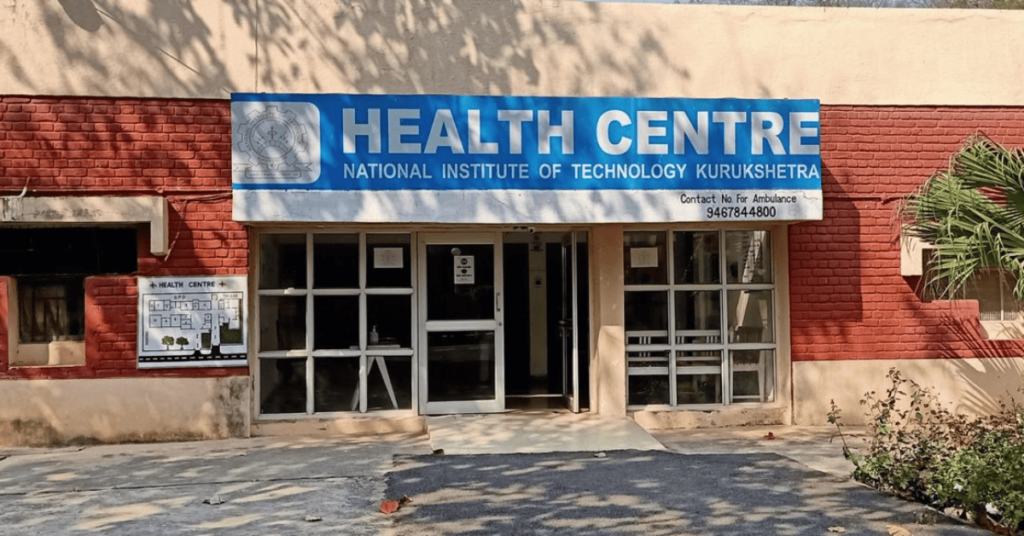 The University has a health care center to take care of needs of students, staff members or family members of students. KUK provides all medical facilities here like ECG, X-ray and ambulance etc. A team of 65+ doctors gave free consultation.
Sports Complex of KUK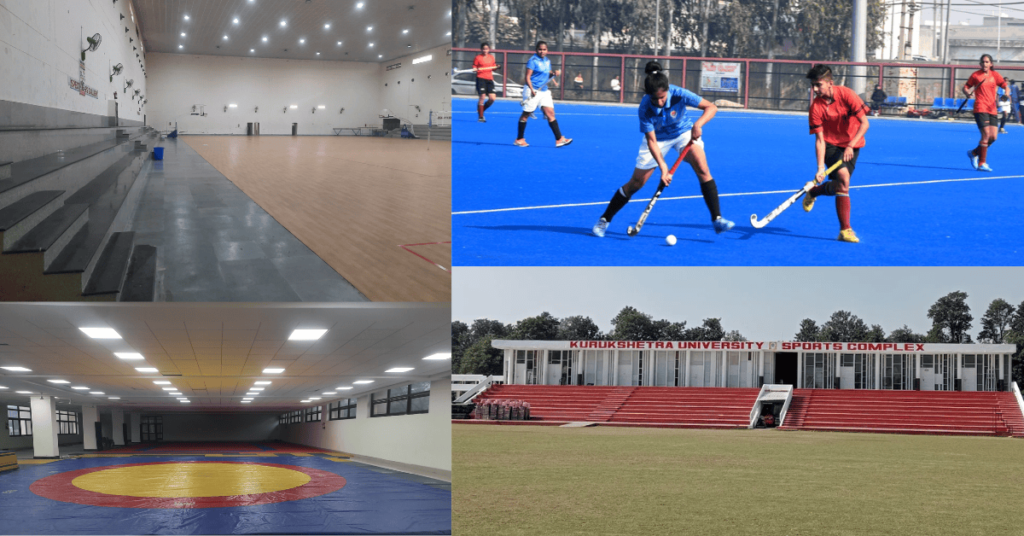 The University provides various sports facilities to its students. For this purpose University also has 2 multipurpose halls along with new well-equipped machinery. Multi-purpose halls have gymnastics equipment, mats for judo, and wrestling. Not only that university has different courts for basketball, tennis volleyball etc.
Swimming Pool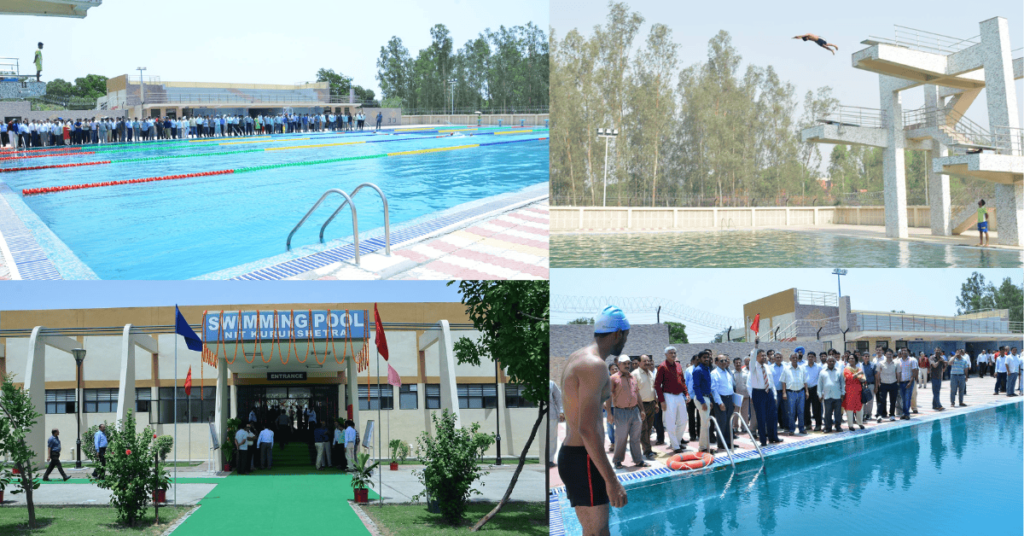 Kurukshetra University has a swimming pool in the campus. If any student want to learn swimming then instructors are also available to give training to students.
NIT Kurukshetra now boasts a top-notch swimming pool, meeting international standards. It's a sizable pool, measuring 50 meters by 25 meters, featuring a gradual depth from 90 cm at the shallow end to 5 meters at the deeper end. For those who love diving, there are three springboards at heights of 3 meters, 5 meters, and 7 meters, all available simultaneously.
To facilitate competitions, anti-wave lane markers are in place. The pool is also equipped with portable take-off boards made of Olympic-grade fiber, allowing 60 to 70 people to use the pool at the same time.
The swimming pool is open for use from March to October each year. There are different time slots allocated for employees and students, making it accessible to everyone. Moreover, the institute's team has dedicated time for skill improvement and technique enhancement, guided by expert coaches. This ensures a well-managed and inclusive approach to utilizing the swimming pool facility for the overall benefit of the NIT Kurukshetra community.
Library of KUK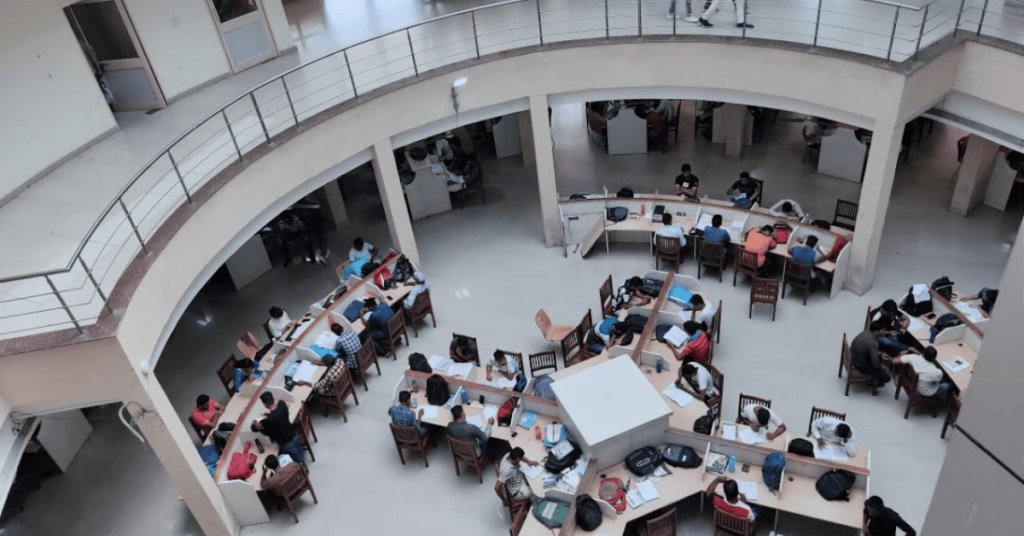 Kuk University has a well-established library. This library is located at a central place in the middle of various departments. Library have a large collection of books, journals and international journals. The library is the best place for students if they want to prepare for their exams or want to find answers of their questions.
KUK Auditorium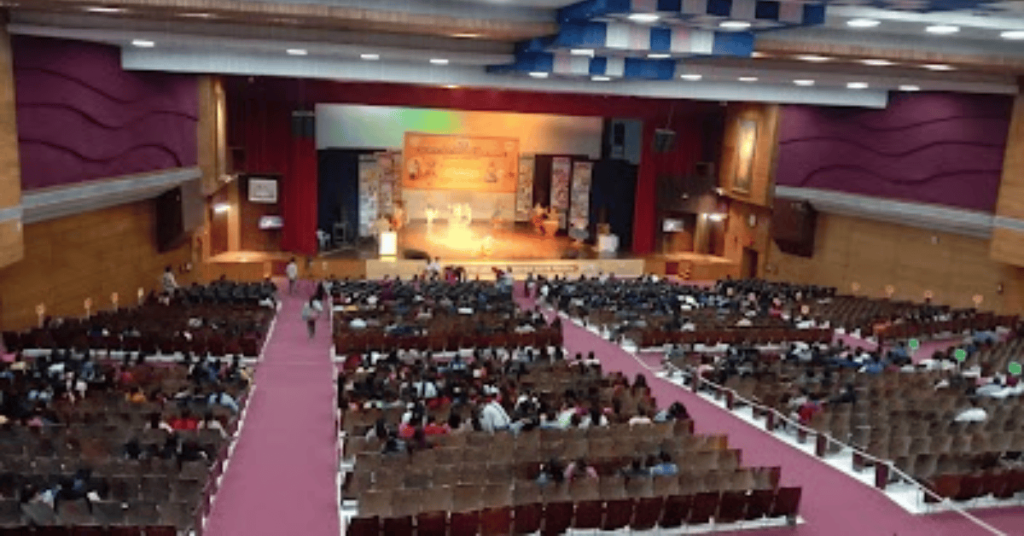 Kurukshetra University has a well-established Auditorium for any event. The Auditorium uses latest audio and video technology. So, everyone can enjoy the event effortlessly.
Kurukshetra University has an auditorium with a seating capacity of 2,500. The auditorium is centrally air-conditioned and has a 70mm projector.
Laboratories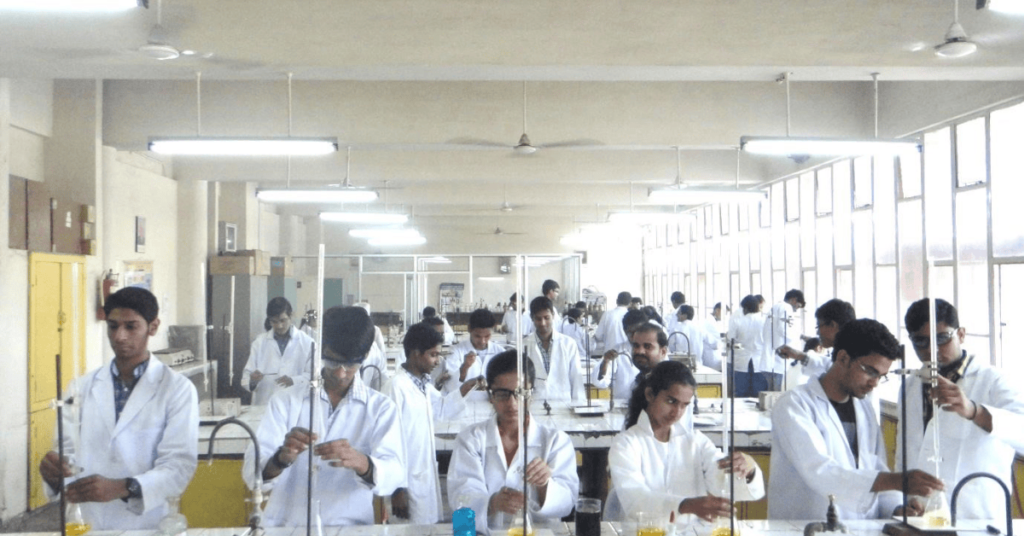 Every department of the University has its own laboratories. All laboratories are well-equipped and have all equipments which students need for their practical work.
Bank and ATM in KUK
If any student needs cash then he/she don't need to go outside because University has ATMs inside the campus. So students can use it freely.
Placements in KUK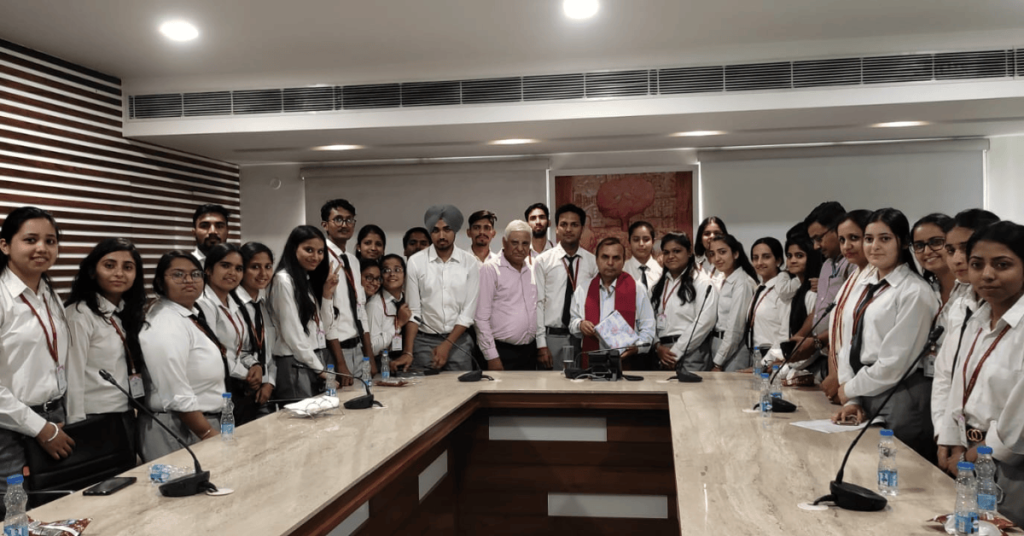 Kurukshetra University hasn't released their 2023 placement report yet. But according to University overall NIRF report 2023, the highest package offered during Kurukshetra University is INR 3 LPA and INR 4 LPA, respectively. There is rise of 7 percent in placement from 2021 to 2022.
Achievements
Kurukshetra University have several Achievements. In 2015 the Boxing team of University won the All India Inter-University Boxing Championship among more than 100 Universities. The University has also been awarded Maulana Abdul Kalam Azad trophy by the government of India.
Affiliated College
Kurukshetra University has 457 affiliated Colleges and institutes too. Not only College or institute kuk also have some schools under them .
JMIT
Government Engineering College, Nilokheri
Karnal institute of technology and management, Karnal
Jind Institute of Engineering and Technology
Shri Krishna institute of Engineering and technology
Frequently Asked Questions (FAQs)
Is degree from kuk is valid ?

All the programs and courses offered by University are recognised by Distance Education Bureau of UGC, New Delhi.

Why is Kurukshetra University famous ?

Kurukshetra University is also known as one of the oldest Universities in India. It is establish in 1957 with motive to provide higher education.

Which university is better in Haryana?

According to latest reports KUK rank 1 among all Universities in Haryana.
Read Also: