A state university with a 3-acre campus that is green, lovely, and equipped with contemporary amenities is called the Institute of Business and Research (IBMR). Gurgaon is where it's situated. The college offers undergraduate and graduate-level courses in business, education, and management. It is a top-ranked business school in Delhi (NCR).
Read Also

Top 10 Govt. University/Colleges for B.Tech in Haryana
Featured IBMR Gurgaon Events
A few quick facts regarding the IBMR Business School in Gurgaon are as follows:
| Particulars | Statistics |
| --- | --- |
| Establishment year | 1999 |
| Also known as | IBMR |
| Campus area | 3 acre |
| Approved by | AICTE, NCTE |
| Ownership | Private |
| Location | Gurgaon, Delhi (NCR) |
| Entrance exams accepted | CAT /MAT /CMAT /XAT /GMAT |
| Student intake | 300+ |
| Hostel facility | Yes |
| Mode of education | Offline |
| Modes of application | Online |
| Official website | www.ibmrbschool.com |
| Selection process | Merit and Entrance Based |
| Programs | Undergraduate and Postgraduate |
For IBMR Gurgaon, rankings
The top B-Schools have consistently been listed by the rating agencies including IBMR Business School Gurgaon. The identical is ordered as follows:
placed 62nd among India's Top Private Management Institutes in the Times B-School Survey.
Out of the top 100 management business schools in India, IBMR Gurgaon is ranked 85th, according to the Times B-School Survey.
according to MDRA research, is ranked as a Top B-School by India Today.
"Best Placement Record" award from Dalal Street, "Best Industry Linked Curriculum in Management Education" award from Business Baron, and recognition as the "Best Industry B-School" by CEGR.
by the journal "Business Standard," which IMRB International rated as one of the top business schools.
of the top 100 business schools in India, according to the Dalal Street Journal,
and one of the top 100 according to the TNS Mode Survey.
Read Also

MDU Admission Open, 2022-23
About IBMR
In 1999, the IBMR Business School was founded. It is situated in Delhi's Gurgaon (NCR). 3 acres of stunning vegetation make up the IBMR Gurgaon campus. The AICTE, MHRD Government of India has approved the programs provided by IBMR Business School. The NCTE has given its approval to the B.ed. + VAP program. It provides a variety of courses with an emphasis on business management and education. Through its semester-long worldwide internship programs, the university provides a platform for global learning. The college offers a variety of extracurricular activities, housing, a well-stocked library, cutting-edge classroom equipment, a café, and conference facilities.
Courses at IBMR Business School
Both undergraduate programs, such as the B.Ed., are offered by IBMR. and graduate programs including the PGDM+PGPM and MBA+PGPM, as well as BBA +UGPM.
The candidate must have finished the 12th grade with a cumulative grade point average of at least 50% in order to be eligible for the BBA+UGPM program.
has a B.Ed. The candidate must have just graduated from an approved university.
To be eligible for the PGDM+PGPM and MBA+PGPM programs, candidates must possess a graduate degree in any subject with a minimum cumulative grade point average of 50%.
You must also have a recent scorecard from the CAT, XAT, ICAT, MAT, ATMA, GMAT, or GRE in addition to your graduation. Candidates are chosen through a number of rounds of individual and group interviews.
| Course Name | Eligibility Criteria | Annual Course Fee (in Rs) |
| --- | --- | --- |
| PGDM + PGPM | possess a bachelor's degree in the relevant discipline and have a cumulative GPA of at least 50%. | 5,75,000 |
| MBA + PGPM | As prerequisite tests, you must pass the CAT, MAT, CMAT, XAT, or GMAT. Additionally necessary is a cumulative grade point average that is at least 50%. | 5,25,000 |
| PGPM | Graduation in the relevant discipline | N/A |
| BBA + UGPM | Class 12 with a minimum of 45% aggregate | 2,97,000 |
| B.ed + VAP | Graduation in any discipline with a minimum of 50% aggregate | 1,25,000 |
IBMR Gurgaon Admissions
The IBMR Business School has two admissions requirements: entrance-based postgraduate admissions and merit-based undergraduate admissions. Applicants must submit an application for registration before being accepted.
Where do I apply?
The registration form may be completed on the official website of IBMR Business School, Gurgaon. The process consists of the following steps:
Visit the official website of IBMR Business School, Gurgaon.
Give truthful information on your personal and professional history while completing the application form.
Make a decision on your therapist and schedule an interview.
After submitting the application, print it out.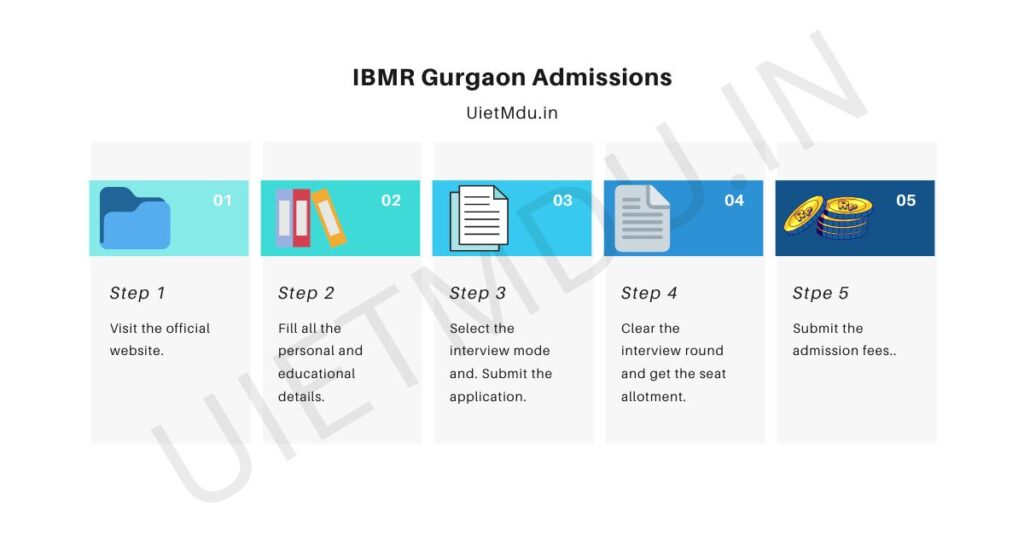 IBMR Business School: Placements
In recent years, several companies have been to IBMR Business School Gurugram for placements. Every year, the IBMR placement cell extends invitations to several esteemed companies to help place students. According to official records, the 2020 IBMR B School placements statistics may be viewed below:
| | |
| --- | --- |
| Placement Percentage | 100% |
| Number of international offers | 25+ |
| Minimum package | Rs 5 LPA |
| Highest package | Rs 15 LPA |
| Highest package for international placements | Rs 18 to Rs 20 LPA |
With the pay packages described above, students started working in a variety of areas, including infrastructure, education, retail, manufacturing, and telecommunications. Prior placements at IBMR Business School Gurgaon show that a significant number of students moved to the national market.
IBMR Gurgaon Faculty 
Dr. Nandini has an MBA and a PhD.
Dr. S. P. Batra's degree is in BE (Mechanical) MBA and PhD
Dr. Aakansha is a Ph.D. and MBA.
Dr. Shivani has an MBA and a PhD. (p)
Dr. Hitesh Minocha-IIM has the following degrees: Ph.D., PGDM (IIM Ahemdabad).
Sonam Kobra, M.D.
Degrees: MA, MBA, and Ph.D.
Parul Nagar holds an MBA, MA, and PhD.
Dr. Mukul Jain has a B.E., a PGDM, an MBA, and a Ph.D.
Dr. M. S. Lakshmi's credentials include an MBA and a Ph.D.
Russell Kumar
MBA, IT, and MBA in marketing qualifications
B.Tech., MBA, NET qualifications for Dr. Neha Chhibber of the IIM
Qualifications for Mr. Ashwani: MBA, M.Com, M.Phil, NET, SLET, Ph.D.
IBMR Business School Fees & Eligibility
| | | |
| --- | --- | --- |
| B.Com + UGPM | ₹1.15 Lakhs (1st Year Fees) | 10+2 |
| BCA + UGPM | ₹1.19 Lakhs (1st Year Fees) | 10+2 |
| MBA + PGPM | ₹2.88 Lakhs (1st Year Fees) | Graduation |
| B.Ed | ₹70,325 (1st Year Fees) | Graduation with 50% marks |
| PGDM + PGPM | ₹3.13 Lakhs (1st Year Fees) | Graduation |
| PGPM | ₹2.48 Lakhs (1st Year Fees) | Graduation |
| BBA + UGPM | ₹1.19 Lakhs (1st Year Fees) | 10+2 |