Scholarships are offered to deserving but financially challenged students to encourage them to continue their higher education. This incentive supports the state's higher education system's tagline of access, equity, and quality. A generation shapes a nation. As a result, the governments of India and Haryana are constantly attempting to encourage young people to seek higher education.
Read Also

How To Apply For Post Matric Scholarship
The Department of Higher Education created "Har-Chhatravratti," a centralised platform that provides a one-stop solution for the whole scholarship process, from application submission to verification and payout to the final beneficiary. The State Government has created a consolidated State Scholarship Portal by uniting 10 scholarship programmes from five important government ministries on a single platform as part of its commitment to making beneficiary-oriented programmes simple to access, seamless to use, and transparent.
The "Har-Chhatravratti" Portal is one of the most well-known scholarship portals that provides three layers of application vetting. The student application form through three rounds of verification—Institute, University/Nodal Body, and Head Office—to guarantee the applicant's complete validity. This website also has a connection to the Parivar Pehchan Patra (PPP) programme of the Haryana government. For the state government's scholarship programmes, every applicant must have a Parivar Pehchan Patra (PPP). The Har-chhatrvratti platform will also feature Haryana students who live outside of the state. Such a request would be immediately verified by the department.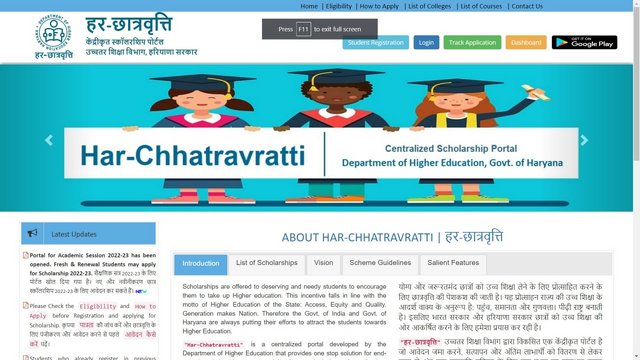 Vission
Providing financial assistance to students for persuing Higher Education.
To reduce the dropout rate in Higher Education.
Creating a passion for Higher Education.
Providing students the opportunity to go to the mainstream through Higher Education.
Benefits of Tuition Fees, Academic / Maintenance Allowance, Stipend Amount etc. are paid to the Students
Who Can Apply?
SC/BC Students can apply for PMS.
For More Eligibility Criteria You Can Download Criteria Pdf :
| Scheme | Institute Type | Category | Family Income | Domicile | Attendance | Scheme Document |
| --- | --- | --- | --- | --- | --- | --- |
| Post Matric Scholarship – SC | Govt/Aided/SFC | SC | Less than or Equal to Rs. 2,50,000 Per annum | Haryana | >= 75% | View Scheme Document for More info |
| Post Matric Scholarship – BC | Govt/Aided/SFC | BC | Less than or Equal to Rs. 2,50,000 Per annum | Haryana | >= 75% | View Scheme Document for More info |
How to Apply
How To Apply For Post Matric Scholarship
List Of Colleges
Sr No
Department
District
College / Institute
College
Code
AISHE Code
Type
Category
Affiliation Body 1
Affiliation Body 2
2021-22 Status
2022-23 Status
1
Department of Higher Education
Ambala
Ambala Institute of Hotel Management
1903
S-19420
Self Finance
Management College
National Council for Hotel Management & Catering Technology, Noida
Active
In-Active
2
Department of Higher Education
Ambala
Arya Girls College, Ambala Cantt
1171
C-10671
Aided
Degree College
Kurukshetra University, Kurukshetra
Active
Active
3
Department of Higher Education
Ambala
Birkha Ram College of Education
1352
C-10673
Self Finance
B.Ed College
Kurukshetra University, Kurukshetra
Board of School Education Haryana, Bhiwani
Active
In-Active
4
Department of Higher Education
Ambala
DAV COLLEGE AMBALA CITY
1172
C-10553
Aided
Degree College
Kurukshetra University, Kurukshetra
Active
Active
5
Department of Higher Education
Ambala
DAV College Naneola, Ambala City
1173
C-10890
Aided
Degree College
Kurukshetra University, Kurukshetra
Active
Active
6
Department of Higher Education
Ambala
Dept. of Law, MM University, Mullana-Ambala.
1804
U-0168
Self Finance
Law College
Maharishi Markandeshwar University, Mullana, Ambala
Active
In-Active
7
Department of Higher Education
Ambala
Dev Samaj College For Girls, Ambala City
1250
C-10845
Self Finance
Degree College
Kurukshetra University, Kurukshetra
Active
Active
8
Department of Higher Education
Ambala
E-Max Group Of Institutions
1821
Self Finance
Management College
Kurukshetra University, Kurukshetra
In-Active
In-Active
9
Department of Higher Education
Ambala
Galaxy Global Educational Trusts Group of Institutions
1820
C-10525
Self Finance
Management College
Kurukshetra University, Kurukshetra
Active
In-Active
10
Department of Higher Education
Ambala
GC Ambala Cantt.
1002
C-57434
Govt
Degree College
Kurukshetra University, Kurukshetra
Active
Active
11
Department of Higher Education
Ambala
GC Naraingarh
1004
C-10543
Govt
Degree College
Kurukshetra University, Kurukshetra
Active
Active
12
Department of Higher Education
Ambala
GC Saha
1003
C-10893
Govt
Degree College
Kurukshetra University, Kurukshetra
Active
Active
13
Department of Higher Education
Ambala
GCW Ambala City
1001
C-10773
Govt
Degree College
Kurukshetra University, Kurukshetra
Active
Active
14
Department of Higher Education
Ambala
GCW Shehzadpur
1005
C-59932
Govt
Degree College
Kurukshetra University, Kurukshetra
Active
Active
15
Department of Higher Education
Ambala
GMN College Ambala Cantt
1174
C-10857
Aided
Degree College
Kurukshetra University, Kurukshetra
Active
Active
16
Department of Higher Education
Ambala
Guru Nanak Institute of Management
1826
C-10555
Self Finance
Management College
Kurukshetra University, Kurukshetra
Active
In-Active
17
Department of Higher Education
Ambala
ICL INSTITUTE OF HOTEL MANAGEMENT & CATERING TECHNOLOGY
1823
C-10542
Self Finance
Management College
Kurukshetra University, Kurukshetra
Active
In-Active
18
Department of Higher Education
Ambala
ICL INSTITUTE OF MANAGEMENT & TECHNOLOGY
1827
C-10561
Self Finance
Management College
Kurukshetra University, Kurukshetra
Active
In-Active
19
Department of Higher Education
Ambala
Lala Ami Chand Monga Memorial College of Education
1349
C-10592
Self Finance
B.Ed College
Kurukshetra University, Kurukshetra
Board of School Education Haryana, Bhiwani
Active
In-Active
20
Department of Higher Education
Ambala
Lala Ami Chand Monga Memorial College of Law
1805
C-10559
Self Finance
Law College
Kurukshetra University, Kurukshetra
Active
In-Active
21
Department of Higher Education
Ambala
Lord Krishna College Of Education, Adhoya, Ambala
1354
C-10714
Self Finance
B.Ed College
Kurukshetra University, Kurukshetra
Board of School Education Haryana, Bhiwani
Active
In-Active
22
Department of Higher Education
Ambala
M.M Institute of Catering Technology & Business Management (Hotel Management) Mullana
1910
U-0168
Self Finance
Management College
Maharishi Markandeshwar University, Mullana, Ambala
In-Active
In-Active
23
Department of Higher Education
Ambala
Maa Bala Sundri College of Education
1345
C-29111
Self Finance
B.Ed College
Kurukshetra University, Kurukshetra
Board of School Education Haryana, Bhiwani
Active
In-Active
24
Department of Higher Education
Ambala
Mahabir College of Education
3954
C-10702
Self Finance
B.Ed College
Kurukshetra University, Kurukshetra
Active
In-Active
25
Department of Higher Education
Ambala
Maharishi Markandeshwar University, Mullana, Ambala (Campus)
1960
U-0168
Self Finance
University Campus
Maharishi Markandeshwar University, Mullana, Ambala
Active
In-Active
26
Department of Higher Education
Ambala
Maharishi Markandeshwar University, Sadopur, Ambala (Campus)
1959
U-0641
Self Finance
University Campus
Maharishi Markandeshwar University, Sadopur, Ambala
Active
In-Active
27
Department of Higher Education
Ambala
Mata Shanti Devi Memorial College of Edu
1350
C-10731
Self Finance
B.Ed College
Kurukshetra University, Kurukshetra
Board of School Education Haryana, Bhiwani
Active
In-Active
28
Department of Higher Education
Ambala
MDSD GIRLS COLLEGE
1175
C-10623
Aided
Degree College
Kurukshetra University, Kurukshetra
Active
Active
29
Department of Higher Education
Ambala
MM Institute of Management, Mullana-Ambala.
1825
U-0168
Self Finance
Management College
Maharishi Markandeshwar University, Mullana, Ambala
Active
In-Active
30
Department of Higher Education
Ambala
MM Institute of Medical Sciences & Research, Mullana-Ambala.
1822
U-0168
Self Finance
Management College
Maharishi Markandeshwar University, Mullana, Ambala
In-Active
In-Active
31
Department of Higher Education
Ambala
MPN COLLEGE, MULLANA (AMBALA )
1176
C-10518
Aided
Degree College
Kurukshetra University, Kurukshetra
Active
Active
32
Department of Higher Education
Ambala
P.K.R. Jain College of Education
1353
C-10647
Self Finance
B.Ed College
Kurukshetra University, Kurukshetra
Board of School Education Haryana, Bhiwani
Active
In-Active
33
Department of Higher Education
Ambala
S.A. Jain PG College, Ambala
3797
C-10884
Aided
Degree College
Kurukshetra University, Kurukshetra
Active
Active
34
Department of Higher Education
Ambala
S.D College (Lahore), Ambala Cantt
1177
C-10667
Aided
Degree College
Kurukshetra University, Kurukshetra
Active
Active
35
Department of Higher Education
Ambala
S.D. Institute of Education (for Girls ) Ambala Cantt
1344
C-10719
Self Finance
B.Ed College
Kurukshetra University, Kurukshetra
Board of School Education Haryana, Bhiwani
Active
In-Active
36
Department of Higher Education
Ambala
Sant Mohan Singh Khalsa Labana Girls College, Ambala
1178
C-10581
Aided
Degree College
Kurukshetra University, Kurukshetra
Active
Active
37
Department of Higher Education
Ambala
Shivalik College of Education
1355
Self Finance
B.Ed College
Kurukshetra University, Kurukshetra
Board of School Education Haryana, Bhiwani
Active
In-Active
38
Department of Higher Education
Ambala
SHREE RAM MULKH INSTITUTE OF ENGINEERING & TECHNOLOGY
1824
C-10756
Self Finance
Management College
Kurukshetra University, Kurukshetra
Active
In-Active
39
Department of Higher Education
Ambala
SHRI ATMANAND JAIN INSTITUTE OF MANAGEMENT & TECHNOLOGY (AIMT), AMBALA CITY
1828
C-10591
Self Finance
Management College
Kurukshetra University, Kurukshetra
Active
In-Active
40
Department of Higher Education
Ambala
Sohan Lal DAV College of Education
3802
C-10750
Aided
B.Ed College
Kurukshetra University, Kurukshetra
Active
Active
41
Department of Higher Education
Ambala
SRI GURU HARKRISHAN SAHIB KHALSA COLLEGE
1912
C-10599
Self Finance
Minority College
Kurukshetra University, Kurukshetra
Active
Active
42
Department of Higher Education
Ambala
Surya College of Education
1356
C-59420
Self Finance
B.Ed College
Kurukshetra University, Kurukshetra
Board of School Education Haryana, Bhiwani
Active
In-Active
43
Department of Higher Education
Ambala
Tulsi College of Education for Women
1351
C-10733
Self Finance
B.Ed College
Kurukshetra University, Kurukshetra
Board of School Education Haryana, Bhiwani
Active
In-Active
44
Department of Higher Education
Bhiwani
Adarsh College of Education (Kairu)
1368
Self Finance
B.Ed College
Board of School Education Haryana, Bhiwani
Active
In-Active
45
Department of Higher Education
Bhiwani
Adarsh College of Education (Siwani Mandi)
1722
C-28122
Self Finance
B.Ed College
Ch. Bansi Lal University, Bhiwani
Board of School Education Haryana, Bhiwani
Active
In-Active
46
Department of Higher Education
Bhiwani
Adarsh Mahila Mahavidyalya, Bhiwani
1179
C-28080
Aided
Degree College
Ch. Bansi Lal University, Bhiwani
Active
Active
47
Department of Higher Education
Bhiwani
Adarsh Rehabilitation Centre for Physically and Mentally Handicapped Children
1769
C-62097
Self Finance
B.Ed College
Ch. Bansi Lal University, Bhiwani
Board of School Education Haryana, Bhiwani
Active
In-Active
48
Department of Higher Education
Bhiwani
Apeejay Saraswati P.G. College for Girls, Bhiwani
1182
C-28269
Aided
Degree College
Ch. Bansi Lal University, Bhiwani
Active
Active
49
Department of Higher Education
Bhiwani
ARYA COLLEGE OF EDUCATION, BHIWANI
1370
C-34991
Self Finance
B.Ed College
Ch. Bansi Lal University, Bhiwani
Board of School Education Haryana, Bhiwani
Active
In-Active
50
Department of Higher Education
Bhiwani
B.K. COLLEGE OF EDUCATION
1375
C-28352
Self Finance
B.Ed College
Ch. Bansi Lal University, Bhiwani
Board of School Education Haryana, Bhiwani
Active
In-Active
51
Department of Higher Education
Bhiwani
BABA MUNGIPA VIDYAPEETH EDUCATION COLLEGE
1364
C-56519
Self Finance
B.Ed College
Ch. Bansi Lal University, Bhiwani
Board of School Education Haryana, Bhiwani
Active
In-Active
52
Department of Higher Education
Bhiwani
Baba Siddh nath College of Education Bhandwa Haryana
1771
C-28026
Self Finance
B.Ed College
Ch. Bansi Lal University, Bhiwani
Board of School Education Haryana, Bhiwani
Active
In-Active
53
Department of Higher Education
Bhiwani
Banwari Lal Jindal Suiwala College, Tosham
1180
C-28318
Aided
Degree College
Ch. Bansi Lal University, Bhiwani
Active
Active
54
Department of Higher Education
Bhiwani
Bhagat Jawahar Mal College of Education
1712
Self Finance
B.Ed College
Board of School Education Haryana, Bhiwani
In-Active
In-Active
55
Department of Higher Education
Bhiwani
BITS LAW COLLEGE
1806
C-56424
Self Finance
Law College
Maharishi Dayanand University, Rohtak
Active
In-Active
56
Department of Higher Education
Bhiwani
BITS Law College
3976
Self Finance
Law College
Maharishi Dayanand University, Rohtak
In-Active
In-Active
57
Department of Higher Education
Bhiwani
BRCM LAW COLLEGE
1807
C-60110
Self Finance
Law College
Ch. Bansi Lal University, Bhiwani
Active
In-Active
58
Department of Higher Education
Bhiwani
BRIGHT COLLEGE OF EDUCATION
1376
C-28170
Self Finance
B.Ed College
Ch. Bansi Lal University, Bhiwani
Board of School Education Haryana, Bhiwani
Active
In-Active
59
Department of Higher Education
Bhiwani
C.R Institute of Education
3853
Self Finance
B.Ed College
Ch. Bansi Lal University, Bhiwani
Board of School Education Haryana, Bhiwani
In-Active
In-Active
60
Department of Higher Education
Bhiwani
Ch. Bansi Lal University, Bhiwani (Campus)
1949
U-0788
Govt
University Campus
Ch. Bansi Lal University, Bhiwani
Active
Active
61
Department of Higher Education
Bhiwani
GC Bhiwani
1010
C-28091
Govt
Degree College
Ch. Bansi Lal University, Bhiwani
Active
Active
62
Department of Higher Education
Bhiwani
GC Education Bhiwani
1332
C-28081
Govt
B.Ed College
Ch. Bansi Lal University, Bhiwani
Board of School Education Haryana, Bhiwani
Active
Active
63
Department of Higher Education
Bhiwani
GC Issarwal
1170
C-63954
Govt
Degree College
Ch. Bansi Lal University, Bhiwani
Active
Active
64
Department of Higher Education
Bhiwani
GC Kural
4123
Govt
Degree College
Ch. Bansi Lal University, Bhiwani
Active
Active
65
Department of Higher Education
Bhiwani
GC Loharu
1011
C-28019
Govt
Degree College
Ch. Bansi Lal University, Bhiwani
Active
Active
66
Department of Higher Education
Bhiwani
GC Siwani
1007
C-28456
Govt
Degree College
Ch. Bansi Lal University, Bhiwani
Active
Active
67
Department of Higher Education
Bhiwani
GCG Kairu
1014
C-59999
Govt
Degree College
Ch. Bansi Lal University, Bhiwani
Active
Active
68
Department of Higher Education
Bhiwani
GCW Bawani khera
1012
C-55705
Govt
Degree College
Ch. Bansi Lal University, Bhiwani
Active
Active
69
Department of Higher Education
Bhiwani
GCW Behal
1008
C-49450
Govt
Degree College
Ch. Bansi Lal University, Bhiwani
Active
Active
70
Department of Higher Education
Bhiwani
GCW Bhiwani
1013
C-28016
Govt
Degree College
Ch. Bansi Lal University, Bhiwani
Active
Active
71
Department of Higher Education
Bhiwani
GCW Loharu
1015
C-63246
Govt
Degree College
Ch. Bansi Lal University, Bhiwani
Active
Active
72
Department of Higher Education
Bhiwani
GCW Tosham
1006
C-28470
Govt
Degree College
Ch. Bansi Lal University, Bhiwani
Active
Active
73
Department of Higher Education
Bhiwani
GDC Memorial College, Bahal
1251
C-28251
Self Finance
Degree College
Ch. Bansi Lal University, Bhiwani
Active
Active
74
Department of Higher Education
Bhiwani
Guru Gobind Nath College of Education
1366
C-10556
Self Finance
B.Ed College
Ch. Bansi Lal University, Bhiwani
Board of School Education Haryana, Bhiwani
Active
In-Active
75
Department of Higher Education
Bhiwani
H.N. COLLEGE OF EDUCATION
1378
C-28018
Self Finance
B.Ed College
Ch. Bansi Lal University, Bhiwani
Board of School Education Haryana, Bhiwani
Active
In-Active
76
Department of Higher Education
Bhiwani
HINDU COLLEGE OF EDUCATION (Bhiwani)
1374
C-28337
Self Finance
B.Ed College
Ch. Bansi Lal University, Bhiwani
Board of School Education Haryana, Bhiwani
Active
In-Active
77
Department of Higher Education
Bhiwani
ITS College Bhiwani
1252
C-60286
Self Finance
Degree College
Ch. Bansi Lal University, Bhiwani
Active
Active
78
Department of Higher Education
Bhiwani
K M College of Education, Bhiwani
3803
C-28162
Aided
B.Ed College
Ch. Bansi Lal University, Bhiwani
Board of School Education Haryana, Bhiwani
Active
Active
79
Department of Higher Education
Bhiwani
K.C.M. ARMY COLLEGE OF EDUCATION
1369
C-28205
Self Finance
B.Ed College
Ch. Bansi Lal University, Bhiwani
Board of School Education Haryana, Bhiwani
Active
In-Active
80
Department of Higher Education
Bhiwani
Krishna Vidyapeeth of Management & Technology
1900
C-51626
Self Finance
Management College
Maharishi Dayanand University, Rohtak
Active
In-Active
81
Department of Higher Education
Bhiwani
M.L.M. INSTITUTE OF EDUCATION (SOHANSARA)
1365
Self Finance
B.Ed College
Board of School Education Haryana, Bhiwani
Active
In-Active
82
Department of Higher Education
Bhiwani
Maharana Partap Mahila Mahavidyalaya, Bhiwani
1254
C-58304
Self Finance
Degree College
Ch. Bansi Lal University, Bhiwani
Active
Active
83
Department of Higher Education
Bhiwani
Maharana Pratap College of Education for Women, Bhiwani
1346
C-28501
Self Finance
B.Ed College
Ch. Bansi Lal University, Bhiwani
Board of School Education Haryana, Bhiwani
Active
In-Active
84
Department of Higher Education
Bhiwani
Mahila Mahavidyalaya, Jhojhu Kalan
1184
C-28289
Aided
Degree College
Ch. Bansi Lal University, Bhiwani
Active
Active
85
Department of Higher Education
Bhiwani
MAJOR NAFE SINGH KUNGARIYA COLLEGE OF EDUCATION
1357
C-28125
Self Finance
B.Ed College
Ch. Bansi Lal University, Bhiwani
Board of School Education Haryana, Bhiwani
Active
In-Active
86
Department of Higher Education
Bhiwani
MARC COLLEGE OF EDUCATION
1362
C-28461
Self Finance
B.Ed College
Ch. Bansi Lal University, Bhiwani
Board of School Education Haryana, Bhiwani
Active
In-Active
87
Department of Higher Education
Bhiwani
NATIONAL COLLEGE OF EDUCATION .
1373
C-28133
Self Finance
B.Ed College
Ch. Bansi Lal University, Bhiwani
Board of School Education Haryana, Bhiwani
Active
In-Active
88
Department of Higher Education
Bhiwani
Oxford International College of Education (Bhiwani)
1358
C-61067
Self Finance
B.Ed College
Ch. Bansi Lal University, Bhiwani
Board of School Education Haryana, Bhiwani
Active
In-Active
89
Department of Higher Education
Bhiwani
PT. SITA RAM SHASTRI B.Ed TRAINING COLLEGE
1687
C-28088
Self Finance
B.Ed College
Ch. Bansi Lal University, Bhiwani
Board of School Education Haryana, Bhiwani
Active
In-Active
90
Department of Higher Education
Bhiwani
S.D College of Education, Isharwal, Bhiwani
3972
C-28464
Self Finance
Other College
Board of School Education Haryana, Bhiwani
Active
In-Active
91
Department of Higher Education
Bhiwani
S.D. COLLEGE OF EDUCATION
1359
C-28464
Self Finance
B.Ed College
Ch. Bansi Lal University, Bhiwani
Board of School Education Haryana, Bhiwani
Active
In-Active
92
Department of Higher Education
Bhiwani
SANT ROSHAN LAL COLLEGE OF EDUCATION FOR WOMEN
1361
C-28431
Self Finance
B.Ed College
Ch. Bansi Lal University, Bhiwani
Board of School Education Haryana, Bhiwani
Active
In-Active
93
Department of Higher Education
Bhiwani
SARASWATI COLLEGE OF EDUCATION (CHAHAR KALAN)
1762
Self Finance
B.Ed College
Board of School Education Haryana, Bhiwani
Active
In-Active
94
Department of Higher Education
Bhiwani
Sharda Mahila Mahavidyalaya, Singhani, Bhiwani
1253
C-48321
Self Finance
Degree College
Ch. Bansi Lal University, Bhiwani
Active
Active
95
Department of Higher Education
Bhiwani
Shivam College of Education
1371
Self Finance
B.Ed College
Board of School Education Haryana, Bhiwani
Active
In-Active
96
Department of Higher Education
Bhiwani
SHRI HARYANA SHEKHAWATI BRAMCHARYA ASHARM D.El.Ed / O.T Trg. Inst., Meham Gate, Bhiwani
1377
S-6205
Self Finance
B.Ed College
Board of School Education Haryana, Bhiwani
Active
In-Active
97
Department of Higher Education
Bhiwani
SWASTIK COLLEGE OF EDUCATION
1367
S-20495
Self Finance
B.Ed College
Board of School Education Haryana, Bhiwani
Active
In-Active
98
Department of Higher Education
Bhiwani
TAGORE COLLEGE OF EDUCATION
1740
C-51079
Self Finance
B.Ed College
Ch. Bansi Lal University, Bhiwani
Board of School Education Haryana, Bhiwani
Active
In-Active
99
Department of Higher Education
Bhiwani
Tagore Elementary Teachers Educational Institute
1748
C-61056
Self Finance
B.Ed College
Board of School Education Haryana, Bhiwani
In-Active
In-Active
100
Department of Higher Education
Bhiwani
The Technological Institute of Textile & Sciences
4092
C-28190
Self Finance
Management College
Maharishi Dayanand University, Rohtak
Active
In-Active
101
Department of Higher Education
Bhiwani
Updesh Elementary Teacher's Educational Institute Noonsar (Bhiwani)
1360
Self Finance
B.Ed College
Board of School Education Haryana, Bhiwani
Active
In-Active
102
Department of Higher Education
Bhiwani
Vaish College Bhiwani
1181
C-32596
Aided
Degree College
Ch. Bansi Lal University, Bhiwani
Active
Active
103
Department of Higher Education
Bhiwani
VENKETESHWAR COLLEGE OF EDUCATION
1372
C-28354
Self Finance
B.Ed College
Ch. Bansi Lal University, Bhiwani
Board of School Education Haryana, Bhiwani
Active
In-Active
104
Department of Higher Education
Bhiwani
VIGYA COLLEGE OF EDUCATION
1363
C-28256
Self Finance
B.Ed College
Ch. Bansi Lal University, Bhiwani
Board of School Education Haryana, Bhiwani
Active
In-Active
105
Department of Higher Education
Charkhidadri
Arya College of Education (Jhojhu Kalan)
1385
C-34991
Self Finance
B.Ed College
Ch. Bansi Lal University, Bhiwani
Board of School Education Haryana, Bhiwani
Active
In-Active
106
Department of Higher Education
Charkhidadri
ARYAVART COLLEGE OF EDUCATION
1382
C-28102
Self Finance
B.Ed College
Ch. Bansi Lal University, Bhiwani
Board of School Education Haryana, Bhiwani
Active
In-Active
107
Department of Higher Education
Charkhidadri
EKLAVYA COLLEGE OF EDUCATION
1753
Self Finance
B.Ed College
Board of School Education Haryana, Bhiwani
Active
In-Active
108
Department of Higher Education
Charkhidadri
GC Baund Kalan
1009
C-28021
Govt
Degree College
Ch. Bansi Lal University, Bhiwani
Active
Active
109
Department of Higher Education
Charkhidadri
GC Mandi Harya
1016
C-60941
Govt
Degree College
Ch. Bansi Lal University, Bhiwani
Active
Active
110
Department of Higher Education
Charkhidadri
GCW Badhra
1017
C-51945
Govt
Degree College
Ch. Bansi Lal University, Bhiwani
Active
Active
111
Department of Higher Education
Charkhidadri
Govt P.G College Charkhi Dadri
4122
C-67559
Govt
Degree College
Ch. Bansi Lal University, Bhiwani
Active
Active
112
Department of Higher Education
Charkhidadri
Gramin Sthali college Of Education ,Morwala
1742
Self Finance
B.Ed College
Board of School Education Haryana, Bhiwani
In-Active
In-Active
113
Department of Higher Education
Charkhidadri
GREEN MEADOWS COLLEGE OF EDUCATION CHARKHI
1391
C-28353
Self Finance
B.Ed College
Ch. Bansi Lal University, Bhiwani
Board of School Education Haryana, Bhiwani
Active
In-Active
114
Department of Higher Education
Charkhidadri
Haryana College of Education for Women
1379
C-28047
Self Finance
B.Ed College
Board of School Education Haryana, Bhiwani
Active
In-Active
115
Department of Higher Education
Charkhidadri
Haryana College of Education Mehrana
1389
C-28047
Self Finance
B.Ed College
Ch. Bansi Lal University, Bhiwani
Board of School Education Haryana, Bhiwani
Active
In-Active
116
Department of Higher Education
Charkhidadri
HITKARI COLLEGE OF EDUCATION
1384
C-28424
Self Finance
B.Ed College
Ch. Bansi Lal University, Bhiwani
Board of School Education Haryana, Bhiwani
Active
In-Active
117
Department of Higher Education
Charkhidadri
J.K. MEMORIAL COLLEGE OF EDUCATION
1387
C-28309
Self Finance
B.Ed College
Ch. Bansi Lal University, Bhiwani
Board of School Education Haryana, Bhiwani
Active
In-Active
118
Department of Higher Education
Charkhidadri
Janta Vidya Mandir Ganpat Rai Rasiwasia College, CharkhiDadri
1183
C-28067
Aided
Degree College
Ch. Bansi Lal University, Bhiwani
Active
Active
119
Department of Higher Education
Charkhidadri
K.N. COLLEGE OF EDUCATION, CHARKHI DADRI
1388
S-17276
Self Finance
B.Ed College
Board of School Education Haryana, Bhiwani
Active
In-Active
120
Department of Higher Education
Charkhidadri
KEDARNATH AGGARWAL INSTITUTE OF MANAGEMENT, CHARKHI DADRI
1829
C-45072
Self Finance
Management College
Maharishi Dayanand University, Rohtak
Active
In-Active
121
Department of Higher Education
Charkhidadri
M.L.R Saraswati College of Education, Charkhi Dadri
1347
C-28258
Aided
B.Ed College
Ch. Bansi Lal University, Bhiwani
Active
Active
122
Department of Higher Education
Charkhidadri
Sarswati College of Education, Mandoli
4032
C-28275
Self Finance
B.Ed College
Ch. Bansi Lal University, Bhiwani
Active
In-Active
123
Department of Higher Education
Charkhidadri
SDM Teacher Training Institute
1746
Self Finance
B.Ed College
Board of School Education Haryana, Bhiwani
In-Active
In-Active
124
Department of Higher Education
Charkhidadri
SHRI KRISHNA COLLEGE OF EDUCTAION
1380
C-28235
Self Finance
B.Ed College
Ch. Bansi Lal University, Bhiwani
Board of School Education Haryana, Bhiwani
Active
In-Active
125
Department of Higher Education
Charkhidadri
SMT. SANTRA DEVI COLLEGE OF EDUCATION
1383
C-28478
Self Finance
B.Ed College
Ch. Ranbir Singh Hooda University, Jind
Board of School Education Haryana, Bhiwani
Active
In-Active
126
Department of Higher Education
Charkhidadri
Vaish College of Education, Baund Kalan
1381
C-28167
Self Finance
B.Ed College
Ch. Bansi Lal University, Bhiwani
Board of School Education Haryana, Bhiwani
Active
In-Active
127
Department of Higher Education
Charkhidadri
WOMEN COLLEGE OF EDUCATION
1386
C-28304
Self Finance
B.Ed College
Ch. Bansi Lal University, Bhiwani
Board of School Education Haryana, Bhiwani
Active
In-Active
128
Department of Higher Education
Charkhidadri
Y.P.S. MEMORIAL COLLEGE OF EDUCATION
1390
C-28236
Self Finance
B.Ed College
Ch. Bansi Lal University, Bhiwani
Board of School Education Haryana, Bhiwani
Active
In-Active
129
Department of Higher Education
Faridabad
Aggarwal College Ballabgarh
1185
C-28160
Aided
Degree College
Maharishi Dayanand University, Rohtak
Active
Active
130
Department of Higher Education
Faridabad
Aggarwal College of Education
1343
C-51737
Self Finance
B.Ed College
Ch. Ranbir Singh Hooda University, Jind
Board of School Education Haryana, Bhiwani
Active
In-Active
131
Department of Higher Education
Faridabad
ARAVALI COLLEGE OF ADVANCED STUDIES IN EDUCATION
1394
C-28270
Self Finance
B.Ed College
Ch. Ranbir Singh Hooda University, Jind
Board of School Education Haryana, Bhiwani
Active
In-Active
132
Department of Higher Education
Faridabad
Aravali College of Engineering & Management
1837
C-28184
Self Finance
Management College
J.C. Bose University of Science and Technology, YMCA
Active
In-Active
133
Department of Higher Education
Faridabad
B.S.Anangpuria Inst. Of Tech. & Mgt. Alampur, Distt. Faridabad
1833
C-28032
Self Finance
Management College
J.C. Bose University of Science and Technology, YMCA
Active
In-Active
134
Department of Higher Education
Faridabad
B.S.Anangpuria Institute of Law
1809
C-28458
Self Finance
Law College
Maharishi Dayanand University, Rohtak
Active
In-Active
135
Department of Higher Education
Faridabad
Balaji College of Education
1744
C-28120
Self Finance
B.Ed College
Ch. Ranbir Singh Hooda University, Jind
Board of School Education Haryana, Bhiwani
Active
In-Active
136
Department of Higher Education
Faridabad
BHARTIYAM COLLEGE OF EDUCATION
1405
C-28362
Self Finance
B.Ed College
Ch. Ranbir Singh Hooda University, Jind
Board of School Education Haryana, Bhiwani
Active
In-Active
137
Department of Higher Education
Faridabad
BIMALA DEVI EDUCATIONAL SOCIETY'S GROUP OF INSTITUTIONS
1902
C-28392
Self Finance
Management College
Maharishi Dayanand University, Rohtak
In-Active
In-Active
138
Department of Higher Education
Faridabad
DAV Centenary College, Faridabad
1186
C-28264
Aided
Degree College
Maharishi Dayanand University, Rohtak
Active
Active
139
Department of Higher Education
Faridabad
DAV Institute Of Management, Faridabad
1839
C-31752
Self Finance
Management College
Maharishi Dayanand University, Rohtak
Active
In-Active
140
Department of Higher Education
Faridabad
DEHAT VIKAS INSTITUTE OF EDUCATION AND TECHNOLOGY
1397
C-28397
Self Finance
B.Ed College
Ch. Ranbir Singh Hooda University, Jind
Board of School Education Haryana, Bhiwani
Active
In-Active
141
Department of Higher Education
Faridabad
Delhi Global Institute of Management, Faridabad
3947
C-28173
Self Finance
Management College
Maharishi Dayanand University, Rohtak
Active
In-Active
142
Department of Higher Education
Faridabad
Delhi Institute of Management, Faridabad
3963
C-64920
Self Finance
Management College
Maharishi Dayanand University, Rohtak
Active
In-Active
143
Department of Higher Education
Faridabad
Echelon Institute of Technology, Faridabad
3946
C-28219
Self Finance
Management College
J.C. Bose University of Science and Technology, YMCA
Active
In-Active
144
Department of Higher Education
Faridabad
Faridabad College of Engineering and Management
1907
C-28147
Self Finance
Management College
Maharishi Dayanand University, Rohtak
Active
In-Active
145
Department of Higher Education
Faridabad
GC Faridabad
1018
C-28395
Govt
Degree College
Maharishi Dayanand University, Rohtak
Active
Active
146
Department of Higher Education
Faridabad
GC Kheri Gujran
1021
C-56419
Govt
Degree College
Maharishi Dayanand University, Rohtak
Active
Active
147
Department of Higher Education
Faridabad
GC Mohna
1024
C-60964
Govt
Degree College
Maharishi Dayanand University, Rohtak
Active
Active
148
Department of Higher Education
Faridabad
GC Tigaon
1019
C-28351
Govt
Degree College
Maharishi Dayanand University, Rohtak
Active
Active
149
Department of Higher Education
Faridabad
GCG Ballabgarh
1022
C-60846
Govt
Degree College
Maharishi Dayanand University, Rohtak
Active
Active
150
Department of Higher Education
Faridabad
GCG Nacholi
1023
C-60950
Govt
Degree College
Maharishi Dayanand University, Rohtak
Active
Active
151
Department of Higher Education
Faridabad
GCW Faridabad
1020
C-28310
Govt
Degree College
Maharishi Dayanand University, Rohtak
Active
Active
152
Department of Higher Education
Faridabad
GOLD FIELD COLLEGE OF EDUCATION
1404
C-28266
Self Finance
B.Ed College
Ch. Ranbir Singh Hooda University, Jind
Board of School Education Haryana, Bhiwani
Active
In-Active
153
Department of Higher Education
Faridabad
Institute of Hotel Management Catering Technology & Applied Nutrition,
1831
S-18072
Self Finance
Management College
National Council for Hotel Management & Catering Technology, Noida
Active
In-Active
154
Department of Higher Education
Faridabad
Institute of Law & Research
1808
C-28341
Self Finance
Law College
Maharishi Dayanand University, Rohtak
Active
In-Active
155
Department of Higher Education
Faridabad
Institute of Management & Technology, Tigaon Road, Faridabad
1830
C-28368
Self Finance
Management College
Maharishi Dayanand University, Rohtak
Active
In-Active
156
Department of Higher Education
Faridabad
INSTITUTE OF TEACHER EDUCATION
1402
C-28079
Self Finance
B.Ed College
Ch. Ranbir Singh Hooda University, Jind
Board of School Education Haryana, Bhiwani
Active
In-Active
157
Department of Higher Education
Faridabad
J.B Knowledge Park, Faridabad
1832
C-28392
Self Finance
Management College
Maharishi Dayanand University, Rohtak
Active
In-Active
158
Department of Higher Education
Faridabad
J.C. Bose University of Science and Technology, YMCA (Campus)
1955
U-0175
Govt
University Campus
J.C. Bose University of Science and Technology, YMCA
Active
Active
159
Department of Higher Education
Faridabad
JAGRITI INSTITUTE OF HIGHER EDUCATION
1403
C-28199
Self Finance
B.Ed College
Ch. Ranbir Singh Hooda University, Jind
Board of School Education Haryana, Bhiwani
Active
In-Active
160
Department of Higher Education
Faridabad
K.R. COLLEGE OF EDUCATION
1399
C-28078
Self Finance
B.Ed College
Ch. Ranbir Singh Hooda University, Jind
Board of School Education Haryana, Bhiwani
Active
In-Active
161
Department of Higher Education
Faridabad
KL Mehta Dayanand College for Women, Faridabad
1187
C-28384
Aided
Degree College
Maharishi Dayanand University, Rohtak
Active
Active
162
Department of Higher Education
Faridabad
Manav Rachna University (Campus)
1962
U-0818
Self Finance
University Campus
Manav Rachna University
Active
In-Active
163
Department of Higher Education
Faridabad
P.T. L.R. COLLEGE OF TECHNOLOGY, KABOOLPUR BANGAR
3909
C-28093
Self Finance
Management College
Maharishi Dayanand University, Rohtak
Active
In-Active
164
Department of Higher Education
Faridabad
PT. L.R. COLLEGE OF EDUCATION
1401
C-28326
Self Finance
B.Ed College
Ch. Ranbir Singh Hooda University, Jind
Active
In-Active
165
Department of Higher Education
Faridabad
RATTAN SINGH GIRLS COLLEGE OF EDUCATION
1398
C-28486
Self Finance
B.Ed College
Ch. Ranbir Singh Hooda University, Jind
Board of School Education Haryana, Bhiwani
Active
In-Active
166
Department of Higher Education
Faridabad
RAWAL COLLEGE OF EDUCATION
1396
C-55547
Self Finance
B.Ed College
Ch. Ranbir Singh Hooda University, Jind
Board of School Education Haryana, Bhiwani
Active
In-Active
167
Department of Higher Education
Faridabad
Rawal Institute of Management, Sohna Road, Faridabad
1838
C-28499
Self Finance
Management College
Maharishi Dayanand University, Rohtak
Active
In-Active
168
Department of Higher Education
Faridabad
RISE MAX COLLEGE OF EDUCATION
1393
C-28325
Self Finance
B.Ed College
Ch. Ranbir Singh Hooda University, Jind
Board of School Education Haryana, Bhiwani
Active
In-Active
169
Department of Higher Education
Faridabad
Sai Mohan College of Education
1706
C-28453
Self Finance
B.Ed College
Ch. Ranbir Singh Hooda University, Jind
Board of School Education Haryana, Bhiwani
Active
In-Active
170
Department of Higher Education
Faridabad
SATYUG DARSHAN INSTITUTE OF EDUCATION AND RESEARCH FOR GIRLS
1392
C-28375
Self Finance
B.Ed College
Ch. Ranbir Singh Hooda University, Jind
Board of School Education Haryana, Bhiwani
Active
In-Active
171
Department of Higher Education
Faridabad
SATYUG DARSHAN INSTITUTE OF ENGINEERING AND TECHNOLOGY
1836
C-48182
Self Finance
Management College
J.C. Bose University of Science and Technology, YMCA
Active
In-Active
172
Department of Higher Education
Faridabad
Sheela Devi Institute of Mangement & Technology
1835
S-18328
Self Finance
Management College
Maharishi Dayanand University, Rohtak
Active
In-Active
173
Department of Higher Education
Faridabad
Shiv College of Education
1716
C-28459
Self Finance
B.Ed College
Ch. Ranbir Singh Hooda University, Jind
Board of School Education Haryana, Bhiwani
Active
In-Active
174
Department of Higher Education
Faridabad
SMT. BHAGWANI MEMORIAL INSTITUTE OF HIGHER EDUCATION
1400
C-28124
Self Finance
B.Ed College
Ch. Ranbir Singh Hooda University, Jind
Board of School Education Haryana, Bhiwani
Active
In-Active
175
Department of Higher Education
Faridabad
Society for Advance Study in Rehabilitation
1927
Self Finance
Other College
Maharishi Dayanand University, Rohtak
In-Active
In-Active
176
Department of Higher Education
Faridabad
St Pauls College of Education
1707
C-60110
Self Finance
B.Ed College
Board of School Education Haryana, Bhiwani
In-Active
In-Active
177
Department of Higher Education
Faridabad
ST. LUKE COLLEGE OF EDUCATION
1395
C-28042
Self Finance
B.Ed College
Ch. Ranbir Singh Hooda University, Jind
Board of School Education Haryana, Bhiwani
Active
In-Active
178
Department of Higher Education
Faridabad
VISION INSTITUTE OF APPLIED STUDIES
1834
C-55847
Self Finance
Management College
Ch. Ranbir Singh Hooda University, Jind
Active
In-Active
179
Department of Higher Education
Fatehabad
Aakash College of Education, Vill. Chanderkalan, Tohana
1413
C-22418
Self Finance
B.Ed College
Chaudhary Devi Lal University, Sirsa
Board of School Education Haryana, Bhiwani
Active
In-Active
180
Department of Higher Education
Fatehabad
Apex College of Education, Bidhai Khera
1407
C-22456
Self Finance
B.Ed College
Chaudhary Devi Lal University, Sirsa
Board of School Education Haryana, Bhiwani
Active
In-Active
181
Department of Higher Education
Fatehabad
Crescent College of Education, Vill. Bhodia Khera
1408
C-22424
Self Finance
B.Ed College
Chaudhary Devi Lal University, Sirsa
Board of School Education Haryana, Bhiwani
Active
In-Active
182
Department of Higher Education
Fatehabad
Daffodils College of Education, Matana Road, Opposite-Police Line, Fatehabad
1410
C-22430
Self Finance
B.Ed College
Chaudhary Devi Lal University, Sirsa
Board of School Education Haryana, Bhiwani
Active
In-Active
183
Department of Higher Education
Fatehabad
Defence Degree College, Tohana
1255
C-53478
Self Finance
Degree College
Chaudhary Devi Lal University, Sirsa
Active
Active
184
Department of Higher Education
Fatehabad
Defence P.G College of Education AMANI TOHANA
1840
C-22449
Self Finance
Management College
Chaudhary Devi Lal University, Sirsa
Active
In-Active
185
Department of Higher Education
Fatehabad
GC Bhattu Kalan
1030
C-22421
Govt
Degree College
Chaudhary Devi Lal University, Sirsa
Active
Active
186
Department of Higher Education
Fatehabad
GC Bhuna
1028
C-53479
Govt
Degree College
Chaudhary Devi Lal University, Sirsa
Active
Active
187
Department of Higher Education
Fatehabad
GC Ratia
1026
C-22422
Govt
Degree College
Chaudhary Devi Lal University, Sirsa
Active
Active
188
Department of Higher Education
Fatehabad
GC Tohana
1029
C-22420
Govt
Degree College
Chaudhary Devi Lal University, Sirsa
Active
Active
189
Department of Higher Education
Fatehabad
GCW Bhodia Khera
1025
C-22440
Govt
Degree College
Chaudhary Devi Lal University, Sirsa
Active
Active
190
Department of Higher Education
Fatehabad
GCW Ratia
1027
C-47861
Govt
Degree College
Chaudhary Devi Lal University, Sirsa
Active
Active
191
Department of Higher Education
Fatehabad
Gramin College of Education, VPO Jamalpur Sheikhan, Tohana
1412
C-22441
Self Finance
B.Ed College
Chaudhary Devi Lal University, Sirsa
Board of School Education Haryana, Bhiwani
Active
In-Active
192
Department of Higher Education
Fatehabad
Gramin College of Education, VPO Jamalpur Sheikhan, Tohana
3985
Self Finance
B.Ed College
Chaudhary Devi Lal University, Sirsa
In-Active
In-Active
193
Department of Higher Education
Fatehabad
Guru Dronacharya College of Education, Bhuna, Fatehabad
1348
C-22416
Self Finance
B.Ed College
Chaudhary Devi Lal University, Sirsa
Board of School Education Haryana, Bhiwani
Active
In-Active
194
Department of Higher Education
Fatehabad
Haryana college of Special Education and Rehabilitation
3952
Self Finance
Other College
Rehabilitation Council of India
In-Active
In-Active
195
Department of Higher Education
Fatehabad
Maharishi Arvindo College of Education
1436
C-66762
Self Finance
B.Ed College
Chaudhary Devi Lal University, Sirsa
Board of School Education Haryana, Bhiwani
Active
In-Active
196
Department of Higher Education
Fatehabad
Manohar Memorial (PG) College, Fatehabad
1188
C-22442
Aided
Degree College
Chaudhary Devi Lal University, Sirsa
Active
Active
197
Department of Higher Education
Fatehabad
Manohar Memorial College Of Education (Fatehabad)
1415
C-22414
Self Finance
B.Ed College
Chaudhary Devi Lal University, Sirsa
Board of School Education Haryana, Bhiwani
Active
In-Active
198
Department of Higher Education
Fatehabad
MUH Jain College of Education, Vill. Chander Kalan, Tohana
1414
C-22429
Self Finance
B.Ed College
Chaudhary Devi Lal University, Sirsa
Board of School Education Haryana, Bhiwani
Active
In-Active
199
Department of Higher Education
Fatehabad
Mukhtiar Singh Degree College, Behbalpur
1915
Self Finance
Minority College
Chaudhary Devi Lal University, Sirsa
In-Active
In-Active
200
Department of Higher Education
Fatehabad
Mukhtiar Singh Memorial Degree College, Behbalpur
1324
C-59836
Self Finance
Degree College
Chaudhary Devi Lal University, Sirsa
Active
Active
201
Department of Higher Education
Fatehabad
Naryana College of Education
1700
S-20633
Self Finance
B.Ed College
Board of School Education Haryana, Bhiwani
Active
In-Active
202
Department of Higher Education
Fatehabad
Shaheed Baba Deep Singh College of Education, Vill. Aharwan, Ratia
1409
C-22433
Self Finance
B.Ed College
Chaudhary Devi Lal University, Sirsa
Board of School Education Haryana, Bhiwani
Active
In-Active
203
Department of Higher Education
Fatehabad
Shri Durga Mahila Mahavidyalaya Tohana
1256
C-22431
Self Finance
Degree College
Chaudhary Devi Lal University, Sirsa
Active
Active
204
Department of Higher Education
Fatehabad
Surya P.G College of Education, Vill. Baliala, Tohana
1406
C-22425
Self Finance
B.Ed College
Chaudhary Devi Lal University, Sirsa
Board of School Education Haryana, Bhiwani
Active
In-Active
205
Department of Higher Education
Fatehabad
Tirupati College of Education, Sardulgarh Road, Ratia
1411
C-22451
Self Finance
B.Ed College
Chaudhary Devi Lal University, Sirsa
Board of School Education Haryana, Bhiwani
Active
In-Active
206
Department of Higher Education
Gurugram
AMITY University, Manesar (Campus)
1965
U-0155
Self Finance
University Campus
AMITY University, Manesar
Active
In-Active
207
Department of Higher Education
Gurugram
B.M. COLLEGE OF EDUCATION
1431
C-28074
Self Finance
B.Ed College
Maharishi Dayanand University, Rohtak
Board of School Education Haryana, Bhiwani
Active
In-Active
208
Department of Higher Education
Gurugram
BASANT LAL MEMORIAL COLLEGE OF EDUCATION
1418
Self Finance
B.Ed College
Maharishi Dayanand University, Rohtak
Board of School Education Haryana, Bhiwani
In-Active
In-Active
209
Department of Higher Education
Gurugram
BML Munjal University, Gurugram (Campus)
4052
U-0735
Self Finance
University Campus
BML Munjal University
Active
In-Active
210
Department of Higher Education
Gurugram
CH. PARTAP SINGH MEMORIAL COLLEGE OF EDUCATION
1432
C-28440
Self Finance
B.Ed College
Maharishi Dayanand University, Rohtak
Board of School Education Haryana, Bhiwani
Active
In-Active
211
Department of Higher Education
Gurugram
D GC Gurgaon
1031
C-28393
Govt
Degree College
Gurugram University, Gurugram
Active
Active
212
Department of Higher Education
Gurugram
D.V.M COLLEGE OF EDUCATION, SOHNA
3949
C-28015
Self Finance
B.Ed College
Maharishi Dayanand University, Rohtak
Active
In-Active
213
Department of Higher Education
Gurugram
Deen Dayal Rustagi College of Education, khandewla
1424
C-28049
Self Finance
B.Ed College
Maharishi Dayanand University, Rohtak
Active
In-Active
214
Department of Higher Education
Gurugram
Deen Dayal Rustagi College of Management & Technology- Khandewla Gurgaon
1842
C-28151
Self Finance
Management College
Maharishi Dayanand University, Rohtak
Active
In-Active
215
Department of Higher Education
Gurugram
DPG Degree College, Gurugram
1259
C-56157
Self Finance
Degree College
Maharishi Dayanand University, Rohtak
Active
Active
216
Department of Higher Education
Gurugram
DRONA COLLEGE OF EDUCATION
1417
C-28294
Self Finance
B.Ed College
Maharishi Dayanand University, Rohtak
Board of School Education Haryana, Bhiwani
Active
In-Active
217
Department of Higher Education
Gurugram
G.D. Goenka University (Campus)
1968
U-0720
Self Finance
University Campus
G.D. Goenka University
Active
In-Active
218
Department of Higher Education
Gurugram
GC Farrukhnagar
1038
C-65291
Govt
Degree College
Gurugram University, Gurugram
Active
Active
219
Department of Higher Education
Gurugram
GC Jatauli Haily Mandi
1032
C-28503
Govt
Degree College
Gurugram University, Gurugram
Active
Active
220
Department of Higher Education
Gurugram
GC Rithoj
1036
C-60949
Govt
Degree College
Gurugram University, Gurugram
Active
Active
221
Department of Higher Education
Gurugram
GC Sector-9 Gurugram
1034
C-28137
Govt
Degree College
Gurugram University, Gurugram
Active
Active
222
Department of Higher Education
Gurugram
GC Sidhrawali
1035
C-28060
Govt
Degree College
Gurugram University, Gurugram
Active
Active
223
Department of Higher Education
Gurugram
GCG Manesar
1037
C-60967
Govt
Degree College
Gurugram University, Gurugram
Active
Active
224
Department of Higher Education
Gurugram
GCG Sector-52, Gurugram
1039
C-65920
Govt
Degree College
Gurugram University, Gurugram
Active
Active
225
Department of Higher Education
Gurugram
GCW Sector-14 Gurugram
1033
C-28427
Govt
Degree College
Gurugram University, Gurugram
Active
Active
226
Department of Higher Education
Gurugram
Global Institute of Technology and Management
1905
C-28037
Self Finance
Management College
Maharishi Dayanand University, Rohtak
Active
In-Active
227
Department of Higher Education
Gurugram
Gurugram University, Gurugram (Campus)
1951
U-1021
Govt
University Campus
Gurugram University, Gurugram
Active
Active
228
Department of Higher Education
Gurugram
IILM University (Campus)
1972
Self Finance
University Campus
IILM University
In-Active
In-Active
229
Department of Higher Education
Gurugram
Indian School of Hospitility, Shikhopur, Sec-83 Gurugram
1325
C-61433
Self Finance
Degree College
Gurugram University, Gurugram
Active
Active
230
Department of Higher Education
Gurugram
Jhankar College of Education
1787
C-28361
Self Finance
B.Ed College
Maharishi Dayanand University, Rohtak
Board of School Education Haryana, Bhiwani
Active
In-Active
231
Department of Higher Education
Gurugram
JINDAL COLLEGE OF EDUCATION FOR GIRLS
1425
C-28506
Self Finance
B.Ed College
Maharishi Dayanand University, Rohtak
Board of School Education Haryana, Bhiwani
Active
In-Active
232
Department of Higher Education
Gurugram
JK Business School (Degree College)
1258
Self Finance
Degree College
Gurugram University, Gurugram
Active
Active
233
Department of Higher Education
Gurugram
LAL BAHADUR SHASTRI COLLEGE OF EDUCATION
1429
C-28221
Self Finance
B.Ed College
Maharishi Dayanand University, Rohtak
Board of School Education Haryana, Bhiwani
Active
In-Active
234
Department of Higher Education
Gurugram
Laxmi College of Education, kasan
1799
Self Finance
B.Ed College
Maharishi Dayanand University, Rohtak
Board of School Education Haryana, Bhiwani
In-Active
In-Active
235
Department of Higher Education
Gurugram
LAXMI COLLEGE OF EDUCATION, RATHIWAS
1421
C-28301
Self Finance
B.Ed College
Maharishi Dayanand University, Rohtak
Board of School Education Haryana, Bhiwani
Active
In-Active
236
Department of Higher Education
Gurugram
LORD KRISHANA COLLEGE OF EDUCATION
1427
C-35716
Self Finance
B.Ed College
Maharishi Dayanand University, Rohtak
Board of School Education Haryana, Bhiwani
Active
In-Active
237
Department of Higher Education
Gurugram
M.D College of Education, Jauri khurd
4112
Self Finance
Other College
Board of School Education Haryana, Bhiwani
Active
In-Active
238
Department of Higher Education
Gurugram
M.D.U. Center For Professional & Allied Studies
1923
C-28359
Govt
Other College
Maharishi Dayanand University, Rohtak
Active
Active
239
Department of Higher Education
Gurugram
Maa Saraswati Teachers Training Institute, Makdola
4072
C-28329
Self Finance
B.Ed College
Maharishi Dayanand University, Rohtak
Active
In-Active
240
Department of Higher Education
Gurugram
Major Bihari Lal Memorial College of Education
1711
C-28335
Self Finance
B.Ed College
Maharishi Dayanand University, Rohtak
Board of School Education Haryana, Bhiwani
Active
In-Active
241
Department of Higher Education
Gurugram
N.B.G.S.M College, Gurugram
1189
C-28101
Aided
Degree College
Gurugram University, Gurugram
Active
Active
242
Department of Higher Education
Gurugram
OXFORD COLLEGE OF EDUCATION
1428
C-28083
Self Finance
B.Ed College
Maharishi Dayanand University, Rohtak
Board of School Education Haryana, Bhiwani
Active
In-Active
243
Department of Higher Education
Gurugram
RAO DALIP SINGH COLLEGE OF EDUCATION
1416
C-28237
Self Finance
B.Ed College
Maharishi Dayanand University, Rohtak
Board of School Education Haryana, Bhiwani
Active
In-Active
244
Department of Higher Education
Gurugram
RAO LAL SINGH COLLEGE OF EDUCATION
3804
C-28061
Aided
B.Ed College
Gurugram University, Gurugram
Board of School Education Haryana, Bhiwani
Active
Active
245
Department of Higher Education
Gurugram
RAO MOHAR SINGH COLLEGE OF EDUCATION
1419
C-64813
Self Finance
B.Ed College
Maharishi Dayanand University, Rohtak
Board of School Education Haryana, Bhiwani
Active
In-Active
246
Department of Higher Education
Gurugram
Rao Mohar Singh College Of Education, Behrampur, P.O. Fazilpur
4057
C-28025
Self Finance
B.Ed College
Maharishi Dayanand University, Rohtak
Active
In-Active
247
Department of Higher Education
Gurugram
RAO NEKI RAM MEMORIAL COLLEGE OF EDUCATION
1430
C-28086
Self Finance
B.Ed College
Maharishi Dayanand University, Rohtak
Board of School Education Haryana, Bhiwani
Active
In-Active
248
Department of Higher Education
Gurugram
RAO RAM SINGH COLLGE OF EDUCATION
1420
C-28210
Self Finance
B.Ed College
Maharishi Dayanand University, Rohtak
Board of School Education Haryana, Bhiwani
Active
In-Active
249
Department of Higher Education
Gurugram
RASTRIYA VIDYA EDUCATION COLLEGE
1426
C-28216
Self Finance
B.Ed College
Maharishi Dayanand University, Rohtak
Board of School Education Haryana, Bhiwani
In-Active
In-Active
250
Department of Higher Education
Gurugram
Rishikul Sanskrit Mahvidyalaya
3826
C-65971
Self Finance
Other College
Gurugram University, Gurugram
Active
In-Active
251
Department of Higher Education
Gurugram
RK College of Education, Bhora Kalan
3955
C-34989
Self Finance
B.Ed College
Maharishi Dayanand University, Rohtak
Active
In-Active
252
Department of Higher Education
Gurugram
ROYAL INSTITUTE OF SCIENCE AND MANAGEMENT
1688
C-28129
Self Finance
B.ed College
Maharishi Dayanand University, Rohtak
Board of School Education Haryana, Bhiwani
Active
In-Active
253
Department of Higher Education
Gurugram
Sh Guru Gobind Singh Tricentenary University (Campus)
1967
U-0702
Self Finance
University Campus
Sh Guru Gobind Singh Tricentenary University
Active
In-Active
254
Department of Higher Education
Gurugram
SHRI RAM COLLEGE OF EDUCATION
1433
C-28227
Self Finance
B.Ed College
Maharishi Dayanand University, Rohtak
Board of School Education Haryana, Bhiwani
Active
In-Active
255
Department of Higher Education
Gurugram
SREE SHIV CHAITANYA COLLEGE OF EDUCATION
1423
C-28022
Self Finance
B.Ed College
Maharishi Dayanand University, Rohtak
Board of School Education Haryana, Bhiwani
Active
In-Active
256
Department of Higher Education
Gurugram
ST ANDREWS INSTITUTE OF TECHNOLOGY AND MANAGEMENT
1843
C-51345
Self Finance
Management College
Maharishi Dayanand University, Rohtak
Active
In-Active
257
Department of Higher Education
Gurugram
STAREX INSTITUTE OF EDUCATION
1422
C-28097
Self Finance
B.Ed College
Maharishi Dayanand University, Rohtak
Board of School Education Haryana, Bhiwani
Active
In-Active
258
Department of Higher Education
Gurugram
Starex University (Campus)
1971
U-0951
Self Finance
University Campus
Starex University
Active
In-Active
259
Department of Higher Education
Gurugram
State Institute of Advanced Studies in Teacher Education,
3988
C-66763
Govt
B.Ed College
Gurugram University, Gurugram
Active
Active
260
Department of Higher Education
Gurugram
Suraj Degree College, Sector-75, Gurugram
1257
Self Finance
Degree College
Gurugram University, Gurugram
Active
Active
261
Department of Higher Education
Gurugram
Sushant University, Gurugram (Campus)
1966
U-0667
Self Finance
University Campus
Sushant University, Gurugram
In-Active
In-Active
262
Department of Higher Education
Gurugram
Vivekanand college of education,johlakha, sohna
3942
C-28315
Self Finance
B.Ed College
Maharishi Dayanand University, Rohtak
Active
In-Active
263
Department of Higher Education
Gurugram
World College of Technology & Management,Farukh Nagar-Haley Mandi Road,Gurgaon
1841
C-28472
Self Finance
Management College
Maharishi Dayanand University, Rohtak
Active
In-Active
264
Department of Higher Education
Hisar
Aakash College of Education, Kalirawan (Hisar)
1448
C-10683
Self Finance
B.Ed College
Ch. Ranbir Singh Hooda University, Jind
Board of School Education Haryana, Bhiwani
Active
In-Active
265
Department of Higher Education
Hisar
Adarsh Subhash Tayal College of Education
1442
C-10520
Self Finance
B.Ed College
Ch. Ranbir Singh Hooda University, Jind
Active
In-Active
266
Department of Higher Education
Hisar
Ambika College Of education
1446
C-10718
Self Finance
B.Ed College
Ch. Ranbir Singh Hooda University, Jind
Active
In-Active
267
Department of Higher Education
Hisar
Arya College of Education, VILL BHERIAN POST MUKLAN HISAR
1434
C-21403
Self Finance
B.Ed College
Ch. Ranbir Singh Hooda University, Jind
Active
In-Active
268
Department of Higher Education
Hisar
Asha Girls College , Panihar Chack
1262
C-57811
Self Finance
Degree College
Guru Jambeshwar University of Science & Technology Hisar
Active
Active
269
Department of Higher Education
Hisar
C. R. College of Education
1797
Self Finance
B.Ed College
Board of School Education Haryana, Bhiwani
Active
In-Active
270
Department of Higher Education
Hisar
CH. Rajmal Memorial College of Education, Serkhi, Hisar
4041
Self Finance
Other College
Board of School Education Haryana, Bhiwani
Active
In-Active
271
Department of Higher Education
Hisar
Chaudhary Charan Singh Haryana Agricultural University (Campus)
1956
C-64938
Govt
University Campus
Chaudhary Charan Singh Haryana Agricultural University
Active
Active
272
Department of Higher Education
Hisar
Chhaju Ram College of Education, Hisar
3805
C-10628
Aided
B.Ed College
Guru Jambeshwar University of Science & Technology Hisar
Board of School Education Haryana, Bhiwani
Active
Active
273
Department of Higher Education
Hisar
CHHAJU RAM LAW COLLEGE
1817
C-10583
Self Finance
Law College
Guru Jambeshwar University of Science & Technology Hisar
Active
In-Active
274
Department of Higher Education
Hisar
Chhaju Ram Memorial Jat College, Hisar
1190
C-10853
Aided
Degree College
Guru Jambeshwar University of Science & Technology Hisar
Active
Active
275
Department of Higher Education
Hisar
City College of Education
1739
C-10703
Self Finance
B.Ed College
Guru Jambeshwar University of Science & Technology Hisar
Board of School Education Haryana, Bhiwani
Active
In-Active
276
Department of Higher Education
Hisar
College of Agriculture
1916
C-29453
Govt
Other College
Chaudhary Charan Singh Haryana Agricultural University
Active
Active
277
Department of Higher Education
Hisar
College of Basic Sciences & Humanities
1917
C-29455
Govt
Other College
Chaudhary Charan Singh Haryana Agricultural University
Active
Active
278
Department of Higher Education
Hisar
Dayanand College, Hisar
1191
C-10646
Aided
Degree College
Guru Jambeshwar University of Science & Technology Hisar
Active
Active
279
Department of Higher Education
Hisar
Fateh Chand College for Women, Hisar
1192
C-10753
Aided
Degree College
Guru Jambeshwar University of Science & Technology Hisar
Active
Active
280
Department of Higher Education
Hisar
Gaur College of Education
1728
C-10636
Self Finance
B.Ed College
Ch. Ranbir Singh Hooda University, Jind
Board of School Education Haryana, Bhiwani
Active
In-Active
281
Department of Higher Education
Hisar
GC Adampur
1040
C-10769
Govt
Degree College
Guru Jambeshwar University of Science & Technology Hisar
Active
Active
282
Department of Higher Education
Hisar
GC Agroha
1160
C-65163
Govt
Degree College
Guru Jambeshwar University of Science & Technology Hisar
Active
Active
283
Department of Higher Education
Hisar
GC Balasmand
1051
C-60952
Govt
Degree College
Guru Jambeshwar University of Science & Technology Hisar
Active
Active
284
Department of Higher Education
Hisar
GC Barwala (Hisar)
1041
C-10751
Govt
Degree College
Guru Jambeshwar University of Science & Technology Hisar
Active
Active
285
Department of Higher Education
Hisar
GC Hansi
1043
C-10707
Govt
Degree College
Guru Jambeshwar University of Science & Technology Hisar
Active
Active
286
Department of Higher Education
Hisar
GC Hisar
1044
C-10817
Govt
Degree College
Guru Jambeshwar University of Science & Technology Hisar
Active
Active
287
Department of Higher Education
Hisar
GC Kheri Chopta
1048
C-60957
Govt
Degree College
Guru Jambeshwar University of Science & Technology Hisar
Active
Active
288
Department of Higher Education
Hisar
GC Mangali
1157
C-64574
Govt
Degree College
Guru Jambeshwar University of Science & Technology Hisar
Active
Active
289
Department of Higher Education
Hisar
GC Nalwa
1045
C-10711
Govt
Degree College
Guru Jambeshwar University of Science & Technology Hisar
Active
Active
290
Department of Higher Education
Hisar
GC Narnaund
1042
C-55624
Govt
Degree College
Guru Jambeshwar University of Science & Technology Hisar
Active
Active
291
Department of Higher Education
Hisar
GC Uklana
1050
C-60258
Govt
Degree College
Guru Jambeshwar University of Science & Technology Hisar
Active
Active
292
Department of Higher Education
Hisar
GCG Datta
1047
C-60968
Govt
Degree College
Guru Jambeshwar University of Science & Technology Hisar
Active
Active
293
Department of Higher Education
Hisar
GCG Ugalan
1049
C-60955
Govt
Degree College
Guru Jambeshwar University of Science & Technology Hisar
Active
Active
294
Department of Higher Education
Hisar
GCW Hisar
1046
C-10829
Govt
Degree College
Guru Jambeshwar University of Science & Technology Hisar
Active
Active
295
Department of Higher Education
Hisar
Guru Dham College of Education, Hisar
1689
C-10570
Self Finance
B.Ed College
Guru Jambeshwar University of Science & Technology Hisar
Board of School Education Haryana, Bhiwani
Active
In-Active
296
Department of Higher Education
Hisar
Guru Dronacharya Girls College (Degree) Mandi Adampur
1260
C-58322
Self Finance
Degree College
Guru Jambeshwar University of Science & Technology Hisar
Active
Active
297
Department of Higher Education
Hisar
Guru Jambeshwar University of Science & Technology Hisar (Campus)
1954
U-0162
Govt
University Campus
Guru Jambeshwar University of Science & Technology Hisar
Active
Active
298
Department of Higher Education
Hisar
Hindu College of Education
1435
C-10757
Self Finance
B.Ed College
Ch. Ranbir Singh Hooda University, Jind
Board of School Education Haryana, Bhiwani
Active
In-Active
299
Department of Higher Education
Hisar
I.C. COLLEGE OF HOME SCIENCES
1921
C-29454
Govt
Other College
Chaudhary Charan Singh Haryana Agricultural University
Active
Active
300
Department of Higher Education
Hisar
Imperial College, Hisar
1265
C-10656
Self Finance
Degree College
Kurukshetra University, Kurukshetra
Active
Active
301
Department of Higher Education
Hisar
Jai Mata College of Education
1444
C-10638
Self Finance
B.Ed College
Ch. Ranbir Singh Hooda University, Jind
Board of School Education Haryana, Bhiwani
Active
In-Active
302
Department of Higher Education
Hisar
Kalpana Chawla College of Education
1693
C-10729
Self Finance
B.Ed College
Ch. Ranbir Singh Hooda University, Jind
Active
In-Active
303
Department of Higher Education
Hisar
Kartar Memorial College of Education
1440
C-10832
Self Finance
B.Ed College
Guru Jambeshwar University of Science & Technology Hisar
Board of School Education Haryana, Bhiwani
Active
In-Active
304
Department of Higher Education
Hisar
Lord Krishna College of Education Siwani
1788
C-10742
Self Finance
B.Ed College
Guru Jambeshwar University of Science & Technology Hisar
Board of School Education Haryana, Bhiwani
Active
In-Active
305
Department of Higher Education
Hisar
Maharaja Aggarsain College of Education (Daroli)
1441
C-10685
Self Finance
B.Ed College
Ch. Ranbir Singh Hooda University, Jind
Board of School Education Haryana, Bhiwani
Active
In-Active
306
Department of Higher Education
Hisar
Maharani Lakshmi Bai College, Hisar
1261
C-49372
Self Finance
Degree College
Guru Jambeshwar University of Science & Technology Hisar
Active
Active
307
Department of Higher Education
Hisar
Maharishi Arvindo College of Education
1790
Self Finance
B.Ed College
Board of School Education Haryana, Bhiwani
Active
In-Active
308
Department of Higher Education
Hisar
MAHARISHI DAYANAND COLLEGE OF EDUCATION
1726
C-10863
Self Finance
B.Ed College
Guru Jambeshwar University of Science & Technology Hisar
Board of School Education Haryana, Bhiwani
Active
In-Active
309
Department of Higher Education
Hisar
Manav Institute of Education
1437
C-10813
Self Finance
B.Ed College
Ch. Ranbir Singh Hooda University, Jind
Board of School Education Haryana, Bhiwani
Active
In-Active
310
Department of Higher Education
Hisar
Mata Jiyo Devi College of Education
1450
C-10517
Self Finance
B.Ed College
Guru Jambeshwar University of Science & Technology Hisar
Board of School Education Haryana, Bhiwani
Active
In-Active
311
Department of Higher Education
Hisar
Navyug College of Education
1452
C-10692
Self Finance
B.Ed College
Guru Jambeshwar University of Science & Technology Hisar
Board of School Education Haryana, Bhiwani
Active
In-Active
312
Department of Higher Education
Hisar
NEW KASHI D.ED. TRAINING SCHOOL, BEHBALPUR, HISAR
3911
Self Finance
Other College
Board of School Education Haryana, Bhiwani
In-Active
In-Active
313
Department of Higher Education
Hisar
ODM College for Women, Muklan, Hisar
1326
C-62552
Self Finance
Degree College
Guru Jambeshwar University of Science & Technology Hisar
Active
Active
314
Department of Higher Education
Hisar
OM Sterling Global University (Campus)
1981
U-1053
Self Finance
University Campus
OM Sterling Global University
Active
In-Active
315
Department of Higher Education
Hisar
Oxford Girls College of Education
1445
C-10531
Self Finance
B.Ed College
Guru Jambeshwar University of Science & Technology Hisar
Board of School Education Haryana, Bhiwani
Active
In-Active
316
Department of Higher Education
Hisar
S.D. Mahila Mahavidyalya, Hansi
1193
C-10747
Aided
Degree College
Guru Jambeshwar University of Science & Technology Hisar
Active
Active
317
Department of Higher Education
Hisar
S.R.M. College of Education
1447
C-10819
Self Finance
B.Ed College
Ch. Ranbir Singh Hooda University, Jind
Board of School Education Haryana, Bhiwani
Active
In-Active
318
Department of Higher Education
Hisar
Saraswati College of Education, Hisar
1438
C-10637
Self Finance
B.Ed College
Guru Jambeshwar University of Science & Technology Hisar
Board of School Education Haryana, Bhiwani
Active
In-Active
319
Department of Higher Education
Hisar
Shanti Niketan College of Education(c-10830),Ladwa, Hisar
1439
C-10830
Self Finance
B.Ed College
Ch. Ranbir Singh Hooda University, Jind
Active
In-Active
320
Department of Higher Education
Hisar
Shanti Niketan College Of Education, Agroha Mor
1449
C-10547
Self Finance
B.Ed College
Ch. Ranbir Singh Hooda University, Jind
Active
In-Active
321
Department of Higher Education
Hisar
Shanti Niketan College, Hisar
1264
C-27598
Self Finance
Degree College
Kurukshetra University, Kurukshetra
Active
Active
322
Department of Higher Education
Hisar
Singh Ram Memorial College of Education
1443
C-10795
Self Finance
B.Ed College
Ch. Ranbir Singh Hooda University, Jind
Board of School Education Haryana, Bhiwani
Active
In-Active
323
Department of Higher Education
Hisar
Singh Ram Memorial Degree College, Sultanpur
1263
C-57151
Self Finance
Degree College
Kurukshetra University, Kurukshetra
Active
Active
324
Department of Higher Education
Hisar
Sita Ram Arya Memorial College of Education
1451
C-10740
Self Finance
B.Ed College
Ch. Ranbir Singh Hooda University, Jind
Board of School Education Haryana, Bhiwani
Active
In-Active
325
Department of Higher Education
Hisar
Vision International College of Education
1701
C-10858
Self Finance
B.Ed College
Guru Jambeshwar University of Science & Technology Hisar
Board of School Education Haryana, Bhiwani
Active
In-Active
326
Department of Higher Education
Hisar
Vision International College of Education WOMEN
1759
C-10858
Self Finance
B.Ed College
Guru Jambeshwar University of Science & Technology Hisar
Board of School Education Haryana, Bhiwani
In-Active
In-Active
327
Department of Higher Education
Jhajjar
ADARSH COLLEGE OF EDUCATION, JHAJJAR
1469
C-28473
Self Finance
B.Ed College
Maharishi Dayanand University, Rohtak
Board of School Education Haryana, Bhiwani
Active
In-Active
328
Department of Higher Education
Jhajjar
B.D.M COLLEGE OF EDUCATION CHHUCHHAKWAS
3937
Self Finance
Other College
Board of School Education Haryana, Bhiwani
In-Active
In-Active
329
Department of Higher Education
Jhajjar
BHIMESHWARI DEVI COLLEGE OF EDUCATION
1468
C-28087
Self Finance
B.Ed College
Maharishi Dayanand University, Rohtak
Board of School Education Haryana, Bhiwani
Active
In-Active
330
Department of Higher Education
Jhajjar
CAMBRIDGE COLLEGE OF EDUCATION FOR WOMEN
1458
C-28372
Self Finance
B.Ed College
Maharishi Dayanand University, Rohtak
Board of School Education Haryana, Bhiwani
Active
In-Active
331
Department of Higher Education
Jhajjar
CBS Group of Institutions,
1848
C-28191
Self Finance
Management College
Maharishi Dayanand University, Rohtak
Active
In-Active
332
Department of Higher Education
Jhajjar
D.H. LAWRENCE COLLEGE OF EDUCATION FOR WOMEN
1465
C-28035
Self Finance
B.Ed College
Maharishi Dayanand University, Rohtak
Board of School Education Haryana, Bhiwani
Active
In-Active
333
Department of Higher Education
Jhajjar
Dalal Global Institute of Technology
1844
Self Finance
Management College
Maharishi Dayanand University, Rohtak
In-Active
In-Active
334
Department of Higher Education
Jhajjar
Delhi Technical Campus
1846
Self Finance
Management College
Maharishi Dayanand University, Rohtak
In-Active
In-Active
335
Department of Higher Education
Jhajjar
DS Arya College of Education, Bahadurgarh
1782
C-28095
Self Finance
B.Ed College
Maharishi Dayanand University, Rohtak
Board of School Education Haryana, Bhiwani
Active
In-Active
336
Department of Higher Education
Jhajjar
G.S. COLLEGE OF EDUCATION
1462
C-28279
Self Finance
B.Ed College
Maharishi Dayanand University, Rohtak
Board of School Education Haryana, Bhiwani
Active
In-Active
337
Department of Higher Education
Jhajjar
Ganga College of Education Dujana
1459
C-28171
Self Finance
B.Ed College
Maharishi Dayanand University, Rohtak
Board of School Education Haryana, Bhiwani
Active
In-Active
338
Department of Higher Education
Jhajjar
GANGA INSTITUTE OF EDUCATION
1463
C-28355
Self Finance
B.Ed College
Maharishi Dayanand University, Rohtak
Board of School Education Haryana, Bhiwani
Active
In-Active
339
Department of Higher Education
Jhajjar
Ganga Institute of Technology and Management
1847
C-28433
Self Finance
Management College
Maharishi Dayanand University, Rohtak
Active
In-Active
340
Department of Higher Education
Jhajjar
GAV Degree College, Patauda
1267
C-60552
Self Finance
Degree College
Maharishi Dayanand University, Rohtak
Active
Active
341
Department of Higher Education
Jhajjar
GC Badli
1060
C-28225
Govt
Degree College
Maharishi Dayanand University, Rohtak
Active
Active
342
Department of Higher Education
Jhajjar
GC Bahadurgarh
1063
C-28496
Govt
Degree College
Maharishi Dayanand University, Rohtak
Active
Active
343
Department of Higher Education
Jhajjar
GC Bahu
1059
C-50431
Govt
Degree College
Maharishi Dayanand University, Rohtak
Active
Active
344
Department of Higher Education
Jhajjar
GC Birohar Jhajjar
1056
C-28223
Govt
Degree College
Maharishi Dayanand University, Rohtak
Active
Active
345
Department of Higher Education
Jhajjar
GC Chhara
1052
C-47841
Govt
Degree College
Maharishi Dayanand University, Rohtak
Active
Active
346
Department of Higher Education
Jhajjar
GC Dubaldhan
1057
C-28050
Govt
Degree College
Maharishi Dayanand University, Rohtak
Active
Active
347
Department of Higher Education
Jhajjar
GC Dujana
1062
C-28287
Govt
Degree College
Maharishi Dayanand University, Rohtak
Active
Active
348
Department of Higher Education
Jhajjar
GC Jhajjar
1053
C-28090
Govt
Degree College
Maharishi Dayanand University, Rohtak
Active
Active
349
Department of Higher Education
Jhajjar
GC Matanhail
1054
C-51628
Govt
Degree College
Maharishi Dayanand University, Rohtak
Active
Active
350
Department of Higher Education
Jhajjar
GCW Bahadurgarh
1058
C-59021
Govt
Degree College
Maharishi Dayanand University, Rohtak
Active
Active
351
Department of Higher Education
Jhajjar
GCW Jassaur Kheri
1061
C-55706
Govt
Degree College
Maharishi Dayanand University, Rohtak
Active
Active
352
Department of Higher Education
Jhajjar
GCW Kulana
1055
C-61260
Govt
Degree College
Maharishi Dayanand University, Rohtak
Active
Active
353
Department of Higher Education
Jhajjar
H.D. COLLEGE OF EDUCATION
1455
C-28401
Self Finance
B.Ed College
Maharishi Dayanand University, Rohtak
Board of School Education Haryana, Bhiwani
Active
In-Active
354
Department of Higher Education
Jhajjar
HARYANA HINDI SANSKRIT MAHAVIDYALAYA
3896
Self Finance
Other College
Maharishi Dayanand University, Rohtak
In-Active
In-Active
355
Department of Higher Education
Jhajjar
Indira Priyadharshni College For Women Jhajjar
1266
C-28175
Self Finance
Degree College
Maharishi Dayanand University, Rohtak
Active
Active
356
Department of Higher Education
Jhajjar
Jagan Nath University, Bahadurgarh (Campus)
1973
U-0721
Self Finance
University Campus
Jagan Nath University, Bahadurgarh
Active
In-Active
357
Department of Higher Education
Jhajjar
LT. MAHIPAT SINGH COLLEGE OF EDUCATION
1460
C-28376
Self Finance
B.Ed College
Maharishi Dayanand University, Rohtak
Board of School Education Haryana, Bhiwani
Active
In-Active
358
Department of Higher Education
Jhajjar
M R College of Education, Hassanpur, Jhajjar -124103
3932
C-28344
Self Finance
B.Ed College
Maharishi Dayanand University, Rohtak
Active
In-Active
359
Department of Higher Education
Jhajjar
M.D. COLLEGE OF EDUCATION
3881
C-28161
Self Finance
B.Ed College
Maharishi Dayanand University, Rohtak
Board of School Education Haryana, Bhiwani
Active
In-Active
360
Department of Higher Education
Jhajjar
M.T. COLLEGE OF EDUCATION
1457
Self Finance
B.Ed College
Maharishi Dayanand University, Rohtak
Board of School Education Haryana, Bhiwani
In-Active
In-Active
361
Department of Higher Education
Jhajjar
MAA GANGA COLLEGE OF EDUCATION-DUJANA
1454
C-28290
Self Finance
B.Ed College
Maharishi Dayanand University, Rohtak
Board of School Education Haryana, Bhiwani
Active
In-Active
362
Department of Higher Education
Jhajjar
Maharaja Agrrasen P.G. College for Women, Jhajjar
1194
C-28436
Aided
Degree College
Maharishi Dayanand University, Rohtak
Active
Active
363
Department of Higher Education
Jhajjar
NETAJI SUBHASH COLLEGE OF EDUCATION
1464
C-28469
Self Finance
B.Ed College
Maharishi Dayanand University, Rohtak
Board of School Education Haryana, Bhiwani
Active
In-Active
364
Department of Higher Education
Jhajjar
PARAMOUNT COLLEGE OF EDUCATION
1461
C-28053
Self Finance
B.Ed College
Maharishi Dayanand University, Rohtak
Board of School Education Haryana, Bhiwani
Active
In-Active
365
Department of Higher Education
Jhajjar
PDM University, Bahadurgarh (Campus)
1974
U-0910
Self Finance
University Campus
PDM University, Bahadurgarh
Active
In-Active
366
Department of Higher Education
Jhajjar
Pujya Swami Vivekanand College of Education
1715
C-52927
Self Finance
B.Ed College
Maharishi Dayanand University, Rohtak
Board of School Education Haryana, Bhiwani
Active
In-Active
367
Department of Higher Education
Jhajjar
R.D College of Education
1737
C-28242
Self Finance
B.Ed College
Maharishi Dayanand University, Rohtak
Board of School Education Haryana, Bhiwani
Active
In-Active
368
Department of Higher Education
Jhajjar
RANJIT SINGH MEMORIAL COLLEGE OF EDUCATION & TECHNOLOGY
1466
C-28305
Self Finance
B.Ed College
Maharishi Dayanand University, Rohtak
Board of School Education Haryana, Bhiwani
Active
In-Active
369
Department of Higher Education
Jhajjar
RAVINDRA BHARTI COLLEGE OF EDUCATION
1456
C-28105
Self Finance
B.Ed College
Maharishi Dayanand University, Rohtak
Board of School Education Haryana, Bhiwani
Active
In-Active
370
Department of Higher Education
Jhajjar
S.S. College of Education, Badli
1775
C-28443
Self Finance
B.Ed College
Maharishi Dayanand University, Rohtak
Board of School Education Haryana, Bhiwani
Active
In-Active
371
Department of Higher Education
Jhajjar
Sarvodya College of Education Khanpur khurd
1467
C-28183
Self Finance
B.Ed College
Maharishi Dayanand University, Rohtak
Board of School Education Haryana, Bhiwani
Active
In-Active
372
Department of Higher Education
Jhajjar
SCHOOL OF ENGINEERING AND TECHNOLOGY
1845
C-51014
Self Finance
Management College
Maharishi Dayanand University, Rohtak
Active
In-Active
373
Department of Higher Education
Jhajjar
Shri Sachcha Special Education for DEAF, BAhadurgarh
1780
Self Finance
B.Ed College
Rehabilitation Council of India
Board of School Education Haryana, Bhiwani
In-Active
In-Active
374
Department of Higher Education
Jhajjar
Shri sai Baba College of Education
1714
C-28118
Self Finance
B.Ed College
Maharishi Dayanand University, Rohtak
Board of School Education Haryana, Bhiwani
Active
In-Active
375
Department of Higher Education
Jhajjar
State Institute of Advanced Studies in Teacher Education, Jhajjar
3926
C-57242
Govt
B.Ed College
Maharishi Dayanand University, Rohtak
Active
Active
376
Department of Higher Education
Jhajjar
Vaish Arya Kanya Mahavidyalaya Bahadurgarh
1195
C-28165
Aided
Degree College
Maharishi Dayanand University, Rohtak
Active
Active
377
Department of Higher Education
Jhajjar
Vaish Arya Shikshan Mahila Mahavidyalaya
1453
C-28215
Self Finance
B.Ed College
Maharishi Dayanand University, Rohtak
Board of School Education Haryana, Bhiwani
Active
In-Active
378
Department of Higher Education
Jind
Aakash College of Education, Gatauli
3908
C-10650
Self Finance
B.Ed College
Ch. Ranbir Singh Hooda University, Jind
Active
In-Active
379
Department of Higher Education
Jind
Adarsh College of Education
1473
C-10879
Self Finance
B.Ed College
Ch. Ranbir Singh Hooda University, Jind
Board of School Education Haryana, Bhiwani
Active
In-Active
380
Department of Higher Education
Jind
Amar Jyoti Foundation for Multiple Disabilities Children
1942
Self Finance
Other College
Rehabilitation Council of India
In-Active
In-Active
381
Department of Higher Education
Jind
Arya College of Education
1470
C-10541
Self Finance
B.Ed College
Ch. Ranbir Singh Hooda University, Jind
Board of School Education Haryana, Bhiwani
Active
In-Active
382
Department of Higher Education
Jind
Arya D.Ed Training School
1479
Self Finance
B.Ed College
Board of School Education Haryana, Bhiwani
In-Active
In-Active
383
Department of Higher Education
Jind
Aryavart College of Education
1480
C-10851
Self Finance
B.Ed College
Ch. Ranbir Singh Hooda University, Jind
Board of School Education Haryana, Bhiwani
Active
In-Active
384
Department of Higher Education
Jind
Bhai Surender Kumar Memorial College of Education
1478
C-10746
Self Finance
B.Ed College
Ch. Ranbir Singh Hooda University, Jind
Board of School Education Haryana, Bhiwani
Active
In-Active
385
Department of Higher Education
Jind
Ch. P.R.M. College of Education
1472
Self Finance
B.Ed College
Ch. Ranbir Singh Hooda University, Jind
Board of School Education Haryana, Bhiwani
In-Active
In-Active
386
Department of Higher Education
Jind
Ch. Ranbir Singh Hooda University, Jind (Campus)
1948
U-0738
Govt
University Campus
Ch. Ranbir Singh Hooda University, Jind
Active
Active
387
Department of Higher Education
Jind
CR Kisan College, Jind
1196
C-10889
Aided
Degree College
Ch. Ranbir Singh Hooda University, Jind
Active
Active
388
Department of Higher Education
Jind
Daronacharya College of Educaiton
1487
C-10704
Self Finance
B.Ed College
Ch. Ranbir Singh Hooda University, Jind
Board of School Education Haryana, Bhiwani
Active
In-Active
389
Department of Higher Education
Jind
GC Alewa
1068
C-59728
Govt
Degree College
Ch. Ranbir Singh Hooda University, Jind
Active
Active
390
Department of Higher Education
Jind
GC Chhater
1161
C-64654
Govt
Degree College
Ch. Ranbir Singh Hooda University, Jind
Active
Active
391
Department of Higher Education
Jind
GC Jind
1070
C-10780
Govt
Degree College
Ch. Ranbir Singh Hooda University, Jind
Active
Active
392
Department of Higher Education
Jind
GC Julana
1067
C-10839
Govt
Degree College
Ch. Ranbir Singh Hooda University, Jind
Active
Active
393
Department of Higher Education
Jind
GC Narwana
1066
C-10608
Govt
Degree College
Ch. Ranbir Singh Hooda University, Jind
Active
Active
394
Department of Higher Education
Jind
GC Safidon
1069
C-10886
Govt
Degree College
Ch. Ranbir Singh Hooda University, Jind
Active
Active
395
Department of Higher Education
Jind
GCG Pillu Khera
1071
C-62950
Govt
Degree College
Ch. Ranbir Singh Hooda University, Jind
Active
Active
396
Department of Higher Education
Jind
GCW Jind
1065
C-10877
Govt
Degree College
Ch. Ranbir Singh Hooda University, Jind
Active
Active
397
Department of Higher Education
Jind
GCW Safidon
1064
C-49385
Govt
Degree College
Ch. Ranbir Singh Hooda University, Jind
Active
Active
398
Department of Higher Education
Jind
Geeta Arya College of Education
1475
C-10688
Self Finance
B.Ed College
Ch. Ranbir Singh Hooda University, Jind
Board of School Education Haryana, Bhiwani
Active
In-Active
399
Department of Higher Education
Jind
Green Valley College of Education
1476
C-10854
Self Finance
B.Ed College
Ch. Ranbir Singh Hooda University, Jind
Board of School Education Haryana, Bhiwani
Active
In-Active
400
Department of Higher Education
Jind
Haryana College of Education Kinana
1755
C-10882
Self Finance
B.Ed College
Ch. Ranbir Singh Hooda University, Jind
Board of School Education Haryana, Bhiwani
Active
In-Active
401
Department of Higher Education
Jind
Haryana College of Education Rampura Road, Safidon
1489
C-10873
Self Finance
B.Ed College
Ch. Ranbir Singh Hooda University, Jind
Board of School Education Haryana, Bhiwani
Active
In-Active
402
Department of Higher Education
Jind
Hindu Kanya Mahavidyalaya Jind
1197
C-10602
Aided
Degree College
Ch. Ranbir Singh Hooda University, Jind
Active
Active
403
Department of Higher Education
Jind
Indus Degree College, Kinana, Jind
1269
C-50977
Self Finance
Degree College
Ch. Ranbir Singh Hooda University, Jind
Active
Active
404
Department of Higher Education
Jind
Jai Bharat College of Education
1474
C-10720
Self Finance
B.Ed College
Ch. Ranbir Singh Hooda University, Jind
Board of School Education Haryana, Bhiwani
Active
In-Active
405
Department of Higher Education
Jind
JBM College of Education
1741
Self Finance
B.Ed College
Ch. Ranbir Singh Hooda University, Jind
Board of School Education Haryana, Bhiwani
Active
In-Active
406
Department of Higher Education
Jind
JIND INSTITUTE OF ENGG. & TECH., JIND
3945
C-10772
Self Finance
Management College
Kurukshetra University, Kurukshetra
Active
In-Active
407
Department of Higher Education
Jind
KAMAL D.E.D. TRAINING SCHOOL, KHARANTI JIND
3852
Self Finance
Other College
Board of School Education Haryana, Bhiwani
In-Active
In-Active
408
Department of Higher Education
Jind
Kanya Gurukul College of Education, Shadipur, Julana
1786
C-10601
Self Finance
B.Ed College
Ch. Ranbir Singh Hooda University, Jind
Board of School Education Haryana, Bhiwani
Active
In-Active
409
Department of Higher Education
Jind
Metis Degree College (For Girls) Safidon, Jind
1271
C-10833
Self Finance
Degree College
Ch. Ranbir Singh Hooda University, Jind
Active
Active
410
Department of Higher Education
Jind
Mittaso College of Education
1488
C-10516
Self Finance
B.Ed College
Ch. Ranbir Singh Hooda University, Jind
Board of School Education Haryana, Bhiwani
Active
In-Active
411
Department of Higher Education
Jind
Rajiv Gandhi Mahavidyalya, Uchana, Jind
1270
C-10534
Self Finance
Degree College
Ch. Ranbir Singh Hooda University, Jind
Active
Active
412
Department of Higher Education
Jind
Rajiv Gandhi Sanatan Dharam Commerce & Science Women College, Narwana
1272
C-10557
Self Finance
Degree College
Ch. Ranbir Singh Hooda University, Jind
Active
Active
413
Department of Higher Education
Jind
Ram Narayan Institute of Education
1484
Self Finance
B.Ed College
Ch. Ranbir Singh Hooda University, Jind
Board of School Education Haryana, Bhiwani
Active
In-Active
414
Department of Higher Education
Jind
S.D Mahila Mahavidyalya, Narwana
1198
C-10864
Aided
Degree College
Ch. Ranbir Singh Hooda University, Jind
Active
Active
415
Department of Higher Education
Jind
S.D.Girls College, Uchana Mandi
1268
C-10537
Self Finance
Degree College
Ch. Ranbir Singh Hooda University, Jind
Active
Active
416
Department of Higher Education
Jind
S.G. College of Education
1483
C-10709
Self Finance
B.Ed College
Ch. Ranbir Singh Hooda University, Jind
Board of School Education Haryana, Bhiwani
In-Active
In-Active
417
Department of Higher Education
Jind
Saraswati College of Education
1486
C-10612
Self Finance
B.Ed College
Ch. Ranbir Singh Hooda University, Jind
Board of School Education Haryana, Bhiwani
Active
In-Active
418
Department of Higher Education
Jind
Satyam College of Education for Women
1481
C-10861
Self Finance
B.Ed College
Ch. Ranbir Singh Hooda University, Jind
Board of School Education Haryana, Bhiwani
Active
In-Active
419
Department of Higher Education
Jind
Shri Ganesh College of Education Julana Mandi Jind
4101
C-10539
Self Finance
B.Ed College
Ch. Ranbir Singh Hooda University, Jind
Active
In-Active
420
Department of Higher Education
Jind
Shri Shiv Mandir Sanatan Dharam Sr. Sec. School & D.Ed Centre, Uchana
1938
C-10573
Self Finance
Other College
Board of School Education Haryana, Bhiwani
Active
In-Active
421
Department of Higher Education
Jind
Sidhi Vinayak College of Education
1485
C-10522
Self Finance
B.Ed College
Ch. Ranbir Singh Hooda University, Jind
Board of School Education Haryana, Bhiwani
Active
In-Active
422
Department of Higher Education
Jind
Sir Chottu Ram College of Education
1482
C-10709
Self Finance
B.Ed College
Ch. Ranbir Singh Hooda University, Jind
Board of School Education Haryana, Bhiwani
Active
In-Active
423
Department of Higher Education
Jind
SRM College of Education
1764
C-10837
Self Finance
B.Ed College
Ch. Ranbir Singh Hooda University, Jind
Board of School Education Haryana, Bhiwani
In-Active
In-Active
424
Department of Higher Education
Jind
Swami Ganesha Nand Sanatan Dharam College of Education
1477
C-10573
Self Finance
B.Ed College
Ch. Ranbir Singh Hooda University, Jind
Board of School Education Haryana, Bhiwani
Active
In-Active
425
Department of Higher Education
Jind
Vardey Devi College of Education
1471
C-10598
Self Finance
B.Ed College
Ch. Ranbir Singh Hooda University, Jind
Board of School Education Haryana, Bhiwani
Active
In-Active
426
Department of Higher Education
Kaithal
Amarnath Bhagat Jai Ram Kanya Mahavidyalya, Serdha
1273
C-10789
Self Finance
Degree College
Kurukshetra University, Kurukshetra
Active
Active
427
Department of Higher Education
Kaithal
B.P.R. College of Education
1496
C-10694
Self Finance
B.Ed College
Kurukshetra University, Kurukshetra
Board of School Education Haryana, Bhiwani
Active
In-Active
428
Department of Higher Education
Kaithal
Babu Anant Ram Janta College Kaul, Kaithal
1199
C-10783
Aided
Degree College
Kurukshetra University, Kurukshetra
Active
Active
429
Department of Higher Education
Kaithal
BABU ANANT RAM JANTA COLLEGE OF EDUCATION KAUL
1752
C-10563
Self Finance
B.Ed College
Kurukshetra University, Kurukshetra
Board of School Education Haryana, Bhiwani
Active
In-Active
430
Department of Higher Education
Kaithal
Ch. Ishwar Singh Kanya Mahavidyalaya Dhand-Dadwana, Kaithal
1200
C-10545
Aided
Degree College
Kurukshetra University, Kurukshetra
Active
Active
431
Department of Higher Education
Kaithal
Ch. Ishwar Singh Kanya Mahavidyalaya Fatehpur Pundri, Kaithal
1201
C-10616
Aided
Degree College
Kurukshetra University, Kurukshetra
Active
Active
432
Department of Higher Education
Kaithal
CH. ISHWAR SINGH MAHILA SHIKSHAN MAHAVIDYALAYA, FATEHPUR – PUNDRI
1731
C-10655
Self Finance
B.Ed College
Kurukshetra University, Kurukshetra
Board of School Education Haryana, Bhiwani
Active
In-Active
433
Department of Higher Education
Kaithal
College of Agriculture Kaul, Kaithal
1918
C-56677
Govt
Other College
Chaudhary Charan Singh Haryana Agricultural University
Active
Active
434
Department of Higher Education
Kaithal
DAV College, Cheeka
1202
C-10550
Aided
Degree College
Kurukshetra University, Kurukshetra
Active
Active
435
Department of Higher Education
Kaithal
DAV College, Pundri
1203
C-10645
Aided
Degree College
Kurukshetra University, Kurukshetra
Active
Active
436
Department of Higher Education
Kaithal
GC kaithal
1085
C-10779
Govt
Degree College
Kurukshetra University, Kurukshetra
Active
Active
437
Department of Higher Education
Kaithal
GC Ladana Chaku
1162
C-66346
Govt
Degree College
Kurukshetra University, Kurukshetra
Active
Active
438
Department of Higher Education
Kaithal
GC Rajound
1163
C-64919
Govt
Degree College
Kurukshetra University, Kurukshetra
Active
Active
439
Department of Higher Education
Kaithal
GCG Gulha Cheeka
1086
C-60209
Govt
Degree College
Kurukshetra University, Kurukshetra
Active
Active
440
Department of Higher Education
Kaithal
GCG Kalayat
1087
C-60166
Govt
Degree College
Kurukshetra University, Kurukshetra
Active
Active
441
Department of Higher Education
Kaithal
Indira Gandhi Mahila Mahavidyalaya, Kaithal
1204
C-10565
Aided
Degree College
Kurukshetra University, Kurukshetra
Active
Active
442
Department of Higher Education
Kaithal
Jat College of Education, Kaithal
1497
C-10736
Self Finance
B.Ed College
Kurukshetra University, Kurukshetra
Board of School Education Haryana, Bhiwani
Active
In-Active
443
Department of Higher Education
Kaithal
Jat College, Kaithal
1274
C-10752
Self Finance
Degree College
Kurukshetra University, Kurukshetra
Active
Active
444
Department of Higher Education
Kaithal
Kartar Singh Memorial College of Education, Kaithal
4097
C-10737
Self Finance
Other College
Board of School Education Haryana, Bhiwani
Active
In-Active
445
Department of Higher Education
Kaithal
Kithana College of Education
1499
C-10801
Self Finance
B.Ed College
Kurukshetra University, Kurukshetra
Board of School Education Haryana, Bhiwani
Active
In-Active
446
Department of Higher Education
Kaithal
M.D College of Education
1800
Self Finance
B.Ed College
Board of School Education Haryana, Bhiwani
In-Active
In-Active
447
Department of Higher Education
Kaithal
M.D.N. College of Education
1495
C-10820
Self Finance
B.Ed College
Kurukshetra University, Kurukshetra
Board of School Education Haryana, Bhiwani
Active
In-Active
448
Department of Higher Education
Kaithal
Maharaja Aggarsain College of Education
1494
C-10635
Self Finance
B.Ed College
Kurukshetra University, Kurukshetra
Board of School Education Haryana, Bhiwani
Active
In-Active
449
Department of Higher Education
Kaithal
Maharishi Valmiki Sanskrit University, Mundri, kaithal (Campus)
1952
U-1182
Govt
University Campus
Maharishi Valmiki Sanskrit University, Mundri, kaithal
Active
Active
450
Department of Higher Education
Kaithal
R.K.S.D (P.G) College (Evening Session), Kaithal
1275
C-10663
Self Finance
Degree College
Kurukshetra University, Kurukshetra
Active
Active
451
Department of Higher Education
Kaithal
R.K.S.D. (PG) College Morning Session, Kaithal
1205
C-10663
Aided
Degree College
Kurukshetra University, Kurukshetra
Active
Active
452
Department of Higher Education
Kaithal
R.K.S.D. College of Education, Kaithal
1336
C-10654
Self Finance
B.Ed College
Kurukshetra University, Kurukshetra
Board of School Education Haryana, Bhiwani
Active
In-Active
453
Department of Higher Education
Kaithal
Rama College of Education
1492
C-10654
Self Finance
B.Ed College
Kurukshetra University, Kurukshetra
Board of School Education Haryana, Bhiwani
Active
In-Active
454
Department of Higher Education
Kaithal
S.S.M. College of Education
1490
C-10528
Self Finance
B.Ed College
Kurukshetra University, Kurukshetra
Board of School Education Haryana, Bhiwani
Active
In-Active
455
Department of Higher Education
Kaithal
Saraswati College of Education
3929
C-10659
Self Finance
B.Ed College
Kurukshetra University, Kurukshetra
Active
In-Active
456
Department of Higher Education
Kaithal
Savitri Devi Memorial College of Education
1493
C-10755
Self Finance
B.Ed College
Kurukshetra University, Kurukshetra
Board of School Education Haryana, Bhiwani
Active
In-Active
457
Department of Higher Education
Kaithal
SH. KARTAR SINGH VATS MEMORIAL COLLEGE OF EDUCATION
3953
C-60167
Self Finance
Other College
Board of School Education Haryana, Bhiwani
In-Active
In-Active
458
Department of Higher Education
Kaithal
SHIV SHANKAR COLLEGE OF EDUCATION, JAKHOULI
3927
Self Finance
Other College
Board of School Education Haryana, Bhiwani
Active
In-Active
459
Department of Higher Education
Kaithal
Shri Ram College Of Education, Kaithal
1498
C-10680
Self Finance
B.Ed College
Kurukshetra University, Kurukshetra
Board of School Education Haryana, Bhiwani
Active
In-Active
460
Department of Higher Education
Kaithal
Shri Sai Baba College of Education
1491
C-10701
Self Finance
B.Ed College
Kurukshetra University, Kurukshetra
Board of School Education Haryana, Bhiwani
Active
In-Active
461
Department of Higher Education
Kaithal
United College of Education, Kaul
1793
S-12831
Self Finance
B.Ed College
Kurukshetra University, Kurukshetra
Board of School Education Haryana, Bhiwani
Active
In-Active
462
Department of Higher Education
Kaithal
YUVRAJ COLLEGE OF PHYSICAL EDUCATION
1929
C-10653
Self Finance
Other College
Kurukshetra University, Kurukshetra
Active
In-Active
463
Department of Higher Education
Karnal
Arya Kanya Gurukul College of Education, Mor Majra Karnal
1507
C-10802
Self Finance
B.Ed College
Kurukshetra University, Kurukshetra
Board of School Education Haryana, Bhiwani
Active
In-Active
464
Department of Higher Education
Karnal
Arya Kanya Mahavidyalaya Gurukul, Mor Majra, Karnal
1277
C-10810
Self Finance
Degree College
Kurukshetra University, Kurukshetra
Active
Active
465
Department of Higher Education
Karnal
B.R.M. College of Education
1502
C-10524
Self Finance
B.Ed College
Kurukshetra University, Kurukshetra
Board of School Education Haryana, Bhiwani
Active
In-Active
466
Department of Higher Education
Karnal
Budha College of Education, Karnal
1690
C-10734
Self Finance
B.Ed College
Kurukshetra University, Kurukshetra
Active
In-Active
467
Department of Higher Education
Karnal
Budha College Of Higher Education Indri Road, Ramba, Karnal
1276
C-61044
Self Finance
Degree College
Kurukshetra University, Kurukshetra
Active
Active
468
Department of Higher Education
Karnal
BUDHA COLLEGE OF MANAGEMENT
1852
C-10669
Self Finance
Management College
Kurukshetra University, Kurukshetra
Active
In-Active
469
Department of Higher Education
Karnal
DAV College ,Karnal
1206
C-10770
Aided
Degree College
Kurukshetra University, Kurukshetra
Active
Active
470
Department of Higher Education
Karnal
Doon Valley College of Education,Chirao
1505
C-10767
Self Finance
B.Ed College
Kurukshetra University, Kurukshetra
Board of School Education Haryana, Bhiwani
Active
In-Active
471
Department of Higher Education
Karnal
Dr. Ganesh Dass DAV College of Education for Women, Karnal
3806
C-10593
Aided
B.Ed College
Kurukshetra University, Kurukshetra
Board of School Education Haryana, Bhiwani
Active
Active
472
Department of Higher Education
Karnal
Dr. Raghbir Singh College of Education
1512
Self Finance
B.Ed College
Board of School Education Haryana, Bhiwani
In-Active
In-Active
473
Department of Higher Education
Karnal
Dyal Singh College, Karnal
1207
C-10569
Aided
Degree College
Kurukshetra University, Kurukshetra
Active
Active
474
Department of Higher Education
Karnal
GC Assandh
1076
C-55121
Govt
Degree College
Kurukshetra University, Kurukshetra
Active
Active
475
Department of Higher Education
Karnal
GC Gharaunda
1079
C-44942
Govt
Degree College
Kurukshetra University, Kurukshetra
Active
Active
476
Department of Higher Education
Karnal
GC Karnal
1078
C-15584
Govt
Degree College
Kurukshetra University, Kurukshetra
Active
Active
477
Department of Higher Education
Karnal
GC Matak Majri
1075
C-10665
Govt
Degree College
Kurukshetra University, Kurukshetra
Active
Active
478
Department of Higher Education
Karnal
GCG Bastli
1083
C-64157
Govt
Degree College
Kurukshetra University, Kurukshetra
Active
Active
479
Department of Higher Education
Karnal
GCG Jundla
1080
C-61041
Govt
Degree College
Kurukshetra University, Kurukshetra
Active
Active
480
Department of Higher Education
Karnal
GCG Padda
1081
C-61267
Govt
Degree College
Kurukshetra University, Kurukshetra
Active
Active
481
Department of Higher Education
Karnal
GCG Taraori
1082
C-61050
Govt
Degree College
Kurukshetra University, Kurukshetra
Active
Active
482
Department of Higher Education
Karnal
GCW Gharaunda
1084
C-64937
Govt
Degree College
Kurukshetra University, Kurukshetra
Active
Active
483
Department of Higher Education
Karnal
GCW Karnal
1077
C-10841
Govt
Degree College
Kurukshetra University, Kurukshetra
Active
Active
484
Department of Higher Education
Karnal
Greenwood College of Education
1500
C-10878
Self Finance
B.Ed College
Kurukshetra University, Kurukshetra
Board of School Education Haryana, Bhiwani
In-Active
In-Active
485
Department of Higher Education
Karnal
Greenwood Degree College, Karnal
1279
C-10878
Self Finance
Degree College
Kurukshetra University, Kurukshetra
Active
Active
486
Department of Higher Education
Karnal
Guru Brahmanand Kanya Mahavidyalaya , Anjanthali, Karnal
1278
C-54967
Self Finance
Degree College
Kurukshetra University, Kurukshetra
Active
Active
487
Department of Higher Education
Karnal
GURU HAR KRISHAN COLLEGE OF EDUCATION RAITKHANA iNDRI
3798
C-10874
Self Finance
B.Ed College
Kurukshetra University, Kurukshetra
Board of School Education Haryana, Bhiwani
Active
In-Active
488
Department of Higher Education
Karnal
GURU NANAK COLLEGE OF EDUCATION KALRI JAGIR KARNAL
3857
S-6154
Self Finance
Minority College
Board of School Education Haryana, Bhiwani
Board of School Education Haryana, Bhiwani
Active
In-Active
489
Department of Higher Education
Karnal
Guru Nanak Khalsa College, Karnal
1208
C-10816
Aided
Degree College
Kurukshetra University, Kurukshetra
Active
Active
490
Department of Higher Education
Karnal
Gyan Bharti College of Education
1511
C-10737
Self Finance
B.Ed College
Kurukshetra University, Kurukshetra
Board of School Education Haryana, Bhiwani
Active
In-Active
491
Department of Higher Education
Karnal
IPSE College of Education, Jundla
1784
Self Finance
B.Ed College
Kurukshetra University, Kurukshetra
Board of School Education Haryana, Bhiwani
In-Active
In-Active
492
Department of Higher Education
Karnal
JAAT COLLEGE OF EDUCATION
3910
C-10856
Self Finance
B.Ed College
Kurukshetra University, Kurukshetra
Active
In-Active
493
Department of Higher Education
Karnal
Jeevan Chanan College of Education, Assandh Karnal
1503
C-10785
Self Finance
B.Ed College
Kurukshetra University, Kurukshetra
Board of School Education Haryana, Bhiwani
Active
In-Active
494
Department of Higher Education
Karnal
Jeevan Chanan Mahila Mahavidyala, Assandh, Karnal
1281
C-10866
Self Finance
Degree College
Kurukshetra University, Kurukshetra
Active
Active
495
Department of Higher Education
Karnal
JK INSTITUTE OF MANAGEMENT & TECHNOLOGY
1850
C-10658
Self Finance
Management College
Kurukshetra University, Kurukshetra
Active
In-Active
496
Department of Higher Education
Karnal
KARNAL COLLEGE OF D.ED, KUJPURA KARNAL
4103
Self Finance
Other College
Board of School Education Haryana, Bhiwani
Active
In-Active
497
Department of Higher Education
Karnal
Karnal Degree College, Kunjpura, Karnal
1280
C-65969
Self Finance
Degree College
Kurukshetra University, Kurukshetra
Active
Active
498
Department of Higher Education
Karnal
KARNAL INSTITUTE OF TECHNOLOGY & MANAGEMENT
1849
C-10885
Self Finance
Management College
Kurukshetra University, Kurukshetra
Active
In-Active
499
Department of Higher Education
Karnal
Keshav College of Education
1508
C-30770
Self Finance
B.Ed College
Kurukshetra University, Kurukshetra
Board of School Education Haryana, Bhiwani
Active
In-Active
500
Department of Higher Education
Karnal
KVA DAV College For women, Karnal
1209
C-10661
Aided
Degree College
Kurukshetra University, Kurukshetra
Active
Active
501
Department of Higher Education
Karnal
Mata Sundri Khalsa Girls College
1913
C-10865
Self Finance
Minority College
Kurukshetra University, Kurukshetra
Active
In-Active
502
Department of Higher Education
Karnal
Minerva College of Education
1510
C-10606
Self Finance
B.Ed College
Kurukshetra University, Kurukshetra
Board of School Education Haryana, Bhiwani
Active
In-Active
503
Department of Higher Education
Karnal
Partap College of Education
1501
C-10782
Self Finance
B.Ed College
Kurukshetra University, Kurukshetra
Board of School Education Haryana, Bhiwani
Active
In-Active
504
Department of Higher Education
Karnal
Pragya Institute for Education and Training of Differently Abled, Karnal
1774
C-28419
Self Finance
B.Ed College
Kurukshetra University, Kurukshetra
Board of School Education Haryana, Bhiwani
Active
In-Active
505
Department of Higher Education
Karnal
R.L. College of Education
1506
C-10891
Self Finance
B.Ed College
Kurukshetra University, Kurukshetra
Board of School Education Haryana, Bhiwani
Active
In-Active
506
Department of Higher Education
Karnal
R.P. Indraprastha Institute of Technology
1851
C-10549
Self Finance
Management College
Kurukshetra University, Kurukshetra
Active
In-Active
507
Department of Higher Education
Karnal
Shri Sant Ram College of Education
1504
C-10749
Self Finance
B.Ed College
Kurukshetra University, Kurukshetra
Board of School Education Haryana, Bhiwani
Active
In-Active
508
Department of Higher Education
Karnal
Tagore College of Educaiton
1509
C-10678
Self Finance
B.Ed College
Kurukshetra University, Kurukshetra
Board of School Education Haryana, Bhiwani
Active
In-Active
509
Department of Higher Education
Karnal
VINAYAK INSTITUTE OF MANAGEMENT
1853
C-10777
Self Finance
Management College
Kurukshetra University, Kurukshetra
Active
In-Active
510
Department of Higher Education
Kurukshetra
Aadarsh College of Education
1526
Self Finance
B.Ed College
Board of School Education Haryana, Bhiwani
In-Active
In-Active
511
Department of Higher Education
Kurukshetra
Arya Kanya Mahavidyalya Shahabad Markanda, Kurukshetra
1210
C-10748
Aided
Degree College
Kurukshetra University, Kurukshetra
Active
Active
512
Department of Higher Education
Kurukshetra
B.R.College of Education
1519
C-10660
Self Finance
B.Ed College
Kurukshetra University, Kurukshetra
Board of School Education Haryana, Bhiwani
Active
In-Active
513
Department of Higher Education
Kurukshetra
Bhagwan Parshu Ram College, Kurukshetra
1211
C-10632
Aided
Degree College
Kurukshetra University, Kurukshetra
Active
Active
514
Department of Higher Education
Kurukshetra
Bharat College of Education, Babain
1522
C-10807
Self Finance
B.Ed College
Kurukshetra University, Kurukshetra
Board of School Education Haryana, Bhiwani
Active
In-Active
515
Department of Higher Education
Kurukshetra
Bharat college of Law
1810
C-60289
Self Finance
Law College
Kurukshetra University, Kurukshetra
Active
In-Active
516
Department of Higher Education
Kurukshetra
Choudhary Matu Ram College of Education
1517
C-10738
Self Finance
B.Ed College
Kurukshetra University, Kurukshetra
Board of School Education Haryana, Bhiwani
Active
In-Active
517
Department of Higher Education
Kurukshetra
DAV College, Pehowa
1212
C-10855
Aided
Degree College
Kurukshetra University, Kurukshetra
Active
Active
518
Department of Higher Education
Kurukshetra
Dayanand Mahila Mahavidyalaya, Kurukshetra
1213
C-10768
Aided
Degree College
Kurukshetra University, Kurukshetra
Active
Active
519
Department of Higher Education
Kurukshetra
Dharamjeevi Institute of Professional Education
1521
Self Finance
B.Ed College
Kurukshetra University, Kurukshetra
Board of School Education Haryana, Bhiwani
In-Active
In-Active
520
Department of Higher Education
Kurukshetra
Directorate of Distance Education(Kurukshetra University Kurukshetra )
1334
U-0164
Govt
Distance College
Kurukshetra University, Kurukshetra
Active
Active
521
Department of Higher Education
Kurukshetra
Dr. B.R. Ambedkar College of Education
1516
C-10743
Self Finance
B.Ed College
Kurukshetra University, Kurukshetra
Board of School Education Haryana, Bhiwani
Active
In-Active
522
Department of Higher Education
Kurukshetra
DRONACHARYA DEGREE COLLEGE KURUKSHETRA
1914
C-65501
Self Finance
Minority College
Kurukshetra University, Kurukshetra
Active
In-Active
523
Department of Higher Education
Kurukshetra
DRONACHARYA INSTITUTE OF MANAGEMENT & TECHNOLOGY KURUKSHETRA
1856
Self Finance
Management College
Kurukshetra University, Kurukshetra
In-Active
In-Active
524
Department of Higher Education
Kurukshetra
GC Bherian
1072
C-50432
Govt
Degree College
Kurukshetra University, Kurukshetra
Active
Active
525
Department of Higher Education
Kurukshetra
GC Chamu Kalan
1073
C-64156
Govt
Degree College
Kurukshetra University, Kurukshetra
Active
Active
526
Department of Higher Education
Kurukshetra
GCG Palwal (Kurukshetra)
1074
C-61281
Govt
Degree College
Kurukshetra University, Kurukshetra
Active
Active
527
Department of Higher Education
Kurukshetra
Geeta Adarsh College of Education
1530
C-10633
Self Finance
B.Ed College
Kurukshetra University, Kurukshetra
Board of School Education Haryana, Bhiwani
Active
In-Active
528
Department of Higher Education
Kurukshetra
Indira Gandhi National College, Ladwa, Kurukshetra
1214
C-10705
Aided
Degree College
Kurukshetra University, Kurukshetra
Active
Active
529
Department of Higher Education
Kurukshetra
Institute of Hotel Management Catering Technology & Applied Nutrition , Jyotisar, Kurukshetra
1857
S-17749
Self Finance
Management College
National Council for Hotel Management & Catering Technology, Noida
Active
In-Active
530
Department of Higher Education
Kurukshetra
Institute of Integrated & Honors Studies, Kurukshhetra University
1920
C-10587
Govt
Other College
Kurukshetra University, Kurukshetra
Active
Active
531
Department of Higher Education
Kurukshetra
Institute of Teacher Training and Research
1922
C-10532
Govt
Other College
Kurukshetra University, Kurukshetra
Active
Active
532
Department of Higher Education
Kurukshetra
Isharjyot Degree College For Women, Pehowa
1283
C-10881
Self Finance
Degree College
Kurukshetra University, Kurukshetra
Active
Active
533
Department of Higher Education
Kurukshetra
J.R. INSTITUTE OF EDUCATION
3893
S-17294
Self Finance
Other College
Board of School Education Haryana, Bhiwani
Active
In-Active
534
Department of Higher Education
Kurukshetra
KURUKSHETRA COLLEGE OF EDUCATION
1531
C-10540
Self Finance
B.Ed College
Kurukshetra University, Kurukshetra
Board of School Education Haryana, Bhiwani
Active
In-Active
535
Department of Higher Education
Kurukshetra
Kurukshetra University, Kurukshetra (Campus)
1943
U-0164
Govt
University Campus
Kurukshetra University, Kurukshetra
Active
Active
536
Department of Higher Education
Kurukshetra
Ladwa College of Education,Bapda
1523
C-10844
Self Finance
B.Ed College
Kurukshetra University, Kurukshetra
Board of School Education Haryana, Bhiwani
Active
In-Active
537
Department of Higher Education
Kurukshetra
Lal Chand Mal College of Education
1524
C-10871
Self Finance
B.Ed College
Kurukshetra University, Kurukshetra
Board of School Education Haryana, Bhiwani
Active
In-Active
538
Department of Higher Education
Kurukshetra
Mahabir College of Education for Women
1520
C-10793
Self Finance
B.Ed College
Kurukshetra University, Kurukshetra
Board of School Education Haryana, Bhiwani
Active
In-Active
539
Department of Higher Education
Kurukshetra
Manish Papneja Memorial S.D Girls College, Ismailabad
1282
C-10788
Self Finance
Degree College
Kurukshetra University, Kurukshetra
Active
Active
540
Department of Higher Education
Kurukshetra
Markanda National College, Shahabad Markanda, Kurukshetra
1215
C-10792
Aided
Degree College
Kurukshetra University, Kurukshetra
Active
Active
541
Department of Higher Education
Kurukshetra
POOJA COLLEGE OF EDUCATION
1532
C-56426
Self Finance
B.Ed College
Kurukshetra University, Kurukshetra
Board of School Education Haryana, Bhiwani
Active
In-Active
542
Department of Higher Education
Kurukshetra
Rajadevi Goyal M/P College of Education
1514
C-10649
Self Finance
B.Ed College
Kurukshetra University, Kurukshetra
Board of School Education Haryana, Bhiwani
Active
In-Active
543
Department of Higher Education
Kurukshetra
RANI LAXMI BAI COLLEGE OF EDUCATION
1515
S-18279
Self Finance
B.Ed College
Board of School Education Haryana, Bhiwani
In-Active
In-Active
544
Department of Higher Education
Kurukshetra
SARDAR AJIT SINGH COLLEGE
3892
C-65970
Self Finance
Degree College
Kurukshetra University, Kurukshetra
Active
Active
545
Department of Higher Education
Kurukshetra
SARDAR AJIT SINGH COLLEGE OF EDUCATION
3891
Self Finance
Other College
Board of School Education Haryana, Bhiwani
In-Active
In-Active
546
Department of Higher Education
Kurukshetra
SARDAR CHANAN SINGH GHUMAN MEMORIAL COLLEGE OF EDUCATION
1518
C-10588
Self Finance
B.Ed College
Kurukshetra University, Kurukshetra
Board of School Education Haryana, Bhiwani
Active
In-Active
547
Department of Higher Education
Kurukshetra
Sardar Patel institute of higher education kurukshertra
1533
C-65500
Self Finance
B.Ed College
Kurukshetra University, Kurukshetra
Board of School Education Haryana, Bhiwani
In-Active
In-Active
548
Department of Higher Education
Kurukshetra
SAS College of Education (D.El.Ed)
1732
S-18275
Self Finance
B.Ed College
Kurukshetra University, Kurukshetra
Board of School Education Haryana, Bhiwani
Active
In-Active
549
Department of Higher Education
Kurukshetra
SBD Jain college of Education Salpani Khurd
1801
Self Finance
B.Ed College
Board of School Education Haryana, Bhiwani
In-Active
In-Active
550
Department of Higher Education
Kurukshetra
Seth Banarasi Dass College of Education
1527
C-10651
Self Finance
B.Ed College
Kurukshetra University, Kurukshetra
Board of School Education Haryana, Bhiwani
Active
In-Active
551
Department of Higher Education
Kurukshetra
Seth Tek Chand College of Education
1513
C-10691
Self Finance
B.Ed College
Kurukshetra University, Kurukshetra
Board of School Education Haryana, Bhiwani
Active
In-Active
552
Department of Higher Education
Kurukshetra
SH. SOM PARKASH VATS MEMORIAL COLLEGE OF EDUCAITON
3950
S-18323
Self Finance
Other College
Board of School Education Haryana, Bhiwani
In-Active
In-Active
553
Department of Higher Education
Kurukshetra
Shree Markandeshwar Institute of Management
1855
Self Finance
Management College
Kurukshetra University, Kurukshetra
In-Active
In-Active
554
Department of Higher Education
Kurukshetra
Shri Guru Amardass College of Education
1763
C-54644
Self Finance
B.Ed College
Kurukshetra University, Kurukshetra
Board of School Education Haryana, Bhiwani
Active
In-Active
555
Department of Higher Education
Kurukshetra
Shri Jai Ram Mahila College of Education Research & Development
1525
C-10880
Self Finance
B.Ed College
Kurukshetra University, Kurukshetra
Board of School Education Haryana, Bhiwani
Active
In-Active
556
Department of Higher Education
Kurukshetra
Shri Krishan Institute of Engg. & Technology
1858
C-10838
Self Finance
Management College
Kurukshetra University, Kurukshetra
Active
In-Active
557
Department of Higher Education
Kurukshetra
SKS College of Education (D.El.Ed)
1730
S-17427
Self Finance
B.Ed College
Kurukshetra University, Kurukshetra
Board of School Education Haryana, Bhiwani
Active
In-Active
558
Department of Higher Education
Kurukshetra
SKS College of Education , Kirmach
1529
Self Finance
B.Ed College
Kurukshetra University, Kurukshetra
Board of School Education Haryana, Bhiwani
In-Active
In-Active
559
Department of Higher Education
Kurukshetra
SKS college of education(BA.B.ED/BSC.B.ED)
1733
C-52046
Self Finance
B.Ed College
Kurukshetra University, Kurukshetra
Board of School Education Haryana, Bhiwani
Active
In-Active
560
Department of Higher Education
Kurukshetra
SNRL Jairam Girls College
1216
C-10529
Aided
Degree College
Kurukshetra University, Kurukshetra
Active
Active
561
Department of Higher Education
Kurukshetra
State Institute of Advanced Studies in Teacher Education, Kurukshetra
3989
S-6160
Govt
B.Ed College
Kurukshetra University, Kurukshetra
Active
Active
562
Department of Higher Education
Kurukshetra
TECHNOLOGY EDUCATION & RESEARCH INSTITUTE
1854
C-10535
Self Finance
Management College
Kurukshetra University, Kurukshetra
Active
In-Active
563
Department of Higher Education
Kurukshetra
United College of Education
1528
C-10584
Self Finance
B.Ed College
Kurukshetra University, Kurukshetra
Board of School Education Haryana, Bhiwani
Active
In-Active
564
Department of Higher Education
Mahendergarh
Adarsh College Of Education
1796
Self Finance
B.Ed College
Board of School Education Haryana, Bhiwani
Active
In-Active
565
Department of Higher Education
Mahendergarh
AMAN INSTITUTE OF EDUCATION, DEWAS ,MAHENDERGARH
3920
Self Finance
Other College
Board of School Education Haryana, Bhiwani
In-Active
In-Active
566
Department of Higher Education
Mahendergarh
Apna College
1930
S-18885
Self Finance
Other College
Board of School Education Haryana, Bhiwani
In-Active
In-Active
567
Department of Higher Education
Mahendergarh
ARAVALI COLLEGE OF EDUCATION
1555
C-28338
Self Finance
B.Ed College
Indira Gandhi University, Meerpur
Active
In-Active
568
Department of Higher Education
Mahendergarh
ARAVALI COLLEGE OF EDUCATION, KAROTA
1540
C-28234
Self Finance
B.Ed College
Indira Gandhi University, Meerpur
Board of School Education Haryana, Bhiwani
Active
In-Active
569
Department of Higher Education
Mahendergarh
B R college of Education
1736
C-28451
Self Finance
B.Ed College
Indira Gandhi University, Meerpur
Active
In-Active
570
Department of Higher Education
Mahendergarh
B R Degree College – Sehlang ,Mahendergarh
1289
C-56158
Self Finance
Degree College
Indira Gandhi University, Meerpur
Active
Active
571
Department of Higher Education
Mahendergarh
B.P.S. COLLEGE OF EDUCATION
1554
C-28347
Self Finance
B.Ed College
Indira Gandhi University, Meerpur
Active
In-Active
572
Department of Higher Education
Mahendergarh
B.S. COLLEGE OF EDUCATION
1536
C-28068
Self Finance
B.Ed College
Indira Gandhi University, Meerpur
Board of School Education Haryana, Bhiwani
Active
In-Active
573
Department of Higher Education
Mahendergarh
BABA JAI RAM DASS COLLEGE OF EDUCATION
1557
C-67563
Self Finance
B.Ed College
Indira Gandhi University, Meerpur
Board of School Education Haryana, Bhiwani
Active
In-Active
574
Department of Higher Education
Mahendergarh
Baba Jai Ram Dass College of Education Pali, Mahendergarh
1803
C-28447
Self Finance
B.Ed College
Ch. Ranbir Singh Hooda University, Jind
Active
In-Active
575
Department of Higher Education
Mahendergarh
BABA KHETA NATH COLLEGE OF EDUCATION
1546
C-28358
Self Finance
B.Ed College
Indira Gandhi University, Meerpur
Active
In-Active
576
Department of Higher Education
Mahendergarh
Bhartiya college of Education
1767
C-28425
Self Finance
B.Ed College
Ch. Ranbir Singh Hooda University, Jind
Board of School Education Haryana, Bhiwani
Active
In-Active
577
Department of Higher Education
Mahendergarh
Bhartiya Degree College, Mahendergarh
1292
C-56580
Self Finance
Degree College
Indira Gandhi University, Meerpur
Active
Active
578
Department of Higher Education
Mahendergarh
Bhumika Degree College, Mahendergarh
1298
Self Finance
Degree College
Indira Gandhi University, Meerpur
Active
Active
579
Department of Higher Education
Mahendergarh
C.L. COLLEGE OF EDUCATION
1542
C-28306
Self Finance
B.Ed College
Indira Gandhi University, Meerpur
Board of School Education Haryana, Bhiwani
Active
In-Active
580
Department of Higher Education
Mahendergarh
Central University of Haryana, Mahendergarh (Campus)
1958
U-0158
Govt
University Campus
Central University of Haryana, Mahendergarh
Active
Active
581
Department of Higher Education
Mahendergarh
City College Mahindergarh
1935
Self Finance
Other College
Board of School Education Haryana, Bhiwani
In-Active
In-Active
582
Department of Higher Education
Mahendergarh
G.L. Women Degree College, Mahendergarh
1293
C-56159
Self Finance
Degree College
Indira Gandhi University, Meerpur
Active
Active
583
Department of Higher Education
Mahendergarh
G.R. College of Education
1734
S-20006
Self Finance
B.Ed College
Board of School Education Haryana, Bhiwani
Active
In-Active
584
Department of Higher Education
Mahendergarh
Ganpati College of Education
1749
C-28132
Self Finance
B.Ed College
Indira Gandhi University, Meerpur
Board of School Education Haryana, Bhiwani
Active
In-Active
585
Department of Higher Education
Mahendergarh
GANPATI INSTITUTE OF EDUCATION & TECHNOLOGY
1539
C-28100
Self Finance
B.Ed College
Indira Gandhi University, Meerpur
Board of School Education Haryana, Bhiwani
Active
In-Active
586
Department of Higher Education
Mahendergarh
GAURAV COLLEGE OF EDUCATION
1705
C-28070
Self Finance
B.Ed College
Indira Gandhi University, Meerpur
Board of School Education Haryana, Bhiwani
Active
In-Active
587
Department of Higher Education
Mahendergarh
GC Ateli
1101
C-28063
Govt
Degree College
Indira Gandhi University, Meerpur
Active
Active
588
Department of Higher Education
Mahendergarh
GC Chhilro
1091
C-60941
Govt
Degree College
Indira Gandhi University, Meerpur
Active
Active
589
Department of Higher Education
Mahendergarh
GC Education Narnaul
1333
C-28146
Govt
B.Ed College
Indira Gandhi University, Meerpur
Board of School Education Haryana, Bhiwani
Active
Active
590
Department of Higher Education
Mahendergarh
GC Kanina
1095
C-28365
Govt
Degree College
Indira Gandhi University, Meerpur
Active
Active
591
Department of Higher Education
Mahendergarh
GC Krishan Nagar
1097
C-44930
Govt
Degree College
Indira Gandhi University, Meerpur
Active
Active
592
Department of Higher Education
Mahendergarh
GC Mahendergarh
1089
C-28462
Govt
Degree College
Indira Gandhi University, Meerpur
Active
Active
593
Department of Higher Education
Mahendergarh
GC Nangal Chaudhary
1098
C-28349
Govt
Degree College
Indira Gandhi University, Meerpur
Active
Active
594
Department of Higher Education
Mahendergarh
GC Narnaul
1090
C-31600
Govt
Degree College
Indira Gandhi University, Meerpur
Active
Active
595
Department of Higher Education
Mahendergarh
GC Satnali
1100
C-49467
Govt
Degree College
Indira Gandhi University, Meerpur
Active
Active
596
Department of Higher Education
Mahendergarh
GC Sihma
1092
C-60087
Govt
Degree College
Indira Gandhi University, Meerpur
Active
Active
597
Department of Higher Education
Mahendergarh
GCW Ateli
1094
C-59652
Govt
Degree College
Indira Gandhi University, Meerpur
Active
Active
598
Department of Higher Education
Mahendergarh
GCW Mahendergarh
1099
C-28414
Govt
Degree College
Indira Gandhi University, Meerpur
Active
Active
599
Department of Higher Education
Mahendergarh
GCW Nangal Choudhary
1096
C-51937
Govt
Degree College
Indira Gandhi University, Meerpur
Active
Active
600
Department of Higher Education
Mahendergarh
GCW Narnaul
1088
C-31599
Govt
Degree College
Indira Gandhi University, Meerpur
Active
Active
601
Department of Higher Education
Mahendergarh
GCW Unhani
1093
C-60962
Govt
Degree College
Indira Gandhi University, Meerpur
Active
Active
602
Department of Higher Education
Mahendergarh
Geetanjali Institute of Teacher Training
1932
S-17168
Self Finance
Other College
Board of School Education Haryana, Bhiwani
Active
In-Active
603
Department of Higher Education
Mahendergarh
Guru College of Education
1757
C-28247
Self Finance
B.Ed College
Indira Gandhi University, Meerpur
Board of School Education Haryana, Bhiwani
Active
In-Active
604
Department of Higher Education
Mahendergarh
Guru Dronacharya College of Education, Narnaul
1773
C-28417
Self Finance
B.Ed College
Indira Gandhi University, Meerpur
Board of School Education Haryana, Bhiwani
Active
In-Active
605
Department of Higher Education
Mahendergarh
Gyan Deep College of Education, Surajwas
1783
Self Finance
B.Ed College
Board of School Education Haryana, Bhiwani
In-Active
In-Active
606
Department of Higher Education
Mahendergarh
H.J. INSTITUTE OF EDUCAITON & TECHNOLOGY
1860
C-28150
Self Finance
Management College
Indira Gandhi University, Meerpur
Active
In-Active
607
Department of Higher Education
Mahendergarh
Happy college of education, dulana road
3943
Self Finance
B.Ed College
Ch. Ranbir Singh Hooda University, Jind
Active
In-Active
608
Department of Higher Education
Mahendergarh
Inder Prastha College of Education, Narnaul
1792
Self Finance
B.Ed College
Board of School Education Haryana, Bhiwani
In-Active
In-Active
609
Department of Higher Education
Mahendergarh
K.D. Degree College, Mahendergarh
1291
C-28195
Self Finance
Degree College
Indira Gandhi University, Meerpur
Active
Active
610
Department of Higher Education
Mahendergarh
KD College of Education Pali
1772
C-28195
Self Finance
B.Ed College
Indira Gandhi University, Meerpur
Board of School Education Haryana, Bhiwani
Active
In-Active
611
Department of Higher Education
Mahendergarh
KD College of Education, Narnaul
1754
C-28130
Self Finance
B.Ed College
Indira Gandhi University, Meerpur
Board of School Education Haryana, Bhiwani
Active
In-Active
612
Department of Higher Education
Mahendergarh
Lord Krishna College Of Education Sihma, Narnaul
4015
S-18289
Self Finance
B.Ed College
Indira Gandhi University, Meerpur
Board of School Education Haryana, Bhiwani
Active
In-Active
613
Department of Higher Education
Mahendergarh
M R COLLEGE OF EDUCATION, MAHENDRAGARH
1534
C-28348
Self Finance
B.Ed College
Indira Gandhi University, Meerpur
Board of School Education Haryana, Bhiwani
Active
In-Active
614
Department of Higher Education
Mahendergarh
M.R College, Mitterpura
1290
C-66609
Self Finance
Degree College
Indira Gandhi University, Meerpur
Active
Active
615
Department of Higher Education
Mahendergarh
MAHARANA PRATAP COLLEGE OF EDUCATION
1537
C-28136
Self Finance
B.Ed College
Indira Gandhi University, Meerpur
Board of School Education Haryana, Bhiwani
Active
In-Active
616
Department of Higher Education
Mahendergarh
MODERN COLLEGE OF EDUCATION, BHOJAWAS
1561
C-28211
Self Finance
B.Ed College
Indira Gandhi University, Meerpur
Board of School Education Haryana, Bhiwani
Active
In-Active
617
Department of Higher Education
Mahendergarh
MODERN COLLEGE OF EDUCATION, MAHENDRAGARH
1560
C-33106
Self Finance
B.Ed College
Ch. Ranbir Singh Hooda University, Jind
Board of School Education Haryana, Bhiwani
Active
In-Active
618
Department of Higher Education
Mahendergarh
N.R.B. COLLEGE OF EDUCATION
1556
C-28273
Self Finance
B.Ed College
Indira Gandhi University, Meerpur
Board of School Education Haryana, Bhiwani
Active
In-Active
619
Department of Higher Education
Mahendergarh
Nakshtra Vidyapeeth Khudana
1713
C-61256
Self Finance
B.Ed College
Ch. Ranbir Singh Hooda University, Jind
Board of School Education Haryana, Bhiwani
Active
In-Active
620
Department of Higher Education
Mahendergarh
NAV GYAN INSTITUTION OF EDUCATION, KOTHAL KALAN
3928
Self Finance
Other College
Board of School Education Haryana, Bhiwani
In-Active
In-Active
621
Department of Higher Education
Mahendergarh
Pitamah Umda Singh College of Education
1779
C-28426
Self Finance
B.Ed College
Indira Gandhi University, Meerpur
Board of School Education Haryana, Bhiwani
Active
In-Active
622
Department of Higher Education
Mahendergarh
PT. RAM NIWAS COLLEGE OF EDUCATION
1545
C-28239
Self Finance
B.Ed College
Indira Gandhi University, Meerpur
Active
In-Active
623
Department of Higher Education
Mahendergarh
R.B.S.Degree College, Mahendergarh
1300
C-59560
Self Finance
Degree College
Indira Gandhi University, Meerpur
Active
Active
624
Department of Higher Education
Mahendergarh
R.P.S. COLLEGE OF EDUCATION
1547
C-28402
Self Finance
B.Ed College
Indira Gandhi University, Meerpur
Active
In-Active
625
Department of Higher Education
Mahendergarh
RAJESH PILOT MEMORIAL COLLEGE OF EDUCATION
1541
C-28328
Self Finance
B.Ed College
Indira Gandhi University, Meerpur
Board of School Education Haryana, Bhiwani
Active
In-Active
626
Department of Higher Education
Mahendergarh
Rao Jai Ram College of Education
1768
C-28340
Self Finance
B.Ed College
Indira Gandhi University, Meerpur
Board of School Education Haryana, Bhiwani
In-Active
In-Active
627
Department of Higher Education
Mahendergarh
Rao Jai Ram Degree College, Mahendergarh
1297
C-57303
Self Finance
Degree College
Indira Gandhi University, Meerpur
Active
Active
628
Department of Higher Education
Mahendergarh
RAO LAL SINGH COLLEGE OF EDUCATION
1552
C-28357
Self Finance
B.Ed College
Indira Gandhi University, Meerpur
Board of School Education Haryana, Bhiwani
Active
In-Active
629
Department of Higher Education
Mahendergarh
Rao Mool Chand College of Education, Narnaul
1791
C-28017
Self Finance
B.Ed College
Indira Gandhi University, Meerpur
Board of School Education Haryana, Bhiwani
Active
In-Active
630
Department of Higher Education
Mahendergarh
Rao Mool Chand Degree College, Mahendergarh
1296
Self Finance
Degree College
Indira Gandhi University, Meerpur
Active
Active
631
Department of Higher Education
Mahendergarh
Rao Pahlad Singh College of Education
1789
Self Finance
B.Ed College
Indira Gandhi University, Meerpur
Board of School Education Haryana, Bhiwani
Active
In-Active
632
Department of Higher Education
Mahendergarh
Rao Pahlad Singh College of Engineering & Technology
1859
C-28485
Self Finance
Management College
Indira Gandhi University, Meerpur
Active
In-Active
633
Department of Higher Education
Mahendergarh
RAO SULTAN SINGH COLLEGE OF EDUCATION
1538
C-28009
Self Finance
B.Ed College
Ch. Ranbir Singh Hooda University, Jind
Board of School Education Haryana, Bhiwani
In-Active
In-Active
634
Department of Higher Education
Mahendergarh
Rohitash Degree College ,Ateli Mandi, Mohindergarh
4098
C-57018
Self Finance
Degree College
Maharishi Dayanand University, Rohtak
Active
Active
635
Department of Higher Education
Mahendergarh
RPS Degree College Balana Mahendergarh
1286
C-51826
Self Finance
Degree College
Indira Gandhi University, Meerpur
Active
Active
636
Department of Higher Education
Mahendergarh
S.D. INSTITUTE OF EDUCATION KAKRALA MAHENDERGARH
4116
Self Finance
B.Ed College
Board of School Education Haryana, Bhiwani
Active
In-Active
637
Department of Higher Education
Mahendergarh
S.M Rehabilitation & Research Centre, Mahenragarh
1535
Self Finance
B.Ed College
Indira Gandhi University, Meerpur
Board of School Education Haryana, Bhiwani
In-Active
In-Active
638
Department of Higher Education
Mahendergarh
SADASUKH COLLEGE OF EDUCATION
1553
C-28140
Self Finance
B.Ed College
Indira Gandhi University, Meerpur
Board of School Education Haryana, Bhiwani
Active
In-Active
639
Department of Higher Education
Mahendergarh
Sanskar Bharti Degree College For Women, Mahendergarh
1299
C-51627
Self Finance
Degree College
Indira Gandhi University, Meerpur
Active
Active
640
Department of Higher Education
Mahendergarh
SANSKRITI INSTITUTE OF EDUCATION AND TECHNOLOGY
1551
C-28052
Self Finance
B.Ed College
Indira Gandhi University, Meerpur
Board of School Education Haryana, Bhiwani
Active
In-Active
641
Department of Higher Education
Mahendergarh
SANT JAI RAM DAS MEMORIAL COLLEGE OF EDUCATION
1549
C-28059
Self Finance
B.Ed College
Indira Gandhi University, Meerpur
Board of School Education Haryana, Bhiwani
Active
In-Active
642
Department of Higher Education
Mahendergarh
Saraswati college of Education, kanina
3971
C-28442
Self Finance
B.Ed College
Indira Gandhi University, Meerpur
Board of School Education Haryana, Bhiwani
Active
In-Active
643
Department of Higher Education
Mahendergarh
SARASWATI COLLEGE OF EDUCATION, MAHENDRAGARH
1543
C-34996
Self Finance
B.Ed College
Indira Gandhi University, Meerpur
Board of School Education Haryana, Bhiwani
Active
In-Active
644
Department of Higher Education
Mahendergarh
Savitri Devi College of Education (D.ed)
4056
S-20016
Self Finance
Other College
Board of School Education Haryana, Bhiwani
Active
In-Active
645
Department of Higher Education
Mahendergarh
Savitri Devi Women Degree College ,Kanina
1294
C-56417
Self Finance
Degree College
Indira Gandhi University, Meerpur
Active
Active
646
Department of Higher Education
Mahendergarh
SHANTI COLLEGE OF EDUCATION, REWASA, MAHINDERGARH
3912
C-28466
Self Finance
B.Ed College
Ch. Ranbir Singh Hooda University, Jind
Active
In-Active
647
Department of Higher Education
Mahendergarh
SHARBATI COLLEGE OF EDUCATION
1544
C-28422
Self Finance
B.Ed College
Indira Gandhi University, Meerpur
Board of School Education Haryana, Bhiwani
Active
In-Active
648
Department of Higher Education
Mahendergarh
SHIKSHA BHARTI COLLEGE OF EDUCATION, MAHENDRAGARH
1550
C-34990
Self Finance
B.Ed College
Ch. Ranbir Singh Hooda University, Jind
Board of School Education Haryana, Bhiwani
In-Active
In-Active
649
Department of Higher Education
Mahendergarh
SHREE GANAPATI INSTITUTE OF EDUCAITON & TECHNOLOGY
1691
C-28454
Self Finance
B.Ed College
Indira Gandhi University, Meerpur
Board of School Education Haryana, Bhiwani
Active
In-Active
650
Department of Higher Education
Mahendergarh
SHRI KRISHAN COLLEGE OF EDUCATION
1558
Self Finance
B.Ed College
Board of School Education Haryana, Bhiwani
In-Active
In-Active
651
Department of Higher Education
Mahendergarh
Shri Krishna College of Education
1699
C-28415
Self Finance
B.Ed College
Indira Gandhi University, Meerpur
Board of School Education Haryana, Bhiwani
Active
In-Active
652
Department of Higher Education
Mahendergarh
Shri Ram Degree College Mahendergarh
1288
S-17302
Self Finance
Degree College
Indira Gandhi University, Meerpur
Active
Active
653
Department of Higher Education
Mahendergarh
Shri Ram Institute of Education & Technology, Bass kiraroad
1939
S-17302
Self Finance
Other College
Board of School Education Haryana, Bhiwani
Active
In-Active
654
Department of Higher Education
Mahendergarh
Shri. O.P. Memorial Degree College, Khudana , Mohindergarh.
1285
Self Finance
Degree College
Indira Gandhi University, Meerpur
Active
Active
655
Department of Higher Education
Mahendergarh
Sunrise college of Education
1729
S-20010
Self Finance
B.Ed College
Board of School Education Haryana, Bhiwani
Active
In-Active
656
Department of Higher Education
Mahendergarh
SURAJ COLLEGE OF EDUCATION
1750
C-28369
Self Finance
B.Ed College
Indira Gandhi University, Meerpur
Board of School Education Haryana, Bhiwani
Active
In-Active
657
Department of Higher Education
Mahendergarh
Suraj Degree College, Mahendergarh
1295
C-52317
Self Finance
Degree College
Indira Gandhi University, Meerpur
Active
Active
658
Department of Higher Education
Mahendergarh
Swami Vivekanand college of education
1758
C-28152
Self Finance
B.Ed College
Indira Gandhi University, Meerpur
Active
In-Active
659
Department of Higher Education
Mahendergarh
TAGORE COLLEGE OF EDUCATION
1559
C-28476
Self Finance
B.Ed College
Indira Gandhi University, Meerpur
Board of School Education Haryana, Bhiwani
Active
In-Active
660
Department of Higher Education
Mahendergarh
VADIC TEACHER TRAINING INSTITUTE
1926
C-28429
Self Finance
Other College
Indira Gandhi University, Meerpur
Active
In-Active
661
Department of Higher Education
Mahendergarh
Yaduvanshi College/Institute of Education
1745
C-28139
Self Finance
B.Ed College
Ch. Ranbir Singh Hooda University, Jind
Board of School Education Haryana, Bhiwani
Active
In-Active
662
Department of Higher Education
Mahendergarh
Yaduvanshi Degree College
1287
C-59561
Self Finance
Degree College
Indira Gandhi University, Meerpur
Active
Active
663
Department of Higher Education
Mahendergarh
Yaduvanshi Degree College patikara
4115
C-59561
Self Finance
Degree College
Indira Gandhi University, Meerpur
Active
Active
664
Department of Higher Education
Mahendergarh
Yaduvanshi Institute of Edu., Patikara,Teh. Narnaul,M.Garh
1548
C-28437
Self Finance
B.Ed College
Ch. Ranbir Singh Hooda University, Jind
Board of School Education Haryana, Bhiwani
Active
In-Active
665
Department of Higher Education
Nuh
CHANDERAWATI COLLEGE OF EDUCATION
1562
C-28193
Self Finance
B.Ed College
Maharishi Dayanand University, Rohtak
Board of School Education Haryana, Bhiwani
Active
In-Active
666
Department of Higher Education
Nuh
DAYAWANTI MEMORIAL COLLEGE OF EDUCATION
1564
C-28421
Self Finance
B.Ed College
Maharishi Dayanand University, Rohtak
Board of School Education Haryana, Bhiwani
Active
In-Active
667
Department of Higher Education
Nuh
G.C. College of Education (Tauru)
1795
Self Finance
B.Ed College
Board of School Education Haryana, Bhiwani
In-Active
In-Active
668
Department of Higher Education
Nuh
GC Bissar Akbarpur
1106
C-64677
Govt
Degree College
Gurugram University, Gurugram
Active
Active
669
Department of Higher Education
Nuh
GC Firozepur Jhirka
1164
C-65691
Govt
Degree College
Gurugram University, Gurugram
Active
Active
670
Department of Higher Education
Nuh
GC Nagina
1102
C-28196
Govt
Degree College
Gurugram University, Gurugram
Active
Active
671
Department of Higher Education
Nuh
GC Tauru
1104
C-28229
Govt
Degree College
Gurugram University, Gurugram
Active
Active
672
Department of Higher Education
Nuh
GCW Punhana
1105
C-56156
Govt
Degree College
Gurugram University, Gurugram
Active
Active
673
Department of Higher Education
Nuh
GCW Salaheri
1103
C-47264
Govt
Degree College
Gurugram University, Gurugram
Active
Active
674
Department of Higher Education
Nuh
RAO ADAL SINGH COLLEGE OF EDUCATION
1563
C-28020
Self Finance
B.Ed College
Maharishi Dayanand University, Rohtak
Board of School Education Haryana, Bhiwani
Active
In-Active
675
Department of Higher Education
Nuh
S.V.M. College of Education
1747
C-28284
Self Finance
B.Ed College
Maharishi Dayanand University, Rohtak
Board of School Education Haryana, Bhiwani
Active
In-Active
676
Department of Higher Education
Nuh
Shri Shanti Sagar jain Girls College of Education
1719
C-28254
Self Finance
B.Ed College
Maharishi Dayanand University, Rohtak
Board of School Education Haryana, Bhiwani
Active
In-Active
677
Department of Higher Education
Nuh
Shri Shanti Sagar Jain Kanya Mahavidyalya, Nuh
1301
C-28055
Self Finance
Degree College
Gurugram University, Gurugram
Active
Active
678
Department of Higher Education
Nuh
Yasin Meo Degree College Nuh
3916
C-28189
Aided
Degree College
Gurugram University, Gurugram
Active
Active
679
Department of Higher Education
Palwal
ADVANCED INSTITUTE OF EDUCATION
1568
C-28233
Self Finance
B.Ed College
Ch. Ranbir Singh Hooda University, Jind
Board of School Education Haryana, Bhiwani
Active
In-Active
680
Department of Higher Education
Palwal
Advanced Institute of Technology & Management
1867
C-28014
Self Finance
Management College
J.C. Bose University of Science and Technology, YMCA
Active
In-Active
681
Department of Higher Education
Palwal
Aggarwal College of Education, Hodal
3807
C-32587
Self Finance
B.Ed College
Ch. Ranbir Singh Hooda University, Jind
Board of School Education Haryana, Bhiwani
Active
In-Active
682
Department of Higher Education
Palwal
Delhi College of Technology & Management
1865
C-28230
Self Finance
Management College
J.C. Bose University of Science and Technology, YMCA
Active
In-Active
683
Department of Higher Education
Palwal
GC Bhaindoli
1159
C-66764
Govt
Degree College
Maharishi Dayanand University, Rohtak
Active
Active
684
Department of Higher Education
Palwal
GC Hathin
1114
C-59766
Govt
Degree College
Maharishi Dayanand University, Rohtak
Active
Active
685
Department of Higher Education
Palwal
GC Hodal
1112
C-28314
Govt
Degree College
Maharishi Dayanand University, Rohtak
Active
Active
686
Department of Higher Education
Palwal
GC Palwal
1113
C-48355
Govt
Degree College
Maharishi Dayanand University, Rohtak
Active
Active
687
Department of Higher Education
Palwal
GCG Badoli
1116
C-60965
Govt
Degree College
Maharishi Dayanand University, Rohtak
Active
Active
688
Department of Higher Education
Palwal
GCG Mandkola
1115
C-60948
Govt
Degree College
Maharishi Dayanand University, Rohtak
Active
Active
689
Department of Higher Education
Palwal
GGDSD College, Palwal
1217
C-29440
Aided
Degree College
Maharishi Dayanand University, Rohtak
Active
Active
690
Department of Higher Education
Palwal
JEEVAN JYOTI COLLEGE OF EDUCATION
1567
C-28121
Self Finance
B.Ed College
Ch. Ranbir Singh Hooda University, Jind
Board of School Education Haryana, Bhiwani
Active
In-Active
691
Department of Higher Education
Palwal
Lala C.B. Aggarwal Memorial College For Women, Hassanpur
1302
C-61257
Self Finance
Degree College
Maharishi Dayanand University, Rohtak
Active
Active
692
Department of Higher Education
Palwal
M.K.M COLLEGE OF EDUCATION FOR WOMEN
1569
C-28027
Self Finance
B.Ed College
Ch. Ranbir Singh Hooda University, Jind
Board of School Education Haryana, Bhiwani
Active
In-Active
693
Department of Higher Education
Palwal
M.K.M COLLEGE OF MANAGEMENT FOR GIRLS HODAL
3934
C-64678
Self Finance
Management College
Maharishi Dayanand University, Rohtak
Active
In-Active
694
Department of Higher Education
Palwal
M.V.N. COLLEGE OF EDUCATION
1566
C-28471
Self Finance
B.Ed College
Maharishi Dayanand University, Rohtak
Board of School Education Haryana, Bhiwani
In-Active
In-Active
695
Department of Higher Education
Palwal
Maa Omwati College of Education
1725
C-28084
Self Finance
B.Ed College
Ch. Ranbir Singh Hooda University, Jind
Board of School Education Haryana, Bhiwani
Active
In-Active
696
Department of Higher Education
Palwal
Maa Omwati Degree College, Hassanpur, Palwal
1304
C-28403
Self Finance
Degree College
Maharishi Dayanand University, Rohtak
Active
Active
697
Department of Higher Education
Palwal
Maa Omwati Institute of Management and Technology
1901
C-28505
Self Finance
Management College
Maharishi Dayanand University, Rohtak
Active
In-Active
698
Department of Higher Education
Palwal
Maharani Kishori Memorial (Pg) Kanya Mahavidyalay, Hodal
1303
C-28339
Self Finance
Degree College
Maharishi Dayanand University, Rohtak
Active
Active
699
Department of Higher Education
Palwal
MVN University (Campus)
1976
U-0742
Self Finance
University Campus
MVN University
Active
In-Active
700
Department of Higher Education
Palwal
NGF College of Engineering and Technology, Palwal
1866
C-28062
Self Finance
Management College
J.C. Bose University of Science and Technology, YMCA
Active
In-Active
701
Department of Higher Education
Palwal
NGF Degree College, Palwal
1327
C-28062
Self Finance
Degree College
Maharishi Dayanand University, Rohtak
Active
Active
702
Department of Higher Education
Palwal
RAMANUJAN COLLEGE OF EDUCATION
1570
C-28115
Self Finance
B.Ed College
Ch. Ranbir Singh Hooda University, Jind
Board of School Education Haryana, Bhiwani
Active
In-Active
703
Department of Higher Education
Palwal
Ramanujan College of Management
1864
C-28109
Self Finance
Management College
Maharishi Dayanand University, Rohtak
Active
In-Active
704
Department of Higher Education
Palwal
RATTAN INSTITUTE OF TECHNOLOGY AND MANAGEMENT
1863
C-28434
Self Finance
Management College
Maharishi Dayanand University, Rohtak
Active
In-Active
705
Department of Higher Education
Palwal
S.L.D. Girls College of Education
1751
C-28218
Self Finance
B.Ed College
Ch. Ranbir Singh Hooda University, Jind
Board of School Education Haryana, Bhiwani
Active
In-Active
706
Department of Higher Education
Palwal
Saraswati Institute of Law & Research
1818
C-66206
Self Finance
Law College
Maharishi Dayanand University, Rohtak
Active
In-Active
707
Department of Higher Education
Palwal
Saraswati Mahila Mahavidyalaya, Palwal
1218
C-28208
Aided
Degree College
Maharishi Dayanand University, Rohtak
Active
Active
708
Department of Higher Education
Palwal
Satya College of Engineering & Technology Palwal
1862
C-28246
Self Finance
Management College
Maharishi Dayanand University, Rohtak
Active
In-Active
709
Department of Higher Education
Palwal
SEHRAWAT DEGREE COLLEGE OF EDUCATION
1565
C-28103
Self Finance
B.Ed College
Ch. Ranbir Singh Hooda University, Jind
Board of School Education Haryana, Bhiwani
Active
In-Active
710
Department of Higher Education
Palwal
Shri Ram College of Engineering & Management
1861
C-28316
Self Finance
Management College
J.C. Bose University of Science and Technology, YMCA
Active
In-Active
711
Department of Higher Education
Panchkula
Brahamrishi College of Education
1572
C-10892
Self Finance
B.Ed College
Kurukshetra University, Kurukshetra
Board of School Education Haryana, Bhiwani
Active
In-Active
712
Department of Higher Education
Panchkula
GC Barwala (PKL)
1108
C-44813
Govt
Degree College
Kurukshetra University, Kurukshetra
Active
Active
713
Department of Higher Education
Panchkula
GC Kalka
1110
C-10868
Govt
Degree College
Kurukshetra University, Kurukshetra
Active
Active
714
Department of Higher Education
Panchkula
GC Morni
1165
Govt
Degree College
Kurukshetra University, Kurukshetra
Active
Active
715
Department of Higher Education
Panchkula
GC Raipur Rani
1111
C-61061
Govt
Degree College
Kurukshetra University, Kurukshetra
Active
Active
716
Department of Higher Education
Panchkula
GC Sector -1 Panchkula
1107
C-44028
Govt
Degree College
Kurukshetra University, Kurukshetra
Active
Active
717
Department of Higher Education
Panchkula
GCW Sector-14 Panchkula
1109
C-57812
Govt
Degree College
Kurukshetra University, Kurukshetra
Active
Active
718
Department of Higher Education
Panchkula
Shree Ram Mulkh College Of Education, Panchkula
1337
C-10791
Self Finance
B.Ed College
Kurukshetra University, Kurukshetra
Board of School Education Haryana, Bhiwani
Active
In-Active
719
Department of Higher Education
Panchkula
Shree Satguru Dev College of Education, Barwala
1573
C-10677
Self Finance
B.Ed College
Kurukshetra University, Kurukshetra
Board of School Education Haryana, Bhiwani
Active
In-Active
720
Department of Higher Education
Panchkula
Shri Mata Mansa Devi Sanskrit GC Panchkula
1156
C-66979
Govt
Degree College
Kurukshetra University, Kurukshetra
Active
Active
721
Department of Higher Education
Panchkula
Swami Devi Dyal College of Education, Barwala
1571
C-10867
Self Finance
B.Ed College
Kurukshetra University, Kurukshetra
Board of School Education Haryana, Bhiwani
Active
In-Active
722
Department of Higher Education
Panchkula
Swami Devi Dyal Institute of Management Studies, Barwala
1868
C-10846
Self Finance
Management College
Kurukshetra University, Kurukshetra
Active
In-Active
723
Department of Higher Education
Panchkula
Swami Devi Dyal Law College
1811
C-10554
Self Finance
Law College
Kurukshetra University, Kurukshetra
Active
In-Active
724
Department of Higher Education
Panipat
Adarsh college of education, Dehra, Panipat
3938
S-20641
Self Finance
Other College
Board of School Education Haryana, Bhiwani
Active
In-Active
725
Department of Higher Education
Panipat
Arya Adarsh Girls College, Panipat
1306
C-10894
Self Finance
Degree College
Bhagat Phool Singh Mahila Vishwavidyalaya, Khanpur Kalan, Sonepat
Active
Active
726
Department of Higher Education
Panipat
Arya P.G.College, Panipat
1219
C-10762
Aided
Degree College
Kurukshetra University, Kurukshetra
Active
Active
727
Department of Higher Education
Panipat
Asia Pacific Institute of Information Technology SD India
1874
C-50471
Self Finance
Management College
Kurukshetra University, Kurukshetra
Active
In-Active
728
Department of Higher Education
Panipat
BHAGWAN PARSHURAM COLLEGE OF EDUCATION NARA, PANIPAT
1576
C-10657
Self Finance
B.Ed College
Ch. Ranbir Singh Hooda University, Jind
Board of School Education Haryana, Bhiwani
Active
In-Active
729
Department of Higher Education
Panipat
Ch Devi Lal Memorial Girls College, Sewah, Panipat
1308
C-10840
Self Finance
Degree College
Kurukshetra University, Kurukshetra
Active
Active
730
Department of Higher Education
Panipat
Ch. Kapoori Ram College of Education Mahawati
1579
C-10562
Self Finance
B.Ed College
Deenbandhu Chhotu Ram University of Science & Technology
Board of School Education Haryana, Bhiwani
Active
In-Active
731
Department of Higher Education
Panipat
G.D.R. College of Education
1586
C-10754
Self Finance
B.Ed College
Ch. Ranbir Singh Hooda University, Jind
Board of School Education Haryana, Bhiwani
Active
In-Active
732
Department of Higher Education
Panipat
Gandhi Adarsh College Samalkha, Panipat
1220
C-10597
Aided
Degree College
Kurukshetra University, Kurukshetra
Active
Active
733
Department of Higher Education
Panipat
GC Behrampur (Bapauli)
1117
C-10697
Govt
Degree College
Kurukshetra University, Kurukshetra
Active
Active
734
Department of Higher Education
Panipat
GC Israna
1120
C-10630
Govt
Degree College
Kurukshetra University, Kurukshetra
Active
Active
735
Department of Higher Education
Panipat
GC Panipat
1118
C-10775
Govt
Degree College
Kurukshetra University, Kurukshetra
Active
Active
736
Department of Higher Education
Panipat
GCW Madlauda
1119
C-52928
Govt
Degree College
Bhagat Phool Singh Mahila Vishwavidyalaya, Khanpur Kalan, Sonepat
Active
Active
737
Department of Higher Education
Panipat
Geeta college of Education
1578
C-10629
Self Finance
B.Ed College
Ch. Ranbir Singh Hooda University, Jind
Board of School Education Haryana, Bhiwani
Active
In-Active
738
Department of Higher Education
Panipat
Geeta Degree College, Shera, Panipat
1305
C-52120
Self Finance
Degree College
Kurukshetra University, Kurukshetra
Active
Active
739
Department of Higher Education
Panipat
Geeta Engineer. College, Naultha
1869
C-10842
Self Finance
Management College
Kurukshetra University, Kurukshetra
Active
In-Active
740
Department of Higher Education
Panipat
Geeta Institute of Education
1590
C-10629
Self Finance
B.Ed College
Ch. Ranbir Singh Hooda University, Jind
Board of School Education Haryana, Bhiwani
Active
In-Active
741
Department of Higher Education
Panipat
Geeta Institute of Law
1819
C-10809
Self Finance
Law College
Kurukshetra University, Kurukshetra
Active
In-Active
742
Department of Higher Education
Panipat
Guru Brahmanand Women College, Kurana, Panipat
1307
C-51040
Self Finance
Degree College
Kurukshetra University, Kurukshetra
Active
Active
743
Department of Higher Education
Panipat
I.B (PG) College Panipat
1221
C-10533
Aided
Degree College
Kurukshetra University, Kurukshetra
Active
Active
744
Department of Higher Education
Panipat
Institute of Hotel Management Catering Technology and Applied Nutrition, Panipat
1873
S-16236
Self Finance
Management College
National Council for Hotel Management & Catering Technology, Noida
Active
In-Active
745
Department of Higher Education
Panipat
Kinder Kin College Of Education,Ahar Panipat
1574
C-10579
Self Finance
B.Ed College
Ch. Ranbir Singh Hooda University, Jind
Board of School Education Haryana, Bhiwani
Active
In-Active
746
Department of Higher Education
Panipat
L.N.T. College of Education
1587
C-10538
Self Finance
B.Ed College
Ch. Ranbir Singh Hooda University, Jind
Board of School Education Haryana, Bhiwani
Active
In-Active
747
Department of Higher Education
Panipat
Lakshay College of Education
1575
C-10578
Self Finance
B.Ed College
Ch. Ranbir Singh Hooda University, Jind
Board of School Education Haryana, Bhiwani
Active
In-Active
748
Department of Higher Education
Panipat
Lakshay College of Hotel Management
1870
C-10526
Self Finance
Management College
Kurukshetra University, Kurukshetra
Active
In-Active
749
Department of Higher Education
Panipat
LCRT COLLEGE OF EDUCATION
1585
C-10827
Self Finance
B.Ed College
Ch. Ranbir Singh Hooda University, Jind
Board of School Education Haryana, Bhiwani
Active
In-Active
750
Department of Higher Education
Panipat
M.D College of Education
1582
C-10643
Self Finance
B.Ed College
Ch. Ranbir Singh Hooda University, Jind
Board of School Education Haryana, Bhiwani
Active
In-Active
751
Department of Higher Education
Panipat
Modern College of Education
1583
C-10648
Self Finance
B.Ed College
Ch. Ranbir Singh Hooda University, Jind
Board of School Education Haryana, Bhiwani
Active
In-Active
752
Department of Higher Education
Panipat
N.C COLLEGE OF ENGINEERING
1906
Self Finance
Management College
Kurukshetra University, Kurukshetra
In-Active
In-Active
753
Department of Higher Education
Panipat
N.C.College of Education, Israna, Panipat
1589
C-10800
Self Finance
B.Ed College
Ch. Ranbir Singh Hooda University, Jind
Board of School Education Haryana, Bhiwani
Active
In-Active
754
Department of Higher Education
Panipat
Nalwa College of Education
1584
C-10799
Self Finance
B.Ed College
Deenbandhu Chhotu Ram University of Science & Technology
Board of School Education Haryana, Bhiwani
Active
In-Active
755
Department of Higher Education
Panipat
NNSS'Samalkha Group of Institutions
1872
C-10613
Self Finance
Management College
Kurukshetra University, Kurukshetra
Active
In-Active
756
Department of Higher Education
Panipat
Panipat Institute of Engineering & Technology Pattikalyana
1871
C-10575
Self Finance
Management College
Kurukshetra University, Kurukshetra
Active
In-Active
757
Department of Higher Education
Panipat
PIET NCR College, Samalkha
1331
C-10575
Self Finance
Degree College
Kurukshetra University, Kurukshetra
Active
Active
758
Department of Higher Education
Panipat
R.N. College of Engg. & Technology
1875
C-65290
Self Finance
Management College
Kurukshetra University, Kurukshetra
Active
In-Active
759
Department of Higher Education
Panipat
R.S. Memorial College of Education
1581
C-10774
Self Finance
B.Ed College
Ch. Ranbir Singh Hooda University, Jind
Board of School Education Haryana, Bhiwani
Active
In-Active
760
Department of Higher Education
Panipat
S.D (PG) COLLEGE PANIPAT
1222
C-10642
Aided
Degree College
Kurukshetra University, Kurukshetra
Active
Active
761
Department of Higher Education
Panipat
Saraswati College of Education (Panipat)
1577
C-10618
Self Finance
B.Ed College
Ch. Ranbir Singh Hooda University, Jind
Board of School Education Haryana, Bhiwani
Active
In-Active
762
Department of Higher Education
Panipat
SJS International College of Education
1588
C-10675
Self Finance
B.Ed College
Deenbandhu Chhotu Ram University of Science & Technology
Board of School Education Haryana, Bhiwani
Active
In-Active
763
Department of Higher Education
Panipat
Tau Devi Lal Memorial College of Education, Manana, Panipat
1580
C-10620
Self Finance
B.Ed College
Ch. Ranbir Singh Hooda University, Jind
Board of School Education Haryana, Bhiwani
Active
In-Active
764
Department of Higher Education
Panipat
Vaish Girls College, Samalkha
1223
C-60579
Aided
Degree College
Kurukshetra University, Kurukshetra
Active
Active
765
Department of Higher Education
Rewari
A.M College of Education, Rewari
1595
C-28099
Self Finance
B.Ed College
Indira Gandhi University, Meerpur
Board of School Education Haryana, Bhiwani
Active
In-Active
766
Department of Higher Education
Rewari
Ahir College, Rewari
1224
C-28311
Aided
Degree College
Indira Gandhi University, Meerpur
Active
Active
767
Department of Higher Education
Rewari
B.M.P College of Education, parkhotampur, Jatusana, Rewari
3977
C-65292
Self Finance
B.Ed College
Indira Gandhi University, Meerpur
Active
In-Active
768
Department of Higher Education
Rewari
BABA MOHAN DASS COLLEGE OF EDUCATION
1596
C-28276
Self Finance
B.Ed College
Indira Gandhi University, Meerpur
Board of School Education Haryana, Bhiwani
Active
In-Active
769
Department of Higher Education
Rewari
BRIGHT LAND COLLEGE OF EDUCATION
1694
C-28145
Self Finance
B.Ed College
Indira Gandhi University, Meerpur
In-Active
In-Active
770
Department of Higher Education
Rewari
College of Agriculture Bawal, Rewari
1919
C-55605
Govt
Other College
Chaudhary Charan Singh Haryana Agricultural University
Active
Active
771
Department of Higher Education
Rewari
DAV Girls College, Kosli
1225
C-28320
Aided
Degree College
Indira Gandhi University, Meerpur
Active
Active
772
Department of Higher Education
Rewari
GC Bawal
1131
C-28220
Govt
Degree College
Indira Gandhi University, Meerpur
Active
Active
773
Department of Higher Education
Rewari
GC Jatusana
1138
C-66760
Govt
Degree College
Indira Gandhi University, Meerpur
Active
Active
774
Department of Higher Education
Rewari
GC Kanwali
1130
C-28214
Govt
Degree College
Indira Gandhi University, Meerpur
Active
Active
775
Department of Higher Education
Rewari
GC Kharkhara
1129
C-28319
Govt
Degree College
Indira Gandhi University, Meerpur
Active
Active
776
Department of Higher Education
Rewari
GC Kosli
1136
C-47837
Govt
Degree College
Indira Gandhi University, Meerpur
Active
Active
777
Department of Higher Education
Rewari
GC Nahar
1133
C-28322
Govt
Degree College
Indira Gandhi University, Meerpur
Active
Active
778
Department of Higher Education
Rewari
GC Rewari
1135
C-60959
Govt
Degree College
Indira Gandhi University, Meerpur
Active
Active
779
Department of Higher Education
Rewari
GCG Rewari
1139
C-28296
Govt
Degree College
Indira Gandhi University, Meerpur
Active
Active
780
Department of Higher Education
Rewari
GCW Bawal
1137
C-65028
Govt
Degree College
Indira Gandhi University, Meerpur
Active
Active
781
Department of Higher Education
Rewari
GCW Gurawara
1134
C-28138
Govt
Degree College
Indira Gandhi University, Meerpur
Active
Active
782
Department of Higher Education
Rewari
GCW Pali
1132
C-57961
Govt
Degree College
Indira Gandhi University, Meerpur
Active
Active
783
Department of Higher Education
Rewari
HAPPY CHILD SIKSHA SAMITI, KOHSLI
3930
C-28117
Self Finance
Other College
Board of School Education Haryana, Bhiwani
Active
In-Active
784
Department of Higher Education
Rewari
Happy College of Education Kosli ,Rewari
1606
C-28117
Self Finance
B.Ed College
Indira Gandhi University, Meerpur
Board of School Education Haryana, Bhiwani
Active
In-Active
785
Department of Higher Education
Rewari
Indira Gandhi University, Meerpur (Campus)
1950
U-0699
Govt
University Campus
Indira Gandhi University, Meerpur
Active
Active
786
Department of Higher Education
Rewari
J.R. MEMORIAL COLLEGE OF EDUCATION
1602
C-28033
Self Finance
B.Ed College
Indira Gandhi University, Meerpur
Active
In-Active
787
Department of Higher Education
Rewari
K.L. COLLEGE OF EDUCATION
1591
C-28228
Self Finance
B.Ed College
Indira Gandhi University, Meerpur
Board of School Education Haryana, Bhiwani
Active
In-Active
788
Department of Higher Education
Rewari
Kishan Lal Public College, Rewari
1226
C-28418
Aided
Degree College
Indira Gandhi University, Meerpur
Active
Active
789
Department of Higher Education
Rewari
KRISHNA ADARSH COLLEGE OF EDUCATION
1603
C-28300
Self Finance
B.Ed College
Indira Gandhi University, Meerpur
Active
In-Active
790
Department of Higher Education
Rewari
KRISHNA COLLEGE OF EDUCATION
1605
C-28288
Self Finance
B.Ed College
Indira Gandhi University, Meerpur
Board of School Education Haryana, Bhiwani
Active
In-Active
791
Department of Higher Education
Rewari
Maharishi Dayanand Saraswati College of Education, Kosli, Rewari
3921
C-56429
Self Finance
Other College
Board of School Education Haryana, Bhiwani
Active
In-Active
792
Department of Higher Education
Rewari
Mata Raj Kaur College, Rewari
1310
C-50790
Self Finance
Degree College
Indira Gandhi University, Meerpur
Active
Active
793
Department of Higher Education
Rewari
Mata Raj Kaur Institute of Engineering and Technology
1879
C-28389
Self Finance
Management College
Indira Gandhi University, Meerpur
Active
In-Active
794
Department of Higher Education
Rewari
MATA VAISHNU DEVI COLLEGE OF EDUCATION
1592
C-28181
Self Finance
B.Ed College
Indira Gandhi University, Meerpur
Board of School Education Haryana, Bhiwani
Active
In-Active
795
Department of Higher Education
Rewari
MDS COLLEGE OF EDUCATION, KOSLI
1597
C-56429
Self Finance
B.Ed College
Indira Gandhi University, Meerpur
Active
In-Active
796
Department of Higher Education
Rewari
MODERN COLLEGE OF EDUCATION, REWARI
1594
C-33107
Self Finance
B.Ed College
Indira Gandhi University, Meerpur
Board of School Education Haryana, Bhiwani
Active
In-Active
797
Department of Higher Education
Rewari
Modern Indian College of Education, Pali
1601
C-28333
Self Finance
B.Ed College
Indira Gandhi University, Meerpur
Board of School Education Haryana, Bhiwani
Active
In-Active
798
Department of Higher Education
Rewari
Modern Institute of Education
1941
S-20575
Self Finance
Other College
Board of School Education Haryana, Bhiwani
Active
In-Active
799
Department of Higher Education
Rewari
PROGRESSIVE LEARNING COLLEGE OF EDUCATION
1593
C-28045
Self Finance
B.Ed College
Indira Gandhi University, Meerpur
Active
In-Active
800
Department of Higher Education
Rewari
Rao Abhay Singh College of Education
1708
C-28073
Self Finance
B.Ed College
Indira Gandhi University, Meerpur
Active
In-Active
801
Department of Higher Education
Rewari
Rao Birender Singh College of Education, Rewari
3808
C-28380
Aided
B.Ed College
Indira Gandhi University, Meerpur
Board of School Education Haryana, Bhiwani
Active
Active
802
Department of Higher Education
Rewari
Rao Khem Chand College of Education
1710
C-28023
Self Finance
B.Ed College
Indira Gandhi University, Meerpur
Board of School Education Haryana, Bhiwani
Active
In-Active
803
Department of Higher Education
Rewari
Rao OPM College of Education
1781
Self Finance
B.Ed College
Board of School Education Haryana, Bhiwani
In-Active
In-Active
804
Department of Higher Education
Rewari
Rao ram Singh Degree College, Mukundpur Vasai, Rewari
1328
C-61257
Self Finance
Degree College
Indira Gandhi University, Meerpur
Active
Active
805
Department of Higher Education
Rewari
Rao Ranjeet College of Education, Bodia Kamalpur
1604
C-28300
Self Finance
B.Ed College
Indira Gandhi University, Meerpur
Board of School Education Haryana, Bhiwani
Active
In-Active
806
Department of Higher Education
Rewari
RDS Public Girls College, Rewari
1227
C-28497
Aided
Degree College
Indira Gandhi University, Meerpur
Active
Active
807
Department of Higher Education
Rewari
S.K. College of Elementary Education
1704
C-63821
Self Finance
B.Ed College
Indira Gandhi University, Meerpur
Board of School Education Haryana, Bhiwani
Active
In-Active
808
Department of Higher Education
Rewari
SAHEED CAPT. D.K. KHOLA COLLEGE OF EDUCATION
1600
C-28390
Self Finance
B.Ed College
Indira Gandhi University, Meerpur
Active
In-Active
809
Department of Higher Education
Rewari
SANDESH COLLEGE OF EDUCATION
1695
Self Finance
B.Ed College
Indira Gandhi University, Meerpur
Active
In-Active
810
Department of Higher Education
Rewari
SARV HIND COLLEGE OF EDUCATION
1598
C-28249
Self Finance
B.Ed College
Indira Gandhi University, Meerpur
Board of School Education Haryana, Bhiwani
Active
In-Active
811
Department of Higher Education
Rewari
Satish Public college of Education,
1338
C-28257
Aided
B.Ed College
Indira Gandhi University, Meerpur
Board of School Education Haryana, Bhiwani
Active
Active
812
Department of Higher Education
Rewari
Shaheed Capt. D.K.Khola College of Mgmt & Technology
1876
C-28232
Self Finance
Management College
Indira Gandhi University, Meerpur
In-Active
In-Active
813
Department of Higher Education
Rewari
SMT. SHANTI DEVI COLLEGE OF MGT. & TECH.
1877
C-28056
Self Finance
Management College
Indira Gandhi University, Meerpur
Active
In-Active
814
Department of Higher Education
Rewari
Smt. Shanti Devi Law College, Saharanwas
1816
C-28008
Self Finance
Law College
Indira Gandhi University, Meerpur
Active
In-Active
815
Department of Higher Education
Rewari
Somany Institute of Tech. & Mgt., Rewari.
1878
C-59962
Self Finance
Management College
Indira Gandhi University, Meerpur
Active
In-Active
816
Department of Higher Education
Rewari
SWARANJALI COLLEGE OF EDUCATION
1599
C-28168
Self Finance
B.Ed College
Indira Gandhi University, Meerpur
Board of School Education Haryana, Bhiwani
Active
In-Active
817
Department of Higher Education
Rewari
Vivekanand College of Education, Dahina
1802
C-28420
Self Finance
B.Ed College
Indira Gandhi University, Meerpur
Board of School Education Haryana, Bhiwani
Active
In-Active
818
Department of Higher Education
Rewari
Vivekanand Degree College, Dahina, Rewari
1309
C-55491
Self Finance
Degree College
Indira Gandhi University, Meerpur
Active
Active
819
Department of Higher Education
Rohtak
AARYAN COLLEGE OF EDUCATION,ROHTAK
1628
C-28127
Self Finance
B.Ed College
Maharishi Dayanand University, Rohtak
Board of School Education Haryana, Bhiwani
Active
In-Active
820
Department of Higher Education
Rohtak
ADARSH COLLEGE OF EDUCATION
1761
Self Finance
B.Ed College
Board of School Education Haryana, Bhiwani
Active
In-Active
821
Department of Higher Education
Rohtak
Adarsh D.Ed College Basana
1936
S-20533
Self Finance
Other College
Board of School Education Haryana, Bhiwani
Active
In-Active
822
Department of Higher Education
Rohtak
AI Jat H.M. College, Rohtak
1228
C-28343
Aided
Degree College
Maharishi Dayanand University, Rohtak
Active
Active
823
Department of Higher Education
Rohtak
All India Gaur Brahman Sanskrit College
1933
Self Finance
Other College
Maharishi Dayanand University, Rohtak
Active
In-Active
824
Department of Higher Education
Rohtak
Arpan Institute for Mentally Handicapped
1703
C-58455
Self Finance
B.Ed College
Maharishi Dayanand University, Rohtak
Board of School Education Haryana, Bhiwani
Active
In-Active
825
Department of Higher Education
Rohtak
Baba khyalinath college of Education
1738
Self Finance
B.Ed College
Board of School Education Haryana, Bhiwani
In-Active
In-Active
826
Department of Higher Education
Rohtak
Baba Mast Nath University (Campus)
1977
U-0666
Self Finance
University Campus
Baba Mast Nath University
Active
In-Active
827
Department of Higher Education
Rohtak
CAPT. HARDEV SINGH COLLEGE OF EDUCATION
1608
C-28033
Self Finance
B.Ed College
Maharishi Dayanand University, Rohtak
Board of School Education Haryana, Bhiwani
In-Active
In-Active
828
Department of Higher Education
Rohtak
Ch. Katar Singh Memorial College of Education
1698
C-59477
Self Finance
B.Ed College
Maharishi Dayanand University, Rohtak
Board of School Education Haryana, Bhiwani
Active
In-Active
829
Department of Higher Education
Rohtak
Chhotu Ram College of Education,Rohtak
1339
C-28265
Aided
B.Ed College
Maharishi Dayanand University, Rohtak
Board of School Education Haryana, Bhiwani
Active
Active
830
Department of Higher Education
Rohtak
Chhotu Ram Institute of Law
1814
C-28386
Self Finance
Law College
Maharishi Dayanand University, Rohtak
Active
In-Active
831
Department of Higher Education
Rohtak
G.B. College of Education, Rohtak
3809
C-28444
Aided
B.Ed College
Maharishi Dayanand University, Rohtak
Board of School Education Haryana, Bhiwani
Active
Active
832
Department of Higher Education
Rohtak
Gaur Brahman Degree College, Rohtak
1229
C-28438
Aided
Degree College
Maharishi Dayanand University, Rohtak
Active
Active
833
Department of Higher Education
Rohtak
GC Jassia
1127
C-57017
Govt
Degree College
Maharishi Dayanand University, Rohtak
Active
Active
834
Department of Higher Education
Rohtak
GC Meham
1125
C-28192
Govt
Degree College
Maharishi Dayanand University, Rohtak
Active
Active
835
Department of Higher Education
Rohtak
GC Sampla
1123
C-49657
Govt
Degree College
Maharishi Dayanand University, Rohtak
Active
Active
836
Department of Higher Education
Rohtak
GCW Lakhan Majra
1121
C-28412
Govt
Degree College
Maharishi Dayanand University, Rohtak
Active
Active
837
Department of Higher Education
Rohtak
GCW Mokhra
1126
C-56418
Govt
Degree College
Maharishi Dayanand University, Rohtak
Active
Active
838
Department of Higher Education
Rohtak
GCW Rohtak
1128
C-28212
Govt
Degree College
Maharishi Dayanand University, Rohtak
Active
Active
839
Department of Higher Education
Rohtak
GCW Sampla
1124
C-28144
Govt
Degree College
Maharishi Dayanand University, Rohtak
Active
Active
840
Department of Higher Education
Rohtak
GREEN VALLEY COLLEGE OF EDUCATION, TITOLI
3944
C-28092
Self Finance
B.Ed College
Maharishi Dayanand University, Rohtak
Active
In-Active
841
Department of Higher Education
Rohtak
Hindu Instt. of Management & Technology
1885
C-28494
Self Finance
Management College
Maharishi Dayanand University, Rohtak
Active
In-Active
842
Department of Higher Education
Rohtak
I.P College of Education, Jassia
1798
C-62952
Self Finance
B.Ed College
Maharishi Dayanand University, Rohtak
Board of School Education Haryana, Bhiwani
Active
In-Active
843
Department of Higher Education
Rohtak
I.P Sports College of Education Research & Technology
1785
Self Finance
B.Ed College
Maharishi Dayanand University, Rohtak
Board of School Education Haryana, Bhiwani
In-Active
In-Active
844
Department of Higher Education
Rohtak
INDER PRASTHA EDUCATION
1610
C-28158
Self Finance
B.Ed College
Maharishi Dayanand University, Rohtak
Board of School Education Haryana, Bhiwani
In-Active
In-Active
845
Department of Higher Education
Rohtak
INDUS COLLEGE OF EDUCATION
1609
C-28489
Self Finance
B.Ed College
Maharishi Dayanand University, Rohtak
Board of School Education Haryana, Bhiwani
Active
In-Active
846
Department of Higher Education
Rohtak
Institute of Hotel Management Catering Technology & Applied Nutrition, Rohtak
1884
S-17747
Self Finance
Management College
National Council for Hotel Management & Catering Technology, Noida
Active
In-Active
847
Department of Higher Education
Rohtak
IPJ College of Education
1720
C-28312
Self Finance
B.Ed College
Maharishi Dayanand University, Rohtak
Board of School Education Haryana, Bhiwani
Active
In-Active
848
Department of Higher Education
Rohtak
J.R. KISSAN COLLEGE OF EDUCATION
1633
C-28051
Self Finance
B.Ed College
Maharishi Dayanand University, Rohtak
Board of School Education Haryana, Bhiwani
Active
In-Active
849
Department of Higher Education
Rohtak
K.S College of Education
1765
Self Finance
B.Ed College
Board of School Education Haryana, Bhiwani
In-Active
In-Active
850
Department of Higher Education
Rohtak
K.V.M. COLLEGE OF EDUCATION
1618
C-28445
Self Finance
B.Ed College
Maharishi Dayanand University, Rohtak
Board of School Education Haryana, Bhiwani
Active
In-Active
851
Department of Higher Education
Rohtak
KISSAN COLLEGE OF EDUCATION
1612
C-28293
Self Finance
B.Ed College
Maharishi Dayanand University, Rohtak
Board of School Education Haryana, Bhiwani
Active
In-Active
852
Department of Higher Education
Rohtak
LORD SHIVA COLLEGE OF EDUCATION
1620
C-28263
Self Finance
B.Ed College
Maharishi Dayanand University, Rohtak
Board of School Education Haryana, Bhiwani
Active
In-Active
853
Department of Higher Education
Rohtak
MAA SARASWATI INSTITUTE OF ENGINEERING & TECHNOLOGY, KALANAUR
1883
Self Finance
Management College
Maharishi Dayanand University, Rohtak
In-Active
In-Active
854
Department of Higher Education
Rohtak
Maharani Kishori Jat Kanya Mahavidyalaya, Rohtak
1230
C-28282
Aided
Degree College
Maharishi Dayanand University, Rohtak
Active
Active
855
Department of Higher Education
Rohtak
Maharishi Dayanand University, Rohtak (Campus)
1944
U-0167
Govt
University Campus
Maharishi Dayanand University, Rohtak
Active
Active
856
Department of Higher Education
Rohtak
Matu Ram Institute of Mgmt
1882
C-28108
Self Finance
Management College
Maharishi Dayanand University, Rohtak
Active
In-Active
857
Department of Higher Education
Rohtak
Modern College of Education Lakhan Majra
1776
Self Finance
B.Ed College
Board of School Education Haryana, Bhiwani
In-Active
In-Active
858
Department of Higher Education
Rohtak
Modern D.Ed College Kharkara
1937
Self Finance
Other College
Board of School Education Haryana, Bhiwani
Active
In-Active
859
Department of Higher Education
Rohtak
MR DAV College of Education, Rohtak
1615
C-28024
Self Finance
B.Ed College
Maharishi Dayanand University, Rohtak
Board of School Education Haryana, Bhiwani
Active
In-Active
860
Department of Higher Education
Rohtak
MRDAV Institute of Management Studies
1886
C-28182
Self Finance
Management College
Maharishi Dayanand University, Rohtak
Active
In-Active
861
Department of Higher Education
Rohtak
N.I.C COLLEGE OF EDUCATION ASSAN, ROHTAK
3936
Self Finance
Other College
Board of School Education Haryana, Bhiwani
In-Active
In-Active
862
Department of Higher Education
Rohtak
NARAYANA COLLEGE OF EDUCATION
1632
C-28363
Self Finance
B.Ed College
Maharishi Dayanand University, Rohtak
Board of School Education Haryana, Bhiwani
Active
In-Active
863
Department of Higher Education
Rohtak
NAVYUG COLLEGE OF EDUCATION BHAIYAPUR (LADHOT) ROHTAK
3907
Self Finance
Other College
Board of School Education Haryana, Bhiwani
In-Active
In-Active
864
Department of Higher Education
Rohtak
NRS GC Rohtak
1122
C-28292
Govt
Degree College
Maharishi Dayanand University, Rohtak
Active
Active
865
Department of Higher Education
Rohtak
Pandit Lakhmi Chand State University of Performing & Visual Arts (Campus)
1957
U-0751
Govt
University Campus
Pandit Lakhmi Chand State University of Performing & Visual Arts
Active
Active
866
Department of Higher Education
Rohtak
PIONEER D.ED COLLEGE
3924
Self Finance
Other College
Board of School Education Haryana, Bhiwani
Active
In-Active
867
Department of Higher Education
Rohtak
R.K. COLLEGE OF EDUCATION, ROHTAK
1617
C-34988
Self Finance
B.Ed College
Maharishi Dayanand University, Rohtak
Board of School Education Haryana, Bhiwani
Active
In-Active
868
Department of Higher Education
Rohtak
RAMA KRISHNA COLLEGE OF EDUCATION
1626
Self Finance
B.Ed College
Maharishi Dayanand University, Rohtak
Board of School Education Haryana, Bhiwani
In-Active
In-Active
869
Department of Higher Education
Rohtak
RASHTRIYA COLLEGE OF EDUCATION
1624
C-28323
Self Finance
B.Ed College
Maharishi Dayanand University, Rohtak
Board of School Education Haryana, Bhiwani
Active
In-Active
870
Department of Higher Education
Rohtak
RISHIKUL SANSKRIT COLLEGE
3895
C-66761
Self Finance
Other College
Maharishi Dayanand University, Rohtak
Active
In-Active
871
Department of Higher Education
Rohtak
S.J.K. College of Education, Kalanaur Rohtak
1634
C-28487
Self Finance
B.Ed College
Maharishi Dayanand University, Rohtak
Board of School Education Haryana, Bhiwani
Active
In-Active
872
Department of Higher Education
Rohtak
S.R. COLLEGE OF EDUCATION
1631
C-28455
Self Finance
B.Ed College
Maharishi Dayanand University, Rohtak
Board of School Education Haryana, Bhiwani
Active
In-Active
873
Department of Higher Education
Rohtak
S.S.M. COLLEGE OF EDUCATION, Rohtak
1607
Self Finance
B.Ed College
Maharishi Dayanand University, Rohtak
Board of School Education Haryana, Bhiwani
Active
In-Active
874
Department of Higher Education
Rohtak
Saini (Co-Edu) College, Rohtak
1311
C-28446
Self Finance
Degree College
Maharishi Dayanand University, Rohtak
Active
Active
875
Department of Higher Education
Rohtak
Saini Institute of Girls Education Rohtak
1721
C-28346
Self Finance
B.Ed College
Maharishi Dayanand University, Rohtak
Board of School Education Haryana, Bhiwani
Active
In-Active
876
Department of Higher Education
Rohtak
SANSKRITI COLLEGE OF EDUCATION
1629
C-28382
Self Finance
B.Ed College
Maharishi Dayanand University, Rohtak
Board of School Education Haryana, Bhiwani
Active
In-Active
877
Department of Higher Education
Rohtak
SARASWATI COLLEGE OF EDUCATION, ROHTAK
1623
C-34997
Self Finance
B.Ed College
Maharishi Dayanand University, Rohtak
Board of School Education Haryana, Bhiwani
Active
In-Active
878
Department of Higher Education
Rohtak
SARASWATI VIDYA MANDIR COLLEGE OF EDUCATION
1627
C-28409
Self Finance
B.Ed College
Maharishi Dayanand University, Rohtak
Board of School Education Haryana, Bhiwani
Active
In-Active
879
Department of Higher Education
Rohtak
SAT PRIYA COLLEGE OF EDUCATION
1622
C-28156
Self Finance
B.Ed College
Maharishi Dayanand University, Rohtak
Board of School Education Haryana, Bhiwani
Active
In-Active
880
Department of Higher Education
Rohtak
Sat Priya Institute of Engg. & Technology
1880
C-28141
Self Finance
Management College
Maharishi Dayanand University, Rohtak
Active
In-Active
881
Department of Higher Education
Rohtak
Sh. L.N Hindu College, Rohtak
1232
C-28475
Aided
Degree College
Maharishi Dayanand University, Rohtak
Active
Active
882
Department of Higher Education
Rohtak
SHAMSHER BHADUR SAXENA COLLEGE OF LAW
1812
C-51035
Self Finance
Law College
Maharishi Dayanand University, Rohtak
Active
In-Active
883
Department of Higher Education
Rohtak
SHEETLA COLLEGE OF EDUCATION
1614
C-28488
Self Finance
B.Ed College
Maharishi Dayanand University, Rohtak
Board of School Education Haryana, Bhiwani
Active
In-Active
884
Department of Higher Education
Rohtak
Shravan Institute of Special Education & Research
1718
C-28226
Self Finance
B.Ed College
Maharishi Dayanand University, Rohtak
Board of School Education Haryana, Bhiwani
Active
In-Active
885
Department of Higher Education
Rohtak
SHRI BALAJI COLLEGE OF EDUCATION
1635
Self Finance
B.Ed College
Maharishi Dayanand University, Rohtak
Board of School Education Haryana, Bhiwani
In-Active
In-Active
886
Department of Higher Education
Rohtak
SJK College Kalanaur
1231
C-28204
Aided
Degree College
Maharishi Dayanand University, Rohtak
Active
Active
887
Department of Higher Education
Rohtak
SM College of Elementary Education
1717
Self Finance
B.Ed College
Board of School Education Haryana, Bhiwani
In-Active
In-Active
888
Department of Higher Education
Rohtak
ST. PAUL COLLEGE OF EDUCATION
1630
C-28172
Self Finance
B.Ed College
Maharishi Dayanand University, Rohtak
Board of School Education Haryana, Bhiwani
Active
In-Active
889
Department of Higher Education
Rohtak
STATE INSTITUTE OF REHABILITATION TRAINING AND RESEARCH
1342
C-28378
Govt
B.Ed College
Maharishi Dayanand University, Rohtak
Board of School Education Haryana, Bhiwani
Active
Active
890
Department of Higher Education
Rohtak
SUNIL GUGNANI MEMORIAL COLLEGE OF EDUCATION
1619
C-28271
Self Finance
B.Ed College
Maharishi Dayanand University, Rohtak
Board of School Education Haryana, Bhiwani
Active
In-Active
891
Department of Higher Education
Rohtak
SWAMI DAYA MUNI VIDYAPEETH COLLEGE OF EDUCATION
1613
C-28374
Self Finance
B.Ed College
Maharishi Dayanand University, Rohtak
Board of School Education Haryana, Bhiwani
Active
In-Active
892
Department of Higher Education
Rohtak
V B Institute of Teacher Training & Research
1611
C-28381
Self Finance
B.Ed College
Board of School Education Haryana, Bhiwani
Active
In-Active
893
Department of Higher Education
Rohtak
V.B. COLLEGE OF EDUCATION
1625
C-28381
Self Finance
B.Ed College
Maharishi Dayanand University, Rohtak
Board of School Education Haryana, Bhiwani
Active
In-Active
894
Department of Higher Education
Rohtak
Vaish College of Education, Rohtak
1335
C-32597
Aided
B.Ed College
Maharishi Dayanand University, Rohtak
Board of School Education Haryana, Bhiwani
Active
Active
895
Department of Higher Education
Rohtak
Vaish College of Engineering Rohtak
1881
C-28065
Self Finance
Management College
Maharishi Dayanand University, Rohtak
Active
In-Active
896
Department of Higher Education
Rohtak
Vaish College of Law, Rohtak
1813
C-28250
Self Finance
Law College
Maharishi Dayanand University, Rohtak
Active
In-Active
897
Department of Higher Education
Rohtak
Vaish College, Rohtak
1233
C-28370
Aided
Degree College
Maharishi Dayanand University, Rohtak
Active
Active
898
Department of Higher Education
Rohtak
Vaish Mahila Mahavidyalya, Rohtak
1234
C-28379
Aided
Degree College
Maharishi Dayanand University, Rohtak
Active
Active
899
Department of Higher Education
Rohtak
VIKRAMADITYA COLLEGE OF EDUCATION
1616
C-28448
Self Finance
B.Ed College
Maharishi Dayanand University, Rohtak
Board of School Education Haryana, Bhiwani
Active
In-Active
900
Department of Higher Education
Rohtak
YASH COLLEGE OF EDUCATION
1621
C-28206
Self Finance
B.Ed College
Maharishi Dayanand University, Rohtak
Board of School Education Haryana, Bhiwani
Active
In-Active
901
Department of Higher Education
Sirsa
APEX COLLEGE OF EDUCATION
1760
C-22439
Self Finance
B.Ed College
Chaudhary Devi Lal University, Sirsa
Board of School Education Haryana, Bhiwani
Active
In-Active
902
Department of Higher Education
Sirsa
B.S.K. College of Education (for Women), Mandi Dabwali
1340
C-22455
Aided
B.Ed College
Chaudhary Devi Lal University, Sirsa
Active
Active
903
Department of Higher Education
Sirsa
C.R.D.A.V. GIRLS COLLEGE OF EDUCATION
1644
C-22413
Self Finance
B.Ed College
Chaudhary Devi Lal University, Sirsa
Board of School Education Haryana, Bhiwani
Active
In-Active
904
Department of Higher Education
Sirsa
Ch. K.R. Memorial Degree College (For Girls), Jamal, Sirsa
1314
C-51939
Self Finance
Degree College
Chaudhary Devi Lal University, Sirsa
Active
Active
905
Department of Higher Education
Sirsa
Ch. R.R. Memorial College of Education, Ellenabad
1637
C-22415
Self Finance
B.Ed College
Chaudhary Devi Lal University, Sirsa
Board of School Education Haryana, Bhiwani
Active
In-Active
906
Department of Higher Education
Sirsa
Chaudhary Devi Lal University, Sirsa (Campus)
1945
U-0160
Govt
University Campus
Chaudhary Devi Lal University, Sirsa
Active
Active
907
Department of Higher Education
Sirsa
CMK National PG Girls College, Sirsa
1235
C-22426
Aided
Degree College
Chaudhary Devi Lal University, Sirsa
Active
Active
908
Department of Higher Education
Sirsa
CRDAV Girls College, Sirsa
1315
C-53481
Self Finance
Degree College
Chaudhary Devi Lal University, Sirsa
Active
Active
909
Department of Higher Education
Sirsa
DMA National College of Education, SES Parisar,B-Block, Sirsa
1647
Self Finance
B.Ed College
Chaudhary Devi Lal University, Sirsa
Board of School Education Haryana, Bhiwani
In-Active
In-Active
910
Department of Higher Education
Sirsa
GC Dabwali
1146
C-22438
Govt
Degree College
Chaudhary Devi Lal University, Sirsa
Active
Active
911
Department of Higher Education
Sirsa
GC Ding Mandi
1158
C-64389
Govt
Degree College
Chaudhary Devi Lal University, Sirsa
Active
Active
912
Department of Higher Education
Sirsa
GC Goriwala
1166
C-64105
Govt
Degree College
Chaudhary Devi Lal University, Sirsa
Active
Active
913
Department of Higher Education
Sirsa
GC Mithi Sureran Ellenabad
1147
C-22454
Govt
Degree College
Chaudhary Devi Lal University, Sirsa
Active
Active
914
Department of Higher Education
Sirsa
GCG Kalanwali
1151
C-59998
Govt
Degree College
Chaudhary Devi Lal University, Sirsa
Active
Active
915
Department of Higher Education
Sirsa
GCG Rania
1150
C-60849
Govt
Degree College
Chaudhary Devi Lal University, Sirsa
Active
Active
916
Department of Higher Education
Sirsa
GCW Sirsa
1148
C-53482
Govt
Degree College
Chaudhary Devi Lal University, Sirsa
Active
Active
917
Department of Higher Education
Sirsa
GNC Sirsa
1149
C-22444
Govt
Degree College
Chaudhary Devi Lal University, Sirsa
Active
Active
918
Department of Higher Education
Sirsa
Hakeem Harbans Singh New Era College of Education, Sant Nagar, Rania
1648
C-22412
Self Finance
B.Ed College
Chaudhary Devi Lal University, Sirsa
Board of School Education Haryana, Bhiwani
Active
In-Active
919
Department of Higher Education
Sirsa
Haryana College of Education, Dhani Bachan Singh, Ellenabad
1645
C-22436
Self Finance
B.Ed College
Chaudhary Devi Lal University, Sirsa
Board of School Education Haryana, Bhiwani
Active
In-Active
920
Department of Higher Education
Sirsa
Jan Nayak Ch Devi Lal Memorial College, Sirsa
1312
C-46580
Self Finance
Degree College
Chaudhary Devi Lal University, Sirsa
Active
Active
921
Department of Higher Education
Sirsa
Jan Nayak Ch. Devi Lal College of Education
1638
C-22446
Self Finance
B.Ed College
Chaudhary Devi Lal University, Sirsa
Board of School Education Haryana, Bhiwani
Active
In-Active
922
Department of Higher Education
Sirsa
Jan Nayak Choudhary Devi Lal Institute of Business Management
1887
C-27602
Self Finance
Management College
Chaudhary Devi Lal University, Sirsa
Active
In-Active
923
Department of Higher Education
Sirsa
Janta Girls P.G. College, Ellanabad
1313
C-22434
Self Finance
Degree College
Chaudhary Devi Lal University, Sirsa
Active
Active
924
Department of Higher Education
Sirsa
JG College of Education
1709
C-22443
Self Finance
B.Ed College
Chaudhary Devi Lal University, Sirsa
Board of School Education Haryana, Bhiwani
Active
In-Active
925
Department of Higher Education
Sirsa
Lala Hansraj Phutela College of Law, Sirsa
3956
C-22448
Self Finance
Law College
Chaudhary Devi Lal University, Sirsa
Active
In-Active
926
Department of Higher Education
Sirsa
Maharana Partap College(for Women) Mandi Dabwali, Sirsa
1236
C-22452
Aided
Degree College
Chaudhary Devi Lal University, Sirsa
Active
Active
927
Department of Higher Education
Sirsa
Mata Harki Devi College For Women, Odhan, Sirsa
1317
C-22447
Self Finance
Degree College
Chaudhary Devi Lal University, Sirsa
Active
Active
928
Department of Higher Education
Sirsa
Mata Harki Devi College of Education For Women
1641
C-22417
Self Finance
B.Ed College
Chaudhary Devi Lal University, Sirsa
Board of School Education Haryana, Bhiwani
Active
In-Active
929
Department of Higher Education
Sirsa
National College of Education
1756
C-22450
Self Finance
B.Ed College
Chaudhary Devi Lal University, Sirsa
Board of School Education Haryana, Bhiwani
Active
In-Active
930
Department of Higher Education
Sirsa
Nehru College of Education
1639
C-50816
Self Finance
B.Ed College
Chaudhary Devi Lal University, Sirsa
Board of School Education Haryana, Bhiwani
Active
In-Active
931
Department of Higher Education
Sirsa
NEW ERA D.ED COLLEGE
1642
Self Finance
B.Ed College
Board of School Education Haryana, Bhiwani
In-Active
In-Active
932
Department of Higher Education
Sirsa
Rashoba College of Education, Post Box No. 27, Moriwala, Sirsa
1643
C-22445
Self Finance
B.Ed College
Chaudhary Devi Lal University, Sirsa
Board of School Education Haryana, Bhiwani
Active
In-Active
933
Department of Higher Education
Sirsa
SGHS College, Sri Jiwan Nagar, Sirsa
1237
C-22453
Aided
Degree College
Chaudhary Devi Lal University, Sirsa
Active
Active
934
Department of Higher Education
Sirsa
Shah Satnam Ji College of Education
1646
C-22435
Self Finance
B.Ed College
Chaudhary Devi Lal University, Sirsa
Board of School Education Haryana, Bhiwani
Active
In-Active
935
Department of Higher Education
Sirsa
Shah Satnam Ji Girls' College, Sirsa
1316
C-22432
Self Finance
Degree College
Chaudhary Devi Lal University, Sirsa
Active
Active
936
Department of Higher Education
Sirsa
Shah Satnam Ji P.G. Boys' College, Sirsa
1318
C-22428
Self Finance
Degree College
Chaudhary Devi Lal University, Sirsa
Active
Active
937
Department of Higher Education
Sirsa
Shaheed Bhagat Singh College of Education, Kalanwali
1640
C-22419
Self Finance
B.Ed College
Chaudhary Devi Lal University, Sirsa
Board of School Education Haryana, Bhiwani
Active
In-Active
938
Department of Higher Education
Sirsa
Sir Chhotu Ram Jat College of Education, Ellanabad
1636
C-22427
Self Finance
B.Ed College
Chaudhary Devi Lal University, Sirsa
Board of School Education Haryana, Bhiwani
Active
In-Active
939
Department of Higher Education
Sonipat
Aryawart College of Eduation Khanda
1735
C-28213
Self Finance
B.Ed College
Ch. Ranbir Singh Hooda University, Jind
Board of School Education Haryana, Bhiwani
Active
In-Active
940
Department of Higher Education
Sonipat
Ashoka University Sonepat (Campus)
1979
Self Finance
University Campus
Ashoka University Sonepat
In-Active
In-Active
941
Department of Higher Education
Sonipat
Bhagat Phool Singh Mahila Vishwavidyalaya, Khanpur Kalan, Sonepat (Campus)
1946
U-0157
Govt
University Campus
Bhagat Phool Singh Mahila Vishwavidyalaya, Khanpur Kalan, Sonepat
Active
Active
942
Department of Higher Education
Sonipat
Bhagwan Parshuram College of Education Gohana
4037
C-28169
Self Finance
B.Ed College
Ch. Ranbir Singh Hooda University, Jind
In-Active
In-Active
943
Department of Higher Education
Sonipat
BHARAT INSTITUTE OF TECHNOLOGY
4055
C-19300
Self Finance
Management College
Deenbandhu Chhotu Ram University of Science & Technology
Active
In-Active
944
Department of Higher Education
Sonipat
Bharat Institute of Technology
1908
S-19420
Self Finance
Management College
Deenbandhu Chhotu Ram University of Science & Technology
In-Active
In-Active
945
Department of Higher Education
Sonipat
BHARAT VIDYA PEETH COLLEGE OF EDUCATION
1656
C-28334
Self Finance
B.Ed College
Deenbandhu Chhotu Ram University of Science & Technology
Board of School Education Haryana, Bhiwani
Active
In-Active
946
Department of Higher Education
Sonipat
BPS College of Education
1696
Self Finance
B.Ed College
Rehabilitation Council of India
In-Active
In-Active
947
Department of Higher Education
Sonipat
C M COLLEGE OF EDUCATION
1727
C-65164
Self Finance
B.Ed College
Deenbandhu Chhotu Ram University of Science & Technology
Board of School Education Haryana, Bhiwani
Active
In-Active
948
Department of Higher Education
Sonipat
C.C.A.S. Jain Girls College, Ganaur
1321
C-28260
Self Finance
Degree College
Maharishi Dayanand University, Rohtak
Active
Active
949
Department of Higher Education
Sonipat
Ch Dhajja Ram Janta Mahavidyalaya, Butana, Sonepat
1322
C-28435
Self Finance
Degree College
Maharishi Dayanand University, Rohtak
Active
Active
950
Department of Higher Education
Sonipat
CRA College, Sonipat
1238
C-28076
Aided
Degree College
Maharishi Dayanand University, Rohtak
Active
Active
951
Department of Higher Education
Sonipat
D C S college of Education
1660
C-28373
Self Finance
B.Ed College
Deenbandhu Chhotu Ram University of Science & Technology
Active
In-Active
952
Department of Higher Education
Sonipat
D.B.M. COLLEGE OF EDUCATION
1665
C-28202
Self Finance
B.Ed College
Ch. Ranbir Singh Hooda University, Jind
Board of School Education Haryana, Bhiwani
Active
In-Active
953
Department of Higher Education
Sonipat
D.C. JAIN COLLEGE OF EDUCATION
1911
C-28253
Self Finance
Minority College
Ch. Ranbir Singh Hooda University, Jind
Active
In-Active
954
Department of Higher Education
Sonipat
DARSH COLLEGE OF EDUCATION
1654
C-28240
Self Finance
B.Ed College
Ch. Ranbir Singh Hooda University, Jind
Board of School Education Haryana, Bhiwani
Active
In-Active
955
Department of Higher Education
Sonipat
Darsh Model Degree College, Gohana
1320
C-57302
Self Finance
Degree College
Maharishi Dayanand University, Rohtak
Active
Active
956
Department of Higher Education
Sonipat
Deenbandhu Chhotu Ram University of Science & Technology (Campus)
1953
U-0161
Govt
University Campus
Deenbandhu Chhotu Ram University of Science & Technology
Active
Active
957
Department of Higher Education
Sonipat
Dr. B.R. Ambedkar National Law University, Sonipat (Campus)
1947
U-1070
Govt
University Campus
Dr. B.R. Ambedkar National Law University, Sonipat
Active
Active
958
Department of Higher Education
Sonipat
GC Baroda
1168
C-64921
Govt
Degree College
Maharishi Dayanand University, Rohtak
Active
Active
959
Department of Higher Education
Sonipat
GC Barota
1141
C-58228
Govt
Degree College
Maharishi Dayanand University, Rohtak
Active
Active
960
Department of Higher Education
Sonipat
GC Bhainswal Kalan
1167
C-64922
Govt
Degree College
Maharishi Dayanand University, Rohtak
Active
Active
961
Department of Higher Education
Sonipat
GC KharKhoda
1140
C-49449
Govt
Degree College
Maharishi Dayanand University, Rohtak
Active
Active
962
Department of Higher Education
Sonipat
GCG Mohana
1145
C-64945
Govt
Degree College
Bhagat Phool Singh Mahila Vishwavidyalaya, Khanpur Kalan, Sonepat
Active
Active
963
Department of Higher Education
Sonipat
GCG Sonipat
1144
C-60963
Govt
Degree College
Bhagat Phool Singh Mahila Vishwavidyalaya, Khanpur Kalan, Sonepat
Active
Active
964
Department of Higher Education
Sonipat
GCW Gohana
1142
C-28299
Govt
Degree College
Bhagat Phool Singh Mahila Vishwavidyalaya, Khanpur Kalan, Sonepat
Active
Active
965
Department of Higher Education
Sonipat
GCW Murthal
1143
C-28377
Govt
Degree College
Bhagat Phool Singh Mahila Vishwavidyalaya, Khanpur Kalan, Sonepat
Active
Active
966
Department of Higher Education
Sonipat
GEETA COLLEGE OF EDUCAITON
1659
C-28490
Self Finance
B.Ed College
Deenbandhu Chhotu Ram University of Science & Technology
Board of School Education Haryana, Bhiwani
Active
In-Active
967
Department of Higher Education
Sonipat
Guru Nanak Institute of Higher Education, Bighan, Sonipat
1329
C-62551
Self Finance
Degree College
Maharishi Dayanand University, Rohtak
Active
Active
968
Department of Higher Education
Sonipat
GVM College of Education for Women
1662
C-28197
Self Finance
B.Ed College
Ch. Ranbir Singh Hooda University, Jind
Board of School Education Haryana, Bhiwani
Active
In-Active
969
Department of Higher Education
Sonipat
GVM Girls College, Sonipat
1239
C-28465
Aided
Degree College
Maharishi Dayanand University, Rohtak
Active
Active
970
Department of Higher Education
Sonipat
GVM Institute Of Technology And Management For Girls, Sonipat
1889
C-19314
Self Finance
Management College
Deenbandhu Chhotu Ram University of Science & Technology
Active
In-Active
971
Department of Higher Education
Sonipat
HARSH COLLEGE OF EDUCATION
1663
C-28134
Self Finance
B.Ed College
Ch. Ranbir Singh Hooda University, Jind
Board of School Education Haryana, Bhiwani
Active
In-Active
972
Department of Higher Education
Sonipat
Hindu College of Education, Sonipat
3811
C-28148
Aided
B.Ed College
Deenbandhu Chhotu Ram University of Science & Technology
Board of School Education Haryana, Bhiwani
Active
Active
973
Department of Higher Education
Sonipat
Hindu College, Sonipat
1243
C-28123
Aided
Degree College
Maharishi Dayanand University, Rohtak
Active
Active
974
Department of Higher Education
Sonipat
Hindu Girls College, Sonipat
1240
C-28400
Aided
Degree College
Maharishi Dayanand University, Rohtak
Active
Active
975
Department of Higher Education
Sonipat
Hindu Institute of Management
1904
C-19304
Self Finance
Management College
Deenbandhu Chhotu Ram University of Science & Technology
Active
In-Active
976
Department of Higher Education
Sonipat
IITM College of Science, Art and Commerce, Murthal
1330
C-19308
Self Finance
Degree College
Maharishi Dayanand University, Rohtak
Active
Active
977
Department of Higher Education
Sonipat
International Institute of Technology and Management, 49 KM Stone, NH 1, Murthal, District Sonepat
3965
C-19308
Self Finance
Degree College
Deenbandhu Chhotu Ram University of Science & Technology
Active
Active
978
Department of Higher Education
Sonipat
JawaharLal Nehru College of Education, Gohana
1770
C-28041
Self Finance
B.Ed College
Ch. Ranbir Singh Hooda University, Jind
Board of School Education Haryana, Bhiwani
Active
In-Active
979
Department of Higher Education
Sonipat
K.C. COLLEGE OF EDUCATION
1653
C-28038
Self Finance
B.Ed College
Ch. Ranbir Singh Hooda University, Jind
Board of School Education Haryana, Bhiwani
Active
In-Active
980
Department of Higher Education
Sonipat
Kanya Mahavidyalaya Kharkhoda
1241
C-28176
Aided
Degree College
Maharishi Dayanand University, Rohtak
Active
Active
981
Department of Higher Education
Sonipat
Kirori Mal College of Education Baghpat Road,Khewra,Sonepat
3931
C-28135
Self Finance
B.Ed College
Maharishi Dayanand University, Rohtak
Active
In-Active
982
Department of Higher Education
Sonipat
KIRTI COLLEGE OF EDUCATION
1649
C-28069
Self Finance
B.Ed College
Ch. Ranbir Singh Hooda University, Jind
Board of School Education Haryana, Bhiwani
Active
In-Active
983
Department of Higher Education
Sonipat
Kirti College of Sanskriti, Anayat, Gohana
4039
C-28076
Self Finance
Other College
Maharishi Dayanand University, Rohtak
Active
In-Active
984
Department of Higher Education
Sonipat
M.R.M COLLEGE OF EDUCATION
1664
C-28028
Self Finance
B.Ed College
Deenbandhu Chhotu Ram University of Science & Technology
Board of School Education Haryana, Bhiwani
Active
In-Active
985
Department of Higher Education
Sonipat
MANGE RAM WOMENS COLLEGE OF EDUCATION
1658
C-28231
Self Finance
B.Ed College
Ch. Ranbir Singh Hooda University, Jind
Board of School Education Haryana, Bhiwani
Active
In-Active
986
Department of Higher Education
Sonipat
MODERN COLLEGE OF EDUCATION, SONIPAT
1697
C-33105
Self Finance
B.Ed College
Ch. Ranbir Singh Hooda University, Jind
Board of School Education Haryana, Bhiwani
Active
In-Active
987
Department of Higher Education
Sonipat
MUKHI COLLEGE OF EDUCATION
1666
C-28094
Self Finance
B.Ed College
Ch. Ranbir Singh Hooda University, Jind
Board of School Education Haryana, Bhiwani
Active
In-Active
988
Department of Higher Education
Sonipat
N.S College of Education Sonipat
1794
C-28383
Self Finance
B.Ed College
Ch. Ranbir Singh Hooda University, Jind
Board of School Education Haryana, Bhiwani
Active
In-Active
989
Department of Higher Education
Sonipat
Navyug College of Education Sonipat
1778
C-28107
Self Finance
B.Ed College
Ch. Ranbir Singh Hooda University, Jind
Board of School Education Haryana, Bhiwani
Active
In-Active
990
Department of Higher Education
Sonipat
New Kalpana Chawla College of Education
1702
C-10721
Self Finance
B.Ed College
Ch. Ranbir Singh Hooda University, Jind
Board of School Education Haryana, Bhiwani
Active
In-Active
991
Department of Higher Education
Sonipat
Om College of Education
1743
C-50654
Self Finance
B.Ed College
Ch. Ranbir Singh Hooda University, Jind
Board of School Education Haryana, Bhiwani
Active
In-Active
992
Department of Higher Education
Sonipat
PANCHSHEEL INSTITUTE OF EDUCATION, RESEARCH & EDUCATION
1650
C-28057
Self Finance
B.Ed College
Ch. Ranbir Singh Hooda University, Jind
Board of School Education Haryana, Bhiwani
Active
In-Active
993
Department of Higher Education
Sonipat
Paradise College of Education, Kharkhoda
4094
C-28452
Self Finance
B.Ed College
Ch. Ranbir Singh Hooda University, Jind
Active
In-Active
994
Department of Higher Education
Sonipat
RAJ COLLEGE OF EDUCATION
1724
Self Finance
B.Ed College
Ch. Ranbir Singh Hooda University, Jind
Board of School Education Haryana, Bhiwani
In-Active
In-Active
995
Department of Higher Education
Sonipat
RAM JAS COLLEGE OF EDUCATION
1651
C-28149
Self Finance
B.Ed College
Ch. Ranbir Singh Hooda University, Jind
Board of School Education Haryana, Bhiwani
Active
In-Active
996
Department of Higher Education
Sonipat
Red Cross Hindu Institute for Education & Rehabilitation of Mentally Challenged Children
1934
S-20501
Self Finance
Other College
Rehabilitation Council of India
Active
In-Active
997
Department of Higher Education
Sonipat
Rishikul Sanskrit Mahavidyalya, Sonipat
3957
C-66344
Self Finance
Other College
Gurugram University, Gurugram
Active
In-Active
998
Department of Higher Education
Sonipat
S S COLLEGE OF EDUCATION, GOHANA
1652
C-50749
Self Finance
B.Ed College
Ch. Ranbir Singh Hooda University, Jind
Board of School Education Haryana, Bhiwani
Active
In-Active
999
Department of Higher Education
Sonipat
SARITA JAIN COLLEGE OF EDUCATION, PANCHI JATTAN, GANAUR,
3925
Self Finance
Other College
Board of School Education Haryana, Bhiwani
In-Active
In-Active
1000
Department of Higher Education
Sonipat
SHAMBU DAYAL COLLEGE OF EDUCATION
1657
C-28484
Self Finance
B.Ed College
Ch. Ranbir Singh Hooda University, Jind
Board of School Education Haryana, Bhiwani
Active
In-Active
1001
Department of Higher Education
Sonipat
Shiksha Bharti College of Education, Mohana, Sonipat
3964
C-34993
Self Finance
B.Ed College
Ch. Ranbir Singh Hooda University, Jind
Active
In-Active
1002
Department of Higher Education
Sonipat
Shiv Karan College of Education
1777
C-28217
Self Finance
B.Ed College
Ch. Ranbir Singh Hooda University, Jind
Board of School Education Haryana, Bhiwani
Active
In-Active
1003
Department of Higher Education
Sonipat
SHREE RAM MEMORIAL COLLEGE OF EDUCATION, BIDHLAN
3951
C-28154
Self Finance
B.Ed College
Deenbandhu Chhotu Ram University of Science & Technology
Active
In-Active
1004
Department of Higher Education
Sonipat
SHRI GANESH COLLEGE OF EDUCATION, SONIPAT
1655
C-28416
Self Finance
B.Ed College
Ch. Ranbir Singh Hooda University, Jind
Board of School Education Haryana, Bhiwani
Active
In-Active
1005
Department of Higher Education
Sonipat
SOUTH POINT COLLEGE OF EDUCATION
1661
C-28163
Self Finance
B.Ed College
Ch. Ranbir Singh Hooda University, Jind
Board of School Education Haryana, Bhiwani
Active
In-Active
1006
Department of Higher Education
Sonipat
SOUTH POINT COLLEGE OF LAW
1815
C-56579
Self Finance
Law College
Maharishi Dayanand University, Rohtak
Active
In-Active
1007
Department of Higher Education
Sonipat
South Point Degree College, Sonipat
1319
C-56578
Self Finance
Degree College
Maharishi Dayanand University, Rohtak
Active
Active
1008
Department of Higher Education
Sonipat
South Point Institute of Technology & Management
1888
C-19301
Self Finance
Management College
Deenbandhu Chhotu Ram University of Science & Technology
Active
In-Active
1009
Department of Higher Education
Sonipat
St. Teresa Inclusive School
1940
Self Finance
Other College
Rehabilitation Council of India
Active
In-Active
1010
Department of Higher Education
Sonipat
Sunrise College of Education, VPO Nangal Kalan
4093
C-28200
Self Finance
B.Ed College
Ch. Ranbir Singh Hooda University, Jind
Active
In-Active
1011
Department of Higher Education
Sonipat
The Krishna Education Research & Technological Institute, Bhanderi Gohana
4073
C-28313
Self Finance
B.Ed College
Ch. Ranbir Singh Hooda University, Jind
Active
In-Active
1012
Department of Higher Education
Sonipat
Tika Ram College of Education
3810
C-28153
Aided
B.Ed College
Deenbandhu Chhotu Ram University of Science & Technology
Board of School Education Haryana, Bhiwani
Active
Active
1013
Department of Higher Education
Sonipat
Tika Ram Girls College, Sonipat
1242
C-28502
Aided
Degree College
Maharishi Dayanand University, Rohtak
Active
Active
1014
Department of Higher Education
Sonipat
Venkteshwara College of Education
1766
C-28354
Self Finance
B.Ed College
Ch. Ranbir Singh Hooda University, Jind
Board of School Education Haryana, Bhiwani
Active
In-Active
1015
Department of Higher Education
Sonipat
VIDYAWATI SANSKRIT COLLEGE, SONIPAT
1925
C-66341
Self Finance
Other College
Maharishi Dayanand University, Rohtak
Active
Active
1016
Department of Higher Education
Yamunanagar
Aastha College of Education
1677
C-10585
Self Finance
B.Ed College
Kurukshetra University, Kurukshetra
Board of School Education Haryana, Bhiwani
Active
In-Active
1017
Department of Higher Education
Yamunanagar
B.N.S. JANTA Institute of Management & Technology
1897
C-10759
Self Finance
Management College
Kurukshetra University, Kurukshetra
Active
In-Active
1018
Department of Higher Education
Yamunanagar
BALA JI COLLEGE OF EDUCATION
3869
C-10640
Self Finance
B.Ed College
Kurukshetra University, Kurukshetra
Active
In-Active
1019
Department of Higher Education
Yamunanagar
Bhagat Singh College of Education for Women
1675
C-54001
Self Finance
B.Ed College
Kurukshetra University, Kurukshetra
Board of School Education Haryana, Bhiwani
Active
In-Active
1020
Department of Higher Education
Yamunanagar
Bharat College of education, Kandroli
1672
Self Finance
B.Ed College
Board of School Education Haryana, Bhiwani
Active
In-Active
1021
Department of Higher Education
Yamunanagar
Ch. Devi Lal College of Education
1679
C-10776
Self Finance
B.Ed College
Kurukshetra University, Kurukshetra
Board of School Education Haryana, Bhiwani
Active
In-Active
1022
Department of Higher Education
Yamunanagar
DAV College For Girls, YamunaNagar
1244
C-10519
Aided
Degree College
Kurukshetra University, Kurukshetra
Active
Active
1023
Department of Higher Education
Yamunanagar
DAV College Sadhaura
1245
C-10723
Aided
Degree College
Kurukshetra University, Kurukshetra
Active
Active
1024
Department of Higher Education
Yamunanagar
Dharam College of Education
1685
C-10567
Self Finance
B.Ed College
Kurukshetra University, Kurukshetra
Board of School Education Haryana, Bhiwani
Active
In-Active
1025
Department of Higher Education
Yamunanagar
Ganpati Institute of Education, Bilaspur
1674
C-10521
Self Finance
B.Ed College
Kurukshetra University, Kurukshetra
Board of School Education Haryana, Bhiwani
Active
In-Active
1026
Department of Higher Education
Yamunanagar
Ganpati Institute of Hotel Management, Yamunanagar
1898
C-10607
Self Finance
Management College
Kurukshetra University, Kurukshetra
Active
In-Active
1027
Department of Higher Education
Yamunanagar
Ganpati Institute of Technology & Management
1891
C-10609
Self Finance
Management College
Kurukshetra University, Kurukshetra
Active
In-Active
1028
Department of Higher Education
Yamunanagar
GC Aharwala, Bilaspur
1153
C-60953
Govt
Degree College
Kurukshetra University, Kurukshetra
Active
Active
1029
Department of Higher Education
Yamunanagar
GC Chhachhrauli
1152
C-10859
Govt
Degree College
Kurukshetra University, Kurukshetra
Active
Active
1030
Department of Higher Education
Yamunanagar
GC Pratap Nagar
1169
C-66977
Govt
Degree College
Kurukshetra University, Kurukshetra
Active
Active
1031
Department of Higher Education
Yamunanagar
GC Radaur
1154
C-60940
Govt
Degree College
Kurukshetra University, Kurukshetra
Active
Active
1032
Department of Higher Education
Yamunanagar
GC Saraswati Nagar, Mustafabad
1155
C-64155
Govt
Degree College
Kurukshetra University, Kurukshetra
Active
Active
1033
Department of Higher Education
Yamunanagar
GLOBAL RESEARCH INSTITUTE OF MANAGEMENT AND TECHNOLOGY, RADAUR
4031
C-10617
Self Finance
Management College
Kurukshetra University, Kurukshetra
Active
In-Active
1034
Department of Higher Education
Yamunanagar
Gurjar Kanya Gurukul Mahavidyalaya, Yamunanagar
1323
C-59756
Self Finance
Degree College
Kurukshetra University, Kurukshetra
Active
Active
1035
Department of Higher Education
Yamunanagar
Guru Harkrishan College of Education
1671
C-10870
Self Finance
B.Ed College
Kurukshetra University, Kurukshetra
Board of School Education Haryana, Bhiwani
Active
In-Active
1036
Department of Higher Education
Yamunanagar
GURU NANAK GIRLS COLLEGE
3800
C-12031
Aided
Degree College
Kurukshetra University, Kurukshetra
Active
Active
1037
Department of Higher Education
Yamunanagar
Guru Nanak Khalsa College, YamunaNagar
3829
C-10527
Aided
Minority College
Kurukshetra University, Kurukshetra
Active
Active
1038
Department of Higher Education
Yamunanagar
Guru Nanak Khalsa Institute of Technology and Management Technical Campus, Yamuna Nagar
1895
C-10843
Self Finance
Management College
Kurukshetra University, Kurukshetra
Active
In-Active
1039
Department of Higher Education
Yamunanagar
HARI OM SHIV OM COLLEGE OF EDUCATION
3902
C-10824
Self Finance
B.Ed College
Kurukshetra University, Kurukshetra
Active
In-Active
1040
Department of Higher Education
Yamunanagar
Haryana Eangineering College Jagadhri, Yamunanagar
1892
C-10614
Self Finance
Management College
Kurukshetra University, Kurukshetra
Active
In-Active
1041
Department of Higher Education
Yamunanagar
Hindu Girls College, Jagadhri
1246
C-10888
Aided
Degree College
Kurukshetra University, Kurukshetra
Active
Active
1042
Department of Higher Education
Yamunanagar
INSTITUTE OF HOTEL MANAGEMENT, YAMUNANAGAR
1890
S-16235
Self Finance
Management College
National Council for Hotel Management & Catering Technology, Noida
Active
In-Active
1043
Department of Higher Education
Yamunanagar
Janki Ji College of Education
1669
C-10679
Self Finance
B.Ed College
Kurukshetra University, Kurukshetra
Board of School Education Haryana, Bhiwani
Active
In-Active
1044
Department of Higher Education
Yamunanagar
Krishna Institute of Educaiton & Technology
1692
C-10523
Self Finance
B.Ed College
Kurukshetra University, Kurukshetra
Board of School Education Haryana, Bhiwani
Active
In-Active
1045
Department of Higher Education
Yamunanagar
Maharaja Agrasen Institute of Management and Technology
1894
C-10689
Self Finance
Management College
Kurukshetra University, Kurukshetra
Active
In-Active
1046
Department of Higher Education
Yamunanagar
Maharaja Agrasen Mahavidyalya, Jagadhri
1247
C-10626
Aided
Degree College
Kurukshetra University, Kurukshetra
Active
Active
1047
Department of Higher Education
Yamunanagar
MD College of Education hafizpur
1723
Self Finance
B.Ed College
Board of School Education Haryana, Bhiwani
In-Active
In-Active
1048
Department of Higher Education
Yamunanagar
Mukand Lal National College, Radaur
1248
C-10684
Aided
Degree College
Kurukshetra University, Kurukshetra
Active
Active
1049
Department of Higher Education
Yamunanagar
Mukand Lal National College, Yamuna Nagar
1249
C-10639
Aided
Degree College
Kurukshetra University, Kurukshetra
Active
Active
1050
Department of Higher Education
Yamunanagar
P.R.D.College of Education
1670
C-10560
Self Finance
B.Ed College
Kurukshetra University, Kurukshetra
Board of School Education Haryana, Bhiwani
Active
In-Active
1051
Department of Higher Education
Yamunanagar
RAJ RAJESHWARI COLLEGE OF EDUCATION
3903
C-10835
Self Finance
B.Ed College
Kurukshetra University, Kurukshetra
Active
In-Active
1052
Department of Higher Education
Yamunanagar
S.D. Institute of Management & Technology
1896
C-10763
Self Finance
Management College
Kurukshetra University, Kurukshetra
Active
In-Active
1053
Department of Higher Education
Yamunanagar
S.N. College of Education
1683
C-10883
Self Finance
B.Ed College
Kurukshetra University, Kurukshetra
Board of School Education Haryana, Bhiwani
Active
In-Active
1054
Department of Higher Education
Yamunanagar
S.P.S.JANTA COLLEGE OF EDUCATION
1682
C-10699
Self Finance
B.Ed College
Kurukshetra University, Kurukshetra
Board of School Education Haryana, Bhiwani
Active
In-Active
1055
Department of Higher Education
Yamunanagar
Sant Nishchal Singh College of Education for Women
1667
C-10674
Self Finance
B.Ed College
Kurukshetra University, Kurukshetra
Board of School Education Haryana, Bhiwani
Active
In-Active
1056
Department of Higher Education
Yamunanagar
Seth Jai Parkash Mukand Lal Institute of Engineering & Technology, Radaur
1909
C-10653
Self Finance
Management College
Kurukshetra University, Kurukshetra
Active
In-Active
1057
Department of Higher Education
Yamunanagar
Shanti Devi College Of Education, Radaur Yamunanagar
1341
C-10615
Self Finance
B.Ed College
Kurukshetra University, Kurukshetra
Board of School Education Haryana, Bhiwani
Active
In-Active
1058
Department of Higher Education
Yamunanagar
Shivalik College of Education
1678
S-20534
Self Finance
B.Ed College
Board of School Education Haryana, Bhiwani
Active
In-Active
1059
Department of Higher Education
Yamunanagar
Shri Ganesh College of Education
1680
C-10544
Self Finance
B.Ed College
Kurukshetra University, Kurukshetra
Board of School Education Haryana, Bhiwani
Active
In-Active
1060
Department of Higher Education
Yamunanagar
Smt. Indira Devi Education College
1684
C-10611
Self Finance
B.Ed College
Kurukshetra University, Kurukshetra
Board of School Education Haryana, Bhiwani
Active
In-Active
1061
Department of Higher Education
Yamunanagar
SPS JANTA COLLEGE MUSTAFABAD
3799
C-10686
Aided
Degree College
Kurukshetra University, Kurukshetra
Active
Active
1062
Department of Higher Education
Yamunanagar
SWAMI VIVEKANAND COLLEGE OF EDUCATION
1681
C-10745
Self Finance
B.Ed College
Kurukshetra University, Kurukshetra
Board of School Education Haryana, Bhiwani
Active
In-Active
1063
Department of Higher Education
Yamunanagar
Swami Vivekanand College of Education, Alahar
1676
Self Finance
B.Ed College
Board of School Education Haryana, Bhiwani
Active
In-Active
1064
Department of Higher Education
Yamunanagar
Swami Vivekanand Teacher Training Institution, Yamunanagar
1686
S-17428
Self Finance
B.Ed College
Board of School Education Haryana, Bhiwani
Active
In-Active
1065
Department of Higher Education
Yamunanagar
Tilak Raj Chadha Institute of Management & Technology,
1893
C-10644
Self Finance
Management College
Kurukshetra University, Kurukshetra
Active
In-Active
1066
Department of Higher Education
Yamunanagar
Vishva Bharti College of Education
1673
C-10794
Self Finance
B.Ed College
Kurukshetra University, Kurukshetra
Board of School Education Haryana, Bhiwani
Active
In-Active
1067
Department of Higher Education
Yamunanagar
YAMUNA INSTITUTE OF EDUCATION
1668
C-55754
Self Finance
B.Ed College
Kurukshetra University, Kurukshetra
Board of School Education Haryana, Bhiwani
Active
In-Active
1068
Department of Higher Education
Yamunanagar
Yamuna Institute of Engineering & Technology
1899
C-10887
Self Finance
Management College
Kurukshetra University, Kurukshetra
Active
In-Active