MDU Result
Maharshi Dayanand University (MDU), one of India's leading universities, offers a wide range of undergraduate and postgraduate programs. The Bachelor of Technology (B.Tech) is a popular choice among students who want to pursue a career in engineering.
Students always look forward to the announcement of MDU results because it determines their academic standing and future possibilities. The institution employs a stringent review procedure to guarantee the fairness and accuracy of the findings. As the results are prepared, the university publishes them on its official website along with other relevant data, like the pass percentage, top students, and overall student performance.
How to Check MDU Result
To check the MDU (Maharshi Dayanand University) result, please follow the steps below:
Step 1: Visit the official website
The first step is to go to Maharshi Dayanand University official website at https://mdu.ac.in. As you arrive at the site, you will see a number of tabs and links. On the homepage, look for the "Examinations" tab and click on it.
Step 2: Click on Results
Click on the "Examination" tab from the top menu and select the "Result" option.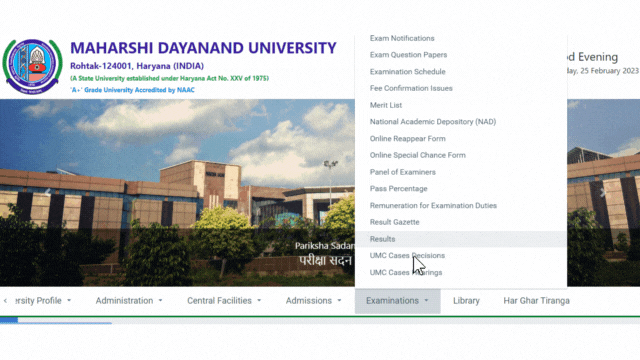 Step 3: Redirect to MDU Result official website
Once you click on the "Results" option, you will be directed to a new page where you will see the list of results for various courses and semesters.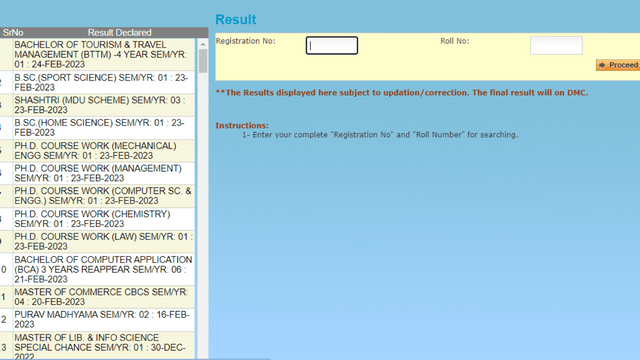 Step 4: Enter your Registration Number and Roll Number
Enter your Registration Number and Roll Number in the provided box and click on the "Proceed Now" button.
Step 5: View your result
Once you have entered your Registration Number and Roll Number and clicked on the "Proceed Now" button, your result will be displayed on the screen. You can view your result and take a printout or save it for future reference.
Note :

It is important to note that the above steps are to check your MDU Result online. If you want to check your result through offline mode then you have to visit the examination department of the university and from there you can get your result.
Apart from the above steps, there are some other things that you need to keep in mind while checking your MDU Result. First of all, make sure that you have entered your registration number and roll number correctly. There should not be any mistake in the registration number or roll number. Secondly, check the result carefully and make sure all the details are correct, including your name, the marks obtained, and other relevant details.
In case you face any issues while checking the result, you can contact the university's examination branch for assistance.
Frequently Asked Questions (FAQs)
2. How long does it take for the result to appear after the paper? 
Approximately 1 to 2 months after exams, results are declared.
Read Also: